Your Kids Will Love These 14 Easy Dinners — and Best of All, They Can Help Make Them!
POPSUGAR Photography / Anna Monette Roberts
Iowa Girl Eats
There's nothing more frustrating than having to make a complicated dinner with hungry kiddos weaving in and out of the kitchen, curious about the meal's ETA. We're taking some of that frustration away from you by rounding up 14 easy-to-make dinners that the kids will not only love, but can — wait for it — help you cook!
Get those little hands into the kitchen and slip child-size aprons over their heads — it's mini master chef time!
01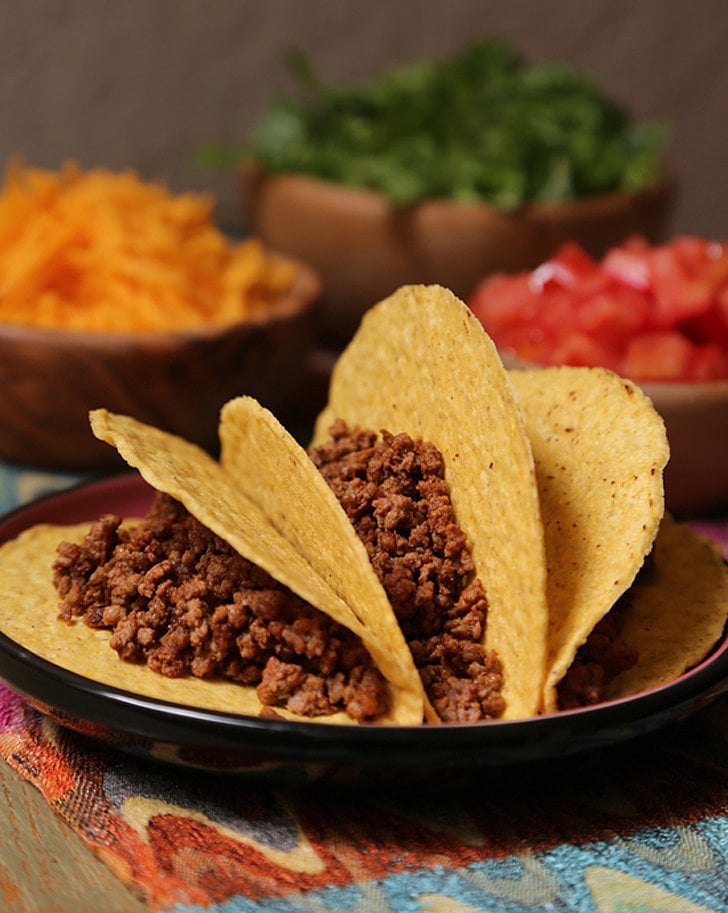 Tex-Mex Ground Beef Tacos
After cutting up some veggies and browning the ground beef for these bad boys, have the kiddos set up a taco station — lettuce, tomatoes, shredded cheese, sour cream, the works! Then have them construct the tacos. They'll be full of delicious taco goodness, and they'll feel awesome that they could make their own dinner.
02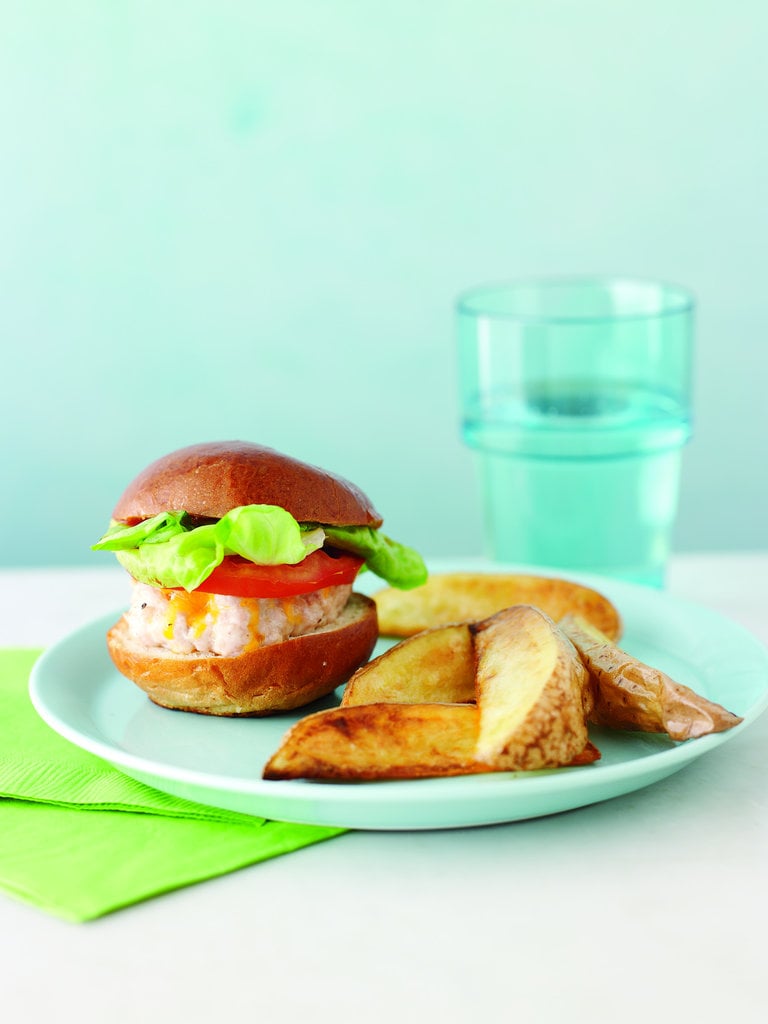 Turkey Sliders and Baked Potato Wedges
These sliders made from ground turkey meat (or any other meat of your choice) are the perfect way to help kids be kids even in the kitchen. Have them wash their hands and mash up the ground meat and seasonings into burger balls to be baked or grilled — just make sure they wash the raw meat off their hands after the preparation!
03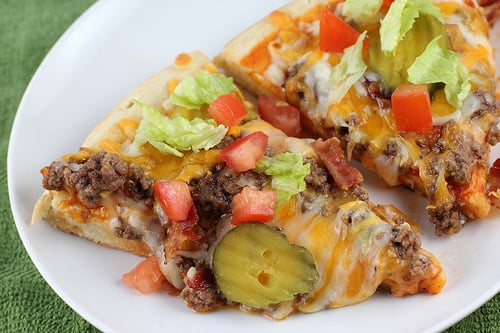 Cheeseburger Pizza
What happens when you take two classic kid-approved meals and put them together? Ultimate greatness, that's what. This cheeseburger pizza combines the best part of the pizza — the crust, obviously — and the meat and toppings from a burger. Kids can help roll out the pizza dough — store-bought if you want this to be even easier — and sprinkle the ingredients over the top.
04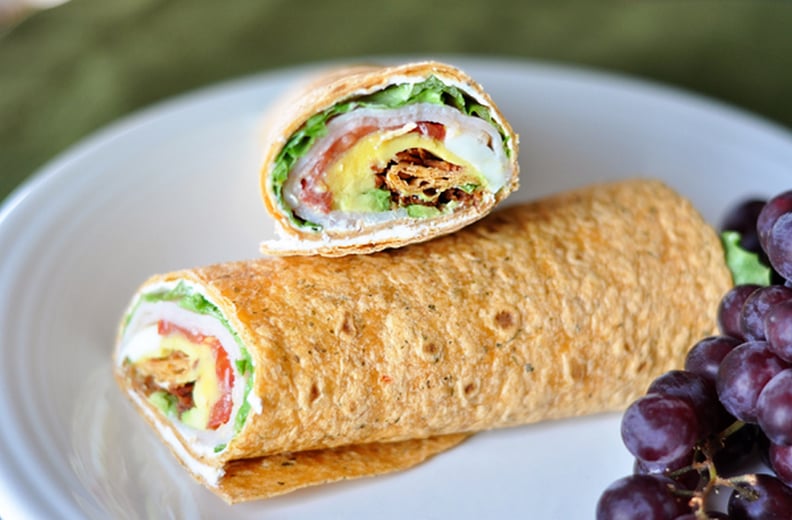 Smoked Turkey Cobb Wraps
On a seriously hot day, or when you're not in the mood to turn on the oven, have your little ones help you to roll up some delicious turkey Cobb wraps. Let them layer turkey, tomatoes, lettuce, bacon, avocado, and the other ingredients, then roll it all up. If they need extra help keeping them wrapped up (ha), give them a toothpick to stick through the middle to keep it together — just be careful to remove it when eating.
05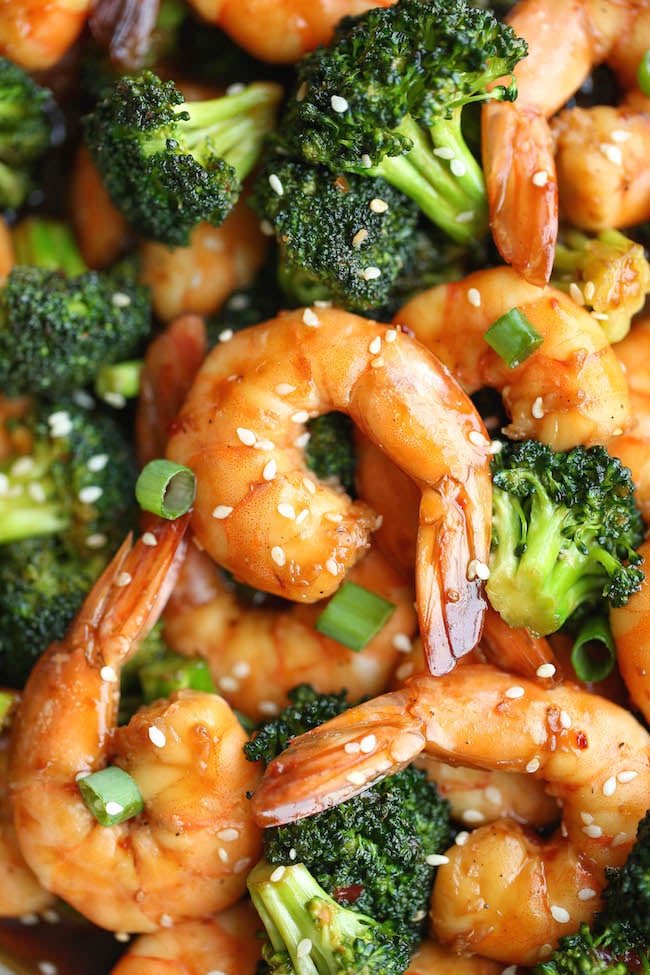 Shrimp and Broccoli Stir-Fry
With help from your kids, you can have this beautiful shrimp (chicken works, too) stir-fry on your table in 20 minutes. The stirring comes in three waves, so with adult supervision and an oven mitt near the hot pan, have your kids pour in the shrimp, then the broccoli, then the sauce mixture. This is a low-calorie meal your family will definitely appreciate.
06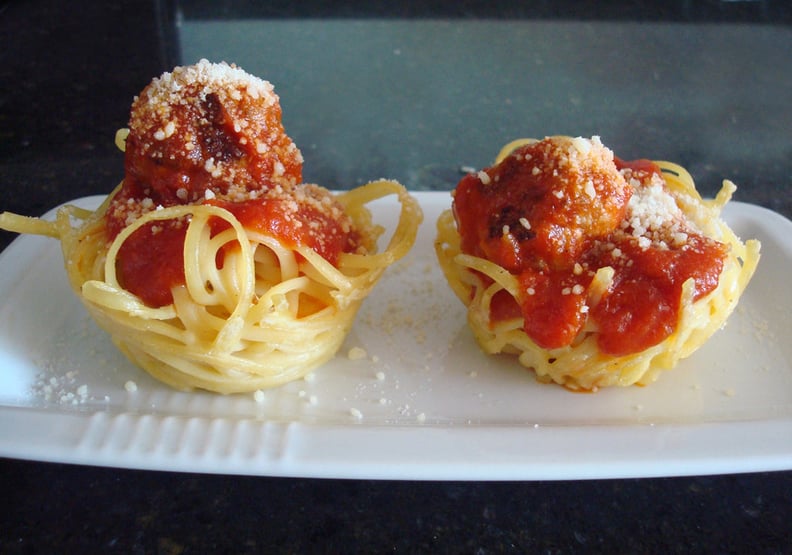 Spaghetti and Meatball Cupcakes
Everything that's anything is tastier in cupcake form — that's a fact, we checked it — which definitely includes spaghetti and meatballs. Get your kiddos squishing freshly boiled (but cooled off) spaghetti into cupcake tins, top 'em off with some sauce and a meatball, and bake in the oven for 12 minutes. Dinner cupcakes. Boom.
07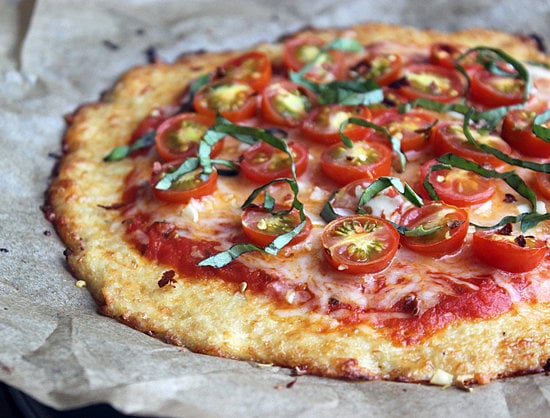 Cauliflower-Crust Pizza
Pizza is a staple and likely a family favorite. Skip the delivery and grab your kiddos to help you make this low-carb cauliflower pizza crust in no time. Have them roll it out, and cover it with pizza sauce, and then the best part — let them pick their toppings, and go wild.
08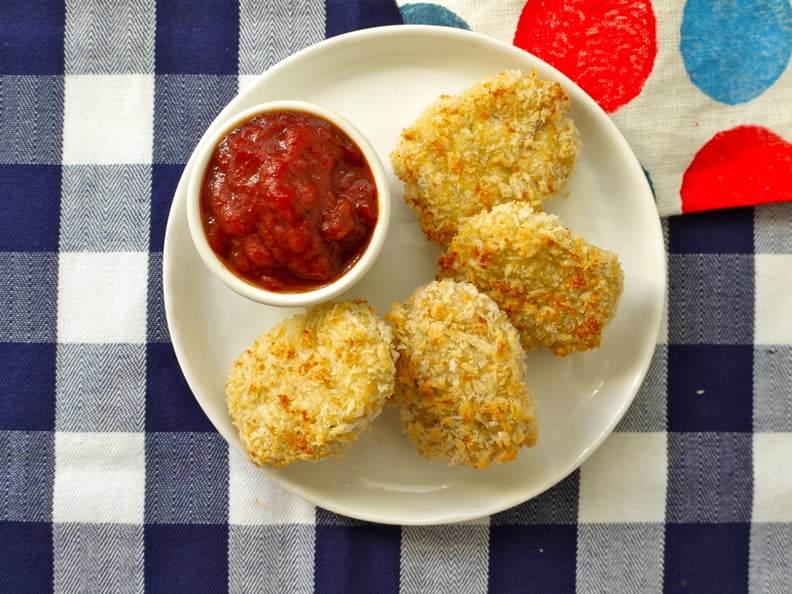 Baked Chicken Nuggets
Most moms will have the pulling-the-frozen-chicken-nugget-box-out-of-the-freezer move ingrained in their muscle memory forever. Skip the store-bought stuff, and have your little nuggets help you make some nuggets. Mix some parmesan and breadcrumbs, and let your child smash the chicken pieces into the crumbs until fully coated. Make sure they wash their raw chicken hands before dipping the finished product into the sauce of their choice (ketchup, let's be real).
09
One-Pot Cheeseburger Casserole
Turn cheeseburger greatness into a pasta dish — all in one pot for easy cleanup! Kids can help you (carefully and with oven gloves on) add in each new component of the casserole, starting with the meat and pasta and ending with the cheese and other toppings — all in under 30 minutes!
10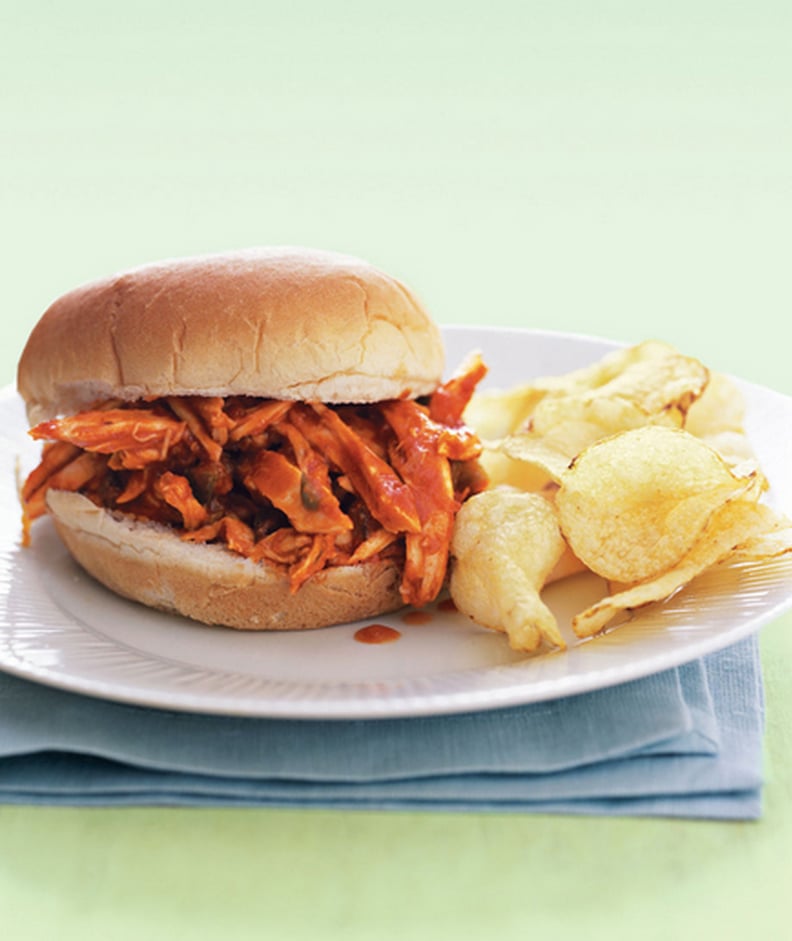 Barbecue Chicken Sandwiches
To make the easiest BBQ chicken sandwiches, cook up some chicken — or pick up a cooked rotisserie bird from the grocery store — and shred it, then let your kids mix it up with some BBQ sauce. Throw a scoop on a bun, and voilà! Serve with toppings (pickles recommended) or as is, and that's dinner done and dusted.
11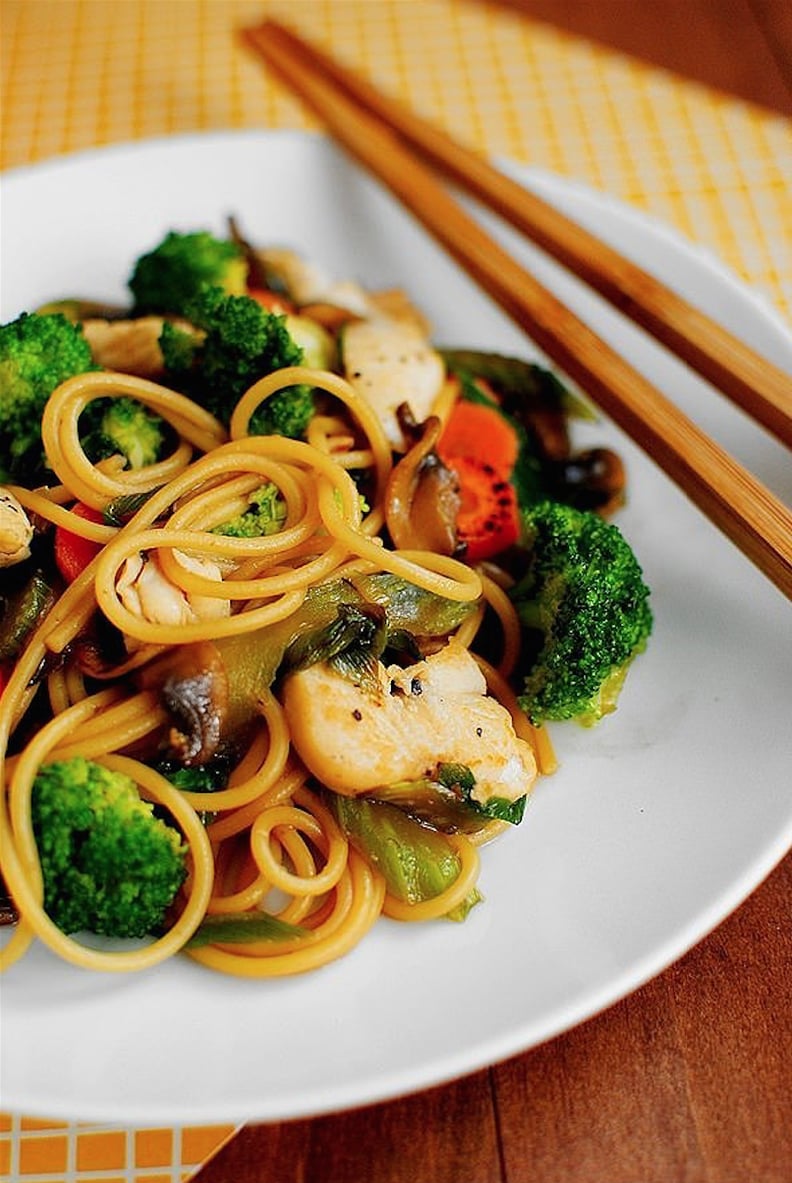 Chicken Lo Mein
Take your Chinese restaurant off speed dial: your kids are going to have a new favorite dish that you can make with them right at home. Whip up some pasta, chicken, and veggies in a wok to make this beautiful and colorful chicken lo mein in just about 10 minutes. Kids can help wash veggies, pour ingredients into the pot, and most importantly, help you eat it all.
12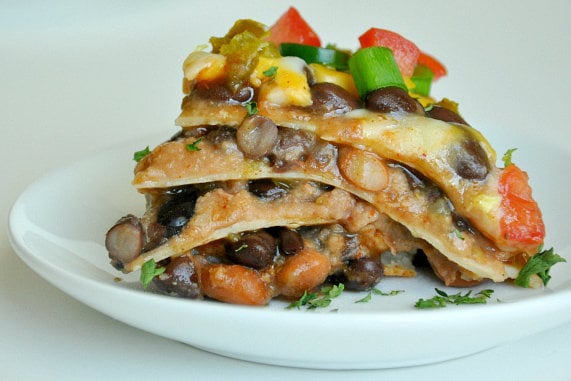 Mexican Pizza Lasagna
If a burrito, slice of pizza, and a cube of lasagna had a baby (OK, that would be weird — just bear with me), this would be that beautiful baby. This Mexican pizza lasagna is layer after layer of "laszzarito" (patent pending) goodness that your kids can help you pile up in the baking dish before cooking and demolish once it's finished.
13
One-Pot Chili Mac
Though this chili mac has a lot of ingredients, it's still an easy recipe that is sure to be a family favorite that the kids will request over and over. Use the long list of components to your advantage — measure out all of the ingredients, so the kids can help you pour them into the big pot. Cleanup will be a breeze because it's a one-pot meal, so it's worth washing the extra bowls and measuring cups to see them happy that they've helped.
14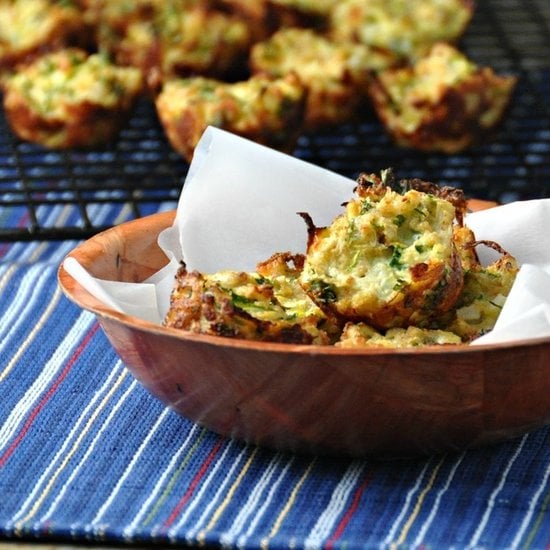 Zucchini Bites
Like a potato pancake, but healthier, these zucchini bites are the perfect way to slip veggies into a delicious dinner, and kids will love helping to make them. Once all of the ingredients are mixed together, let the little ones squish the mix into muffin tins. Later watch them enjoy the finished product — totally ignorant of the vegetables — with a grin on your face. You sly devil, you.