I Love My Husband and My Fiancé — and That's OK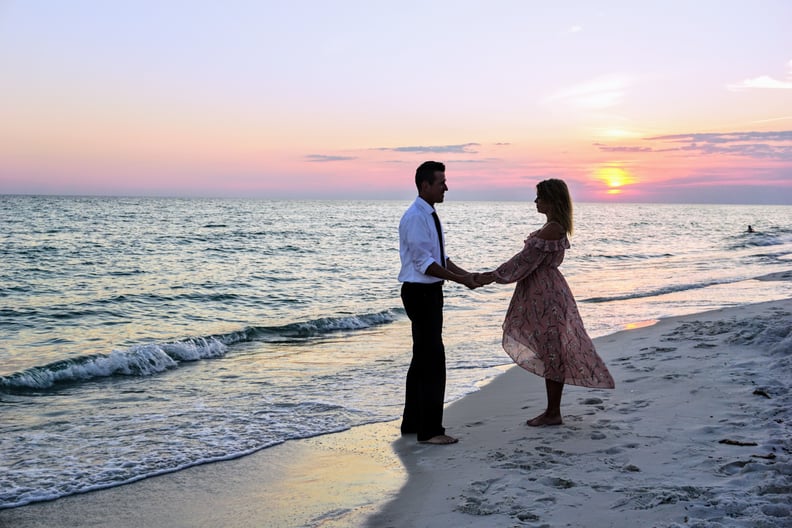 Photos Courtesy of Jessica Ayers
Photos Courtesy of Jessica Ayers
One week has passed since I gave birth to my son Jax, and today, I will bury my husband. As "Knockin' on Heavens Door" bounces off the walls of the Baptist church, I think back on our wedding day. Red roses, greenery, and candles surrounded us. It was a beautiful day, filled with so much love and new beginnings. I never could have imagined that almost 11 years later, I would sit in the same church and be forced to say goodbye. I hold our infant close as I look upon his father's casket. "This can't be real," I tell myself. It's the same line I've been telling myself for days.
Justin and I married in 2003, when I was 20 and he was 22. We were young, in love, and so full of hopes and dreams. Our wedding was definitely on the larger side, with a wedding party of 15 and a headcount close to 400. After all, we had looked forward to our wedding day for more than six years.
Today, the memories of our wedding are still pretty vivid, and I am grateful for that. But it's the memories of his funeral that seem to stick in my mind the most. The church that once brought me so much happiness now only brings pain. It's been four years since I lost Justin, and I still cannot bring myself to be inside those walls.
The day after Justin's funeral, someone asked me a question that I will never forget: "Do you think you will ever remarry?" I was completely caught off guard and found this question totally inappropriate. Not only was it way too soon for me to be pondering this sort of thing, but I'd never even considered the possibility of being with anyone else. But for whatever reason, I answered. "I think so," I responded. I couldn't believe my own words! Justin hadn't been gone a week and I already knew deep down that I wanted to find love again. Was I brave or was I just another fool?
Falling in love as a 14-year-old girl was one thing, but falling in love as a 33-year-old widow is quite another.
A year and a half later, I am all dolled up on a Friday night. My long blond hair is pinned back on the sides, and my red lips are lined to perfection. The Red Bar isn't a fancy establishment, but I am 99.9 percent sure that my recent crush will be sitting at our table. Don and I are past coworkers, and when I discovered he was back on the market, I encouraged my friend Melissa to play matchmaker. I spot our group at the back of the bar with an empty seat next to Don. His baby blues glisten from across the room. Our chemistry is instantaneous, and I feel pretty sure that we will be kissing by the end of the night. But Don is a gentleman and tries nothing of the sort. He gets my phone number and promises to call the next day.
The following morning, I feel ecstatic to awaken to a text from an unfamiliar phone number. "I had a good time last night," it says. "Would you like to go out for dinner soon? This time I'll be your chauffeur." And with that, we plan our first official date.
It was 19 months after Justin died that I began seeing Don. Our history with one another seemed to strengthen our chemistry, and our conversations were a breeze. He's the kind of guy that many women hope to fall in love with. He opened my doors, bought me flowers, paid for my meals, and held me close when we kissed. To go with a cliched term, he swept me off my feet. The only problem with him sweeping me off of my feet was that my feet were still pretty wet. I wasn't emotionally ready for anything serious, and Don had to discover this the hard way.
"Would you mind putting some sunscreen on my back?" Don asked while handing me the tube. My heart started to pound as the thick white paste squirted into my hand. At that moment, it dawned on me that Justin was the only man I'd ever put sunscreen on. Tears started forming in my eyes. "Make sure you get my shoulders pretty good," Don said. "They always burn the worst." But I was already zoned out.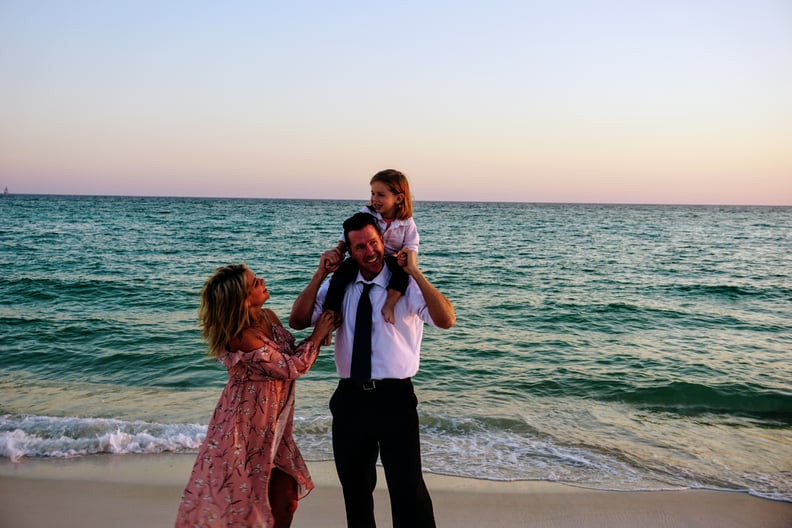 After Justin's death, I was clinically diagnosed with PTSD. PTSD can easily be triggered by the oddest situations, this being one of them. By the time I finished rubbing in the lotion, my eyes were dripping with tears. "Oh my gosh, what's wrong? Are you OK?" Don asked. He was looking at me like I was nuts. I knew that he was fully aware of Justin's death and most of the circumstances surrounding it, but it wasn't something we'd discussed. In the beginning phases of our relationship, Don was a welcome escape. He hadn't yet met my son, so I didn't feel like a mom around him. I assured him that I was OK and politely excused myself to the bathroom. I felt like a fool for exposing myself like that. What would he think of me now?
Over the next few months, things were pretty touch and go. Two weeks after Jax and I moved into our new home, we jetted off to Alaska for three weeks, where my band Fortag was playing a gig at the world-famous Chilkoot Charlie's. It was the first time I was able to physically step away from my life as a widow, and I was more than ready to embrace the experience. I didn't put much effort into keeping in touch with Don. I assumed he would meet someone else and forget about me. But I was wrong: when I returned home, he was ready to pick up where we'd left off. Alaska had done more than physically separate Don and me. It also forced me to realize that it didn't matter how many miles were in between me and my life; my problems were not going away. I quickly fell into a dingy crater of depression, and my anxiety became increasingly worse. It was time for me to really push him away.
"Why are you still here?" I asked him in a fit of rage. Four months into our relationship, Don and I rarely argued. He seemed to bring out a noncombative side of my personality. But my PTSD had a mind of its own, and it was pushing away the man I was falling in love with. The look in his eyes told me he was upset, but this time he was refusing to go. "Because you asked me to stay," he responded. "I'm not doing this again." But I insisted: "Can't you see? I'm a mess and I can't do this anymore."
As he walked out the door, I burst into tears. I couldn't believe that he would just leave me like that. "You can't handle my situation," I texted him moments later. I'd never given him the opportunity to try. I heard nothing back and I assumed that this was the last exchange we would ever have — until an angry knock came pounding on my door. I swung open the door to find a bright-red Don. "That's not fair and that's not cool," he said. "How dare you assume that I can't handle your life? I think I've been handling it pretty well."
My PTSD had a mind of its own, and it was pushing away the man I was falling in love with.
He was right. I'd spent so much time trying to disguise my PTSD and depression, but the only person I was actually fooling was myself. If I was ever going to find a happy place in a new relationship, I had to allow myself the opportunity to fall in love. This meant embracing a whole lot of unwanted pain. With that, I fell into his arms and began to sob. "I'm so sorry," I said, "I don't know why I do this." This was a huge turning point in our relationship. I finally felt ready to invite him into my life and show him the ugly side of what I'd been trying so desperately to hide.
It's been two years since this infamous day, and I am happy to share that Don and I are now engaged to be married. Falling in love as a 14-year-old girl was one thing, but falling in love as a 33-year-old widow is quite another. I would call Justin my Prince Charming and Don my knight in shining armor. Justin fell for a young, starry-eyed girl with so many hopes and dreams, and Don rescued me from the one person who could have hurt me the most: myself.
One question I've gotten a few times: what does it feel like to love them both? The truth is that it feels strange, sad, and good all rolled into one. It's no secret that Don and I are together because I lost Justin, but I don't believe in the aphorism that "everything happens for reason." No matter how much time passes, I will never be able to justify Justin's death in a positive light.
I do, however, believe in the sentiment that "when one door closes, another one opens." I have faith in the fact that Don came back into my life for a reason. He is a man of so much honesty, character, and loyalty. I feel extremely grateful that he will be here to help me raise my child and that Jax won't have to grow up without a father. I am proud to say that I have found love again, even if it was, as the Rihanna song says, "in a hopeless place."