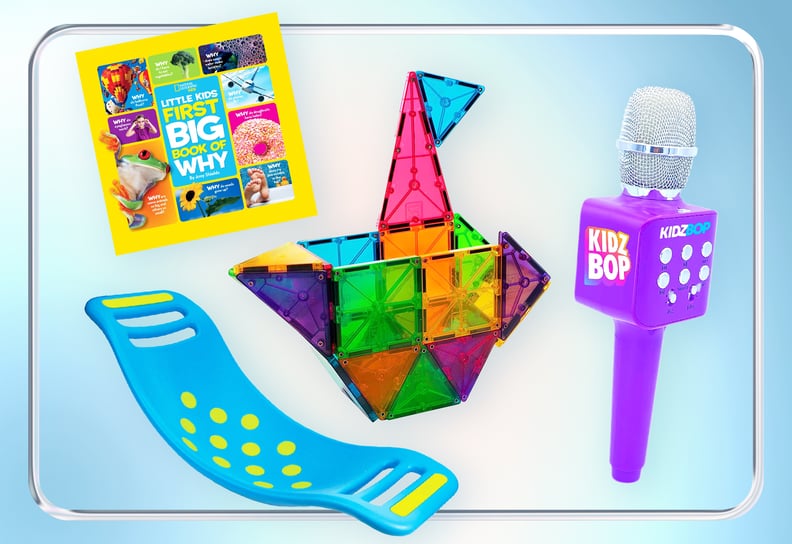 Amazon | Educational Insights
Photo Illustration: Ava Cruz
Amazon | Educational Insights
Photo Illustration: Ava Cruz
Every editorial product is independently selected by our editors. If you buy something through our links, we may earn commission.
The ages of 3 to 5 are sometimes called the "magic years," and the age of 4 is smack dab in the middle. At 4, children are becoming more independent, using their mobility to exude a natural sense of wonder and desire to discover. Preschoolers are also more apt to share, making it the perfect age for playdates.
So what can 4-year-olds play with during said playdates (or independently)? Fortunately, there are tons of toys for 4-year-olds that can encourage their imagination and help fine-tune motor skills through carefree, unstructured playtime.
To help parents and gift givers who are making holiday lists and checking them twice, we scoured popular big-box retailers for top toys. We narrowed it down by looking at reviews — only products with 4.5 stars and above made the nice list. From big-ticket classics like cars and Legos to STEM toys that make at-home learning a blast, these are the best toys and gifts for 4-year-olds this year.
01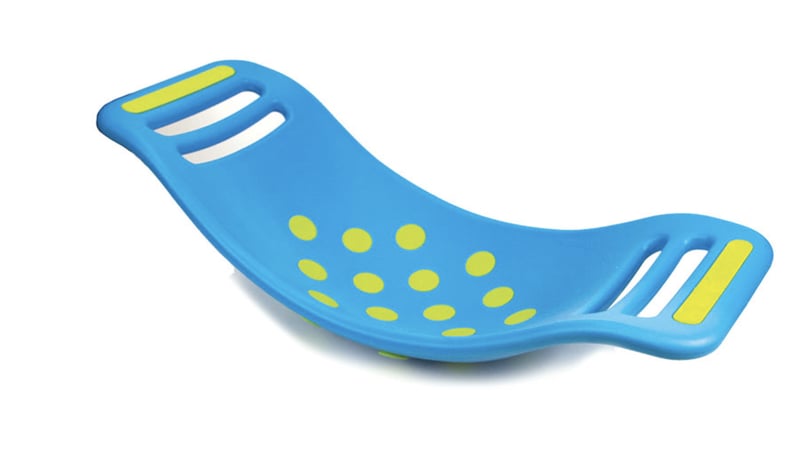 Best Toy For Indoor Playtime
Fat Brain Teeter Popper ($45)
Banish cabin fever with a Teeter Popper. One of the most popular Fat Brain toys for 4-year-olds, the Teeter Popper allows kids to wiggle, sit, stand, tilt, spin, and wobble, helping them build strength, stability, balance, and gross motor skills along the way. Bonus: it lets kids get their energy out even when it's too cold (or hot) to even think about opening the door. The Teeter Popper comes in three colors (blue, green, and pink), so you can match the playroom's aesthetic.
What reviewers say: "My 4-yr old granddaughter loves her new teeter popper as do her 2 older sisters. It makes a satisfying popping noise and offers active indoor play."
Some previous buyers noted the suction cups came off, so be sure to monitor children.
02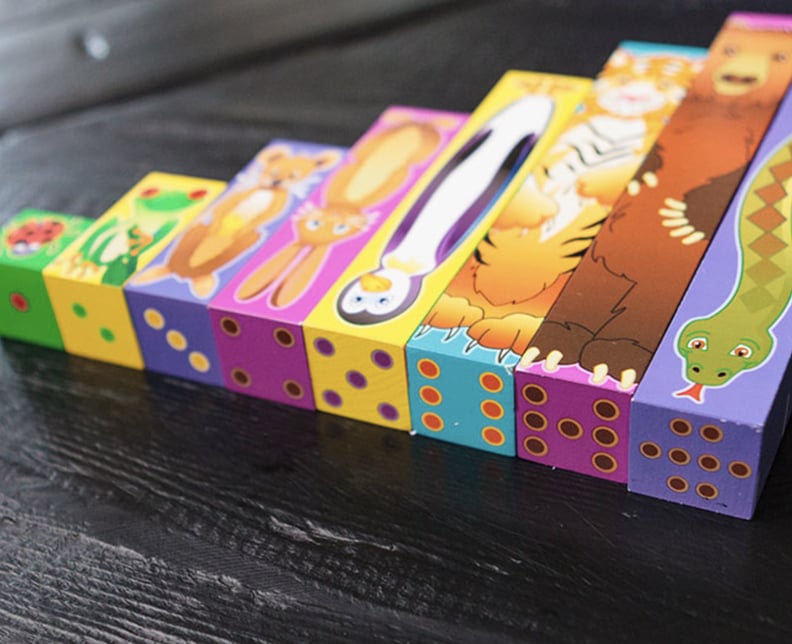 Best STEM Toy For 4-Year-Olds
Fat Brain Inchimals ($40)
Math is way more fun when it's a safari adventure. Inchimals's math blocks provide opportunities to learn about measurement, addition and subtraction, and even pre-algebra with bright, illustrated animals along the sides. Fat Brain buyers rate age 4 as the best age for Inchimals, and the toy has a 4.7-star rating.
What reviewers say: "I bought this for my 4 yo grandson and he loves it. He is interested in measuring things and has a fun time figuring out the combinations which add up to the taller blocks."
03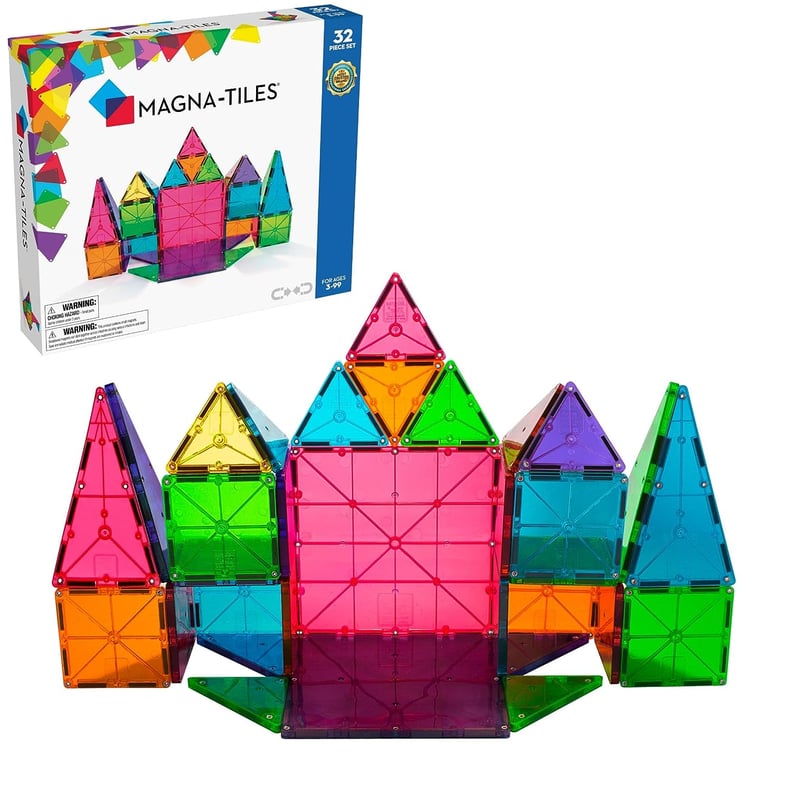 Best Construction Gift For 4-Year-Olds
Magna-Tiles Classic 32-Piece Magnetic Construction Set ($50)
If your 4-year-old has attended day care, preschool, or even a library program, chances are they raved about Magna-Tiles. The magnetic blocks allow for endless builds — an opportunity to lay a foundation for imaginative play and STEAM skills. There are tons of themed sets out there, but the classic construction serves as a blank canvas and the perfect starter kit for your kid's soon-to-be-budding Magna-Tiles collection.
What reviewers say: "These toys are just the best of the best! They are a favorite in my household. They are so good for hand-eye coordination, as well as imagination and thinking skills. My son can spend hours playing with these and never gets bored. They are a great price for how long they hold up and how much fun kiddos have while playing with them. This is a must have gift for any child in your life!"
04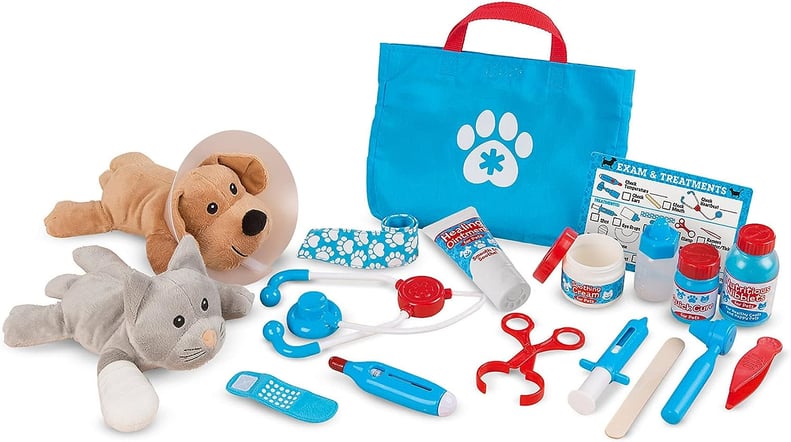 Best Career-Related Pretend Play Gift For 4-Year-Olds
Melissa & Doug Examine and Treat Pet Vet Play Set ($38)
There's no need to rush a 4-year-old to choose a future career. But this popular Melissa & Doug set will allow them to be a vet for a day, any day. The 24-piece set comes with pretend medical equipment like medication containers and topical creams. It even comes with an adorable plush cat and dog (complete with post-surgical cones of shame). The set opens opportunities for lessons on empathy, caring for someone else, and hours of fun. Bonus for parents: the medical bag doubles as an easy storage option.
What reviewers say: "I bought this first for my son and then bought as a gift for a friend. Kids are always playing with this at my house and it keeps them entertained for hours. All of the pieces are so cute and easy for kids little and big to play with."
05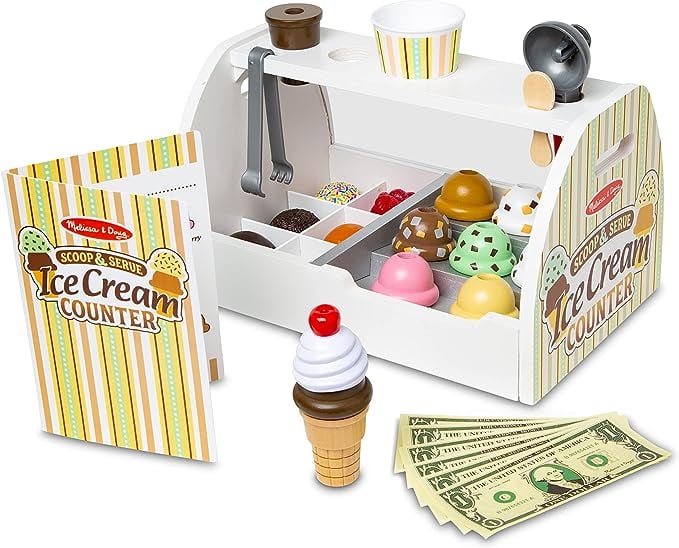 Best Addition to a 4-Year-Old's Play Kitchen
Melissa & Doug Wooden Scoop and Serve Ice Cream Counter ($35, originally $40)
Ice cream is always in season with this classic Melissa & Doug Ice Cream Counter set. The toy, with a 4.9-star rating based on more than 16K Amazon reviews, has all the ingredients for a trip to the ice cream store that doesn't involve leaving your home: a scooper, ice creams like vanilla and mint chocolate chip, toppings, cones, and a bowl. There's even money for kids to pay — a sneaky-sweet math lesson.
What reviewers say: "This is a premium toy! So durable and cute! The ice cream scoops too! It comes with a plastic menu and money to buy whatever you want 1,2,or 3 scoops, cones or dish and toppings too! It's so much fun for my grandson."
06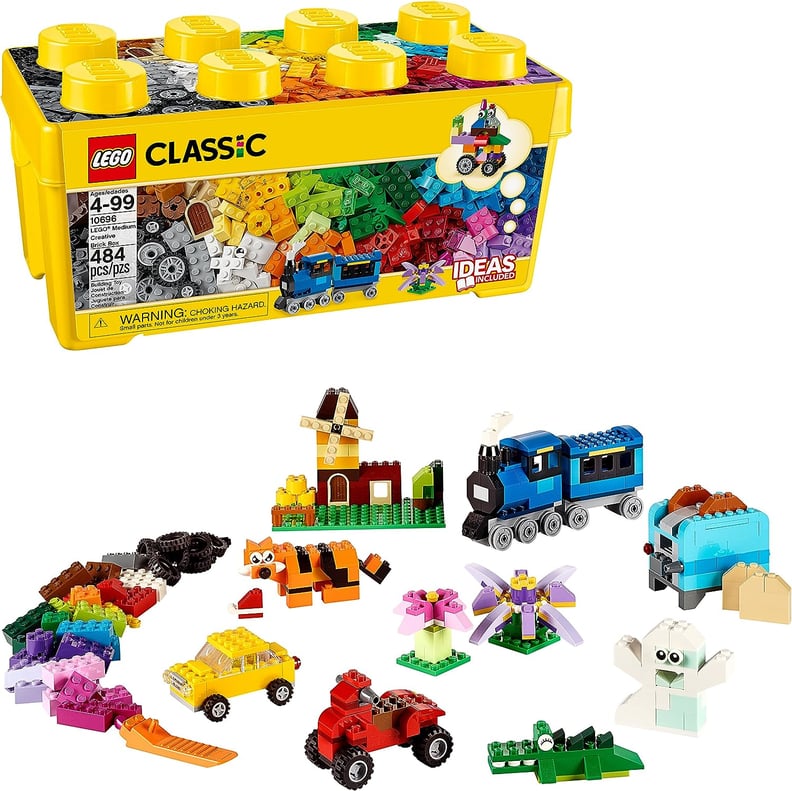 Best Lego Set For 4-Year-Olds
Lego Classic Medium Creative Brick Box Building Toy Set ($23, originally $25)
Technology advances, and toy trends come and go. But Legos? They're mainstays. This set comes with 484 pieces that will engage kids from 4 to 99 (so, little ones and their caregivers) for days. In addition to the classic bricks in 35 colors, the set comes with blocks that can be used to build trains, tigers, and windmills (oh my). No one likes to step on a Lego after putting the kids to bed, and the included storage box makes that less likely. More than 45K Amazon reviewers have given this set 4.9 stars out of five, hailing its age appropriateness (five stars) and durability (4.8 stars).
What reviewers say: "The name Legos says it all. Purchased this set for my 3 1/2 year old grand daughter. Loves, loves to play with these. The container that holds this set is large enough that I was able to include a smaller set of legos to store all together."
07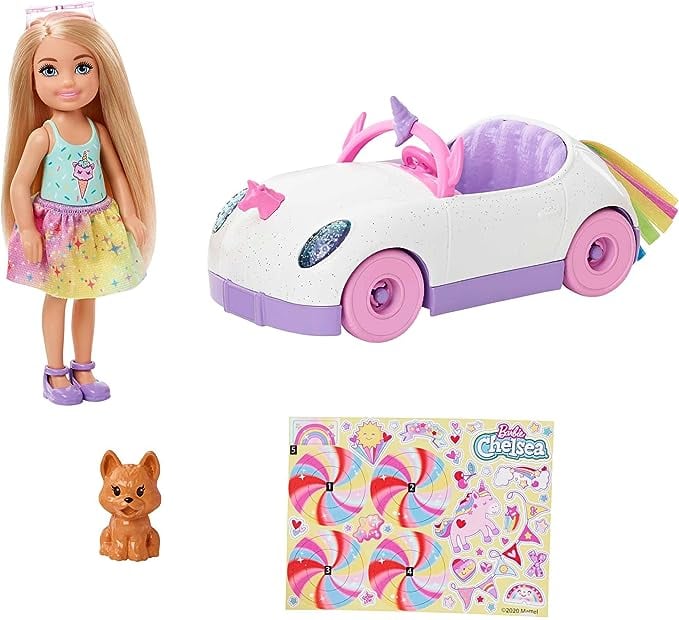 Best Barbie For 4-Year-Olds
Chelsea Doll & Unicorn Toy Car ($14, originally $7)
Barbie is likely to be a popular pick for gifts in 2023. Her little sister, Chelsea, is ideal for the younger crowd. This specific Chelsea comes with many of a 4-year-old's favorite things: a puppy, a unicorn-themed car, stickers, accessories like pink sunnies, and a removable tie-dye skirt for imaginative styling. The Chelsea Doll boasts 4.8 stars on Amazon, with happy customers praising its ease of assembly, giftability, and durability (4.8 stars).
What reviewers say: "Very cute toy and great for the price. My daughters have a lot of fun with this doll and car."
08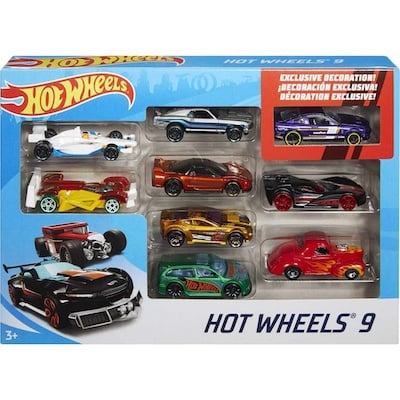 Best Car Toy For 4-Year-Olds
Hot Wheels Gift Set of Nine Toy Cars ($21)
The age of 4 is a perfect time to rev up a little one's love for classic brand Hot Wheels. The toys are appropriate for preschool-age children starting at age 3, and this nine-piece set can kick-start their collection.
What reviewers say: "My grandson went crazy over this gift! He LOVES anything Hot Wheels and this selection of different cars did NOT disappoint! There was 1 car in the set that he already had but his old one was missing a tire so it worked out great."
09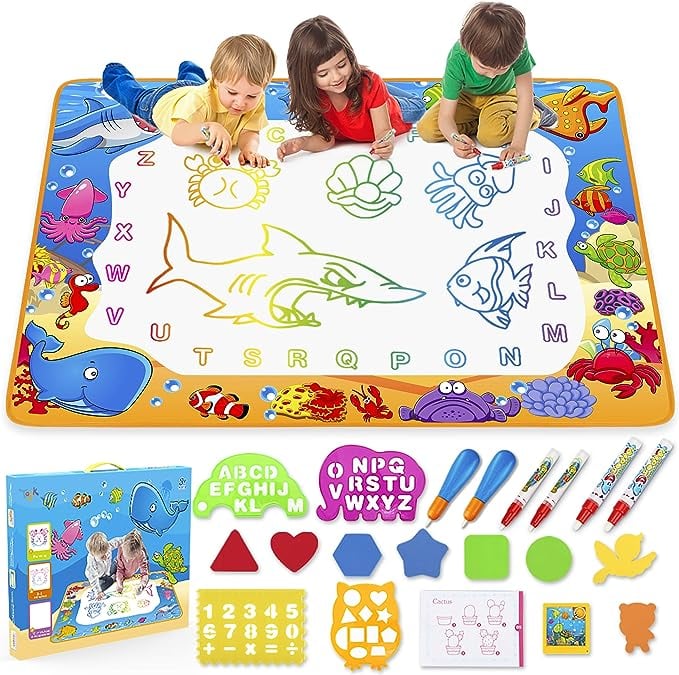 Best Mess-Free Art Gift For 4-Year-Olds
Water Doodle Mat ($26, originally $38)
The words "water" and "art" don't typically go with "mess-free," at least not when a 4-year-old is involved. But this super-popular Water Doodle Mat bucks that notion. Fill a pen with water, let your kids draw to their hearts' content, and watch the creation disappear in three to 10 minutes. Then rinse, wash, and repeat (literally!).
The Water Doodle Mat can be used indoors and out, at home or on the road. It's 40 x 28 inches, but it folds into a compact mat that travels well. More than 26K fans have given the mat a 4.5-star Amazon rating. Some customers noted it didn't dry well and that sometimes, pictures don't completely disappear. But most raved about the Water Doodle Mat, calling it a glitter-free win for kids and parents alike.
What reviewers say: "We got this for my son so he can color without getting pen marks on the furniture. Easy to use and quickly dries. He loves it. We try to pull it out every night to do something with him. It comes with stencils and foam pads."
10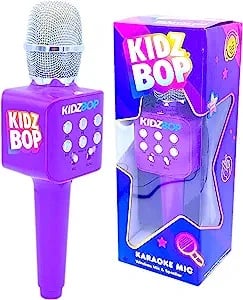 Best Music Toy For 4-Year-Olds
Move2Play Kidz Bop Karaoke Microphone ($27, originally $30)
Some parents may attempt to enforce a "no musical toys" rule for their own sake; those kid bangers can get stuck in your head, and not in the best way. But consider making a teeny, tiny exception for this smash hit with preschoolers. The Kidz Bop microphone turns your living room into something rivaling the Eras tour. It connects to your phone or tablet, so you can play DJ for your kid and tee up a song from your Spotify. Have fun with voice effects like high-pitched chipmunks that'll bring you back to your glory days watching "Alvin and the Chipmunks."
What reviewers say: "My niece loves to perform and this gave her a way to do so. Connects easily to phone to play music off the phone and the voice changer gave kids and adults a laugh. Most sung song on it was happy birthday as each kid took a turn giving their rendition to the bday girl. It was Hilarious and well received."
11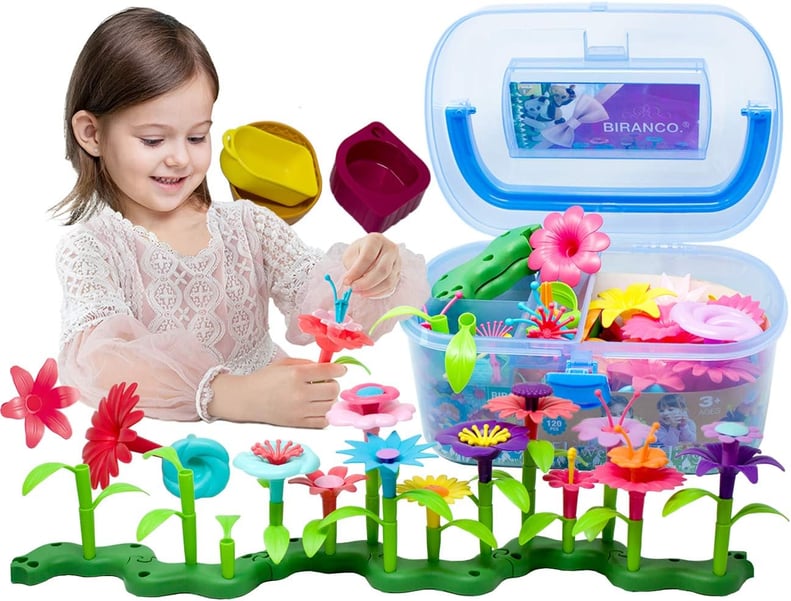 Best Rainy-Day Toy For 4-Year-Olds
Flower Garden Building Toys ($27, originally $33)
April showers may bring May flowers, but rainy days (or blizzards) can be a bummer for kids who want to go outside. Bring the outdoors in with the Amazon-favorite Flower Garden Building Toys. The set comes with nontoxic, durable plastic buds and stems in multiple colors. The toy builds on hand-eye coordination skills and provides boundless opportunities to showcase creativity, even if the weather has you homebound. Nearly 5K Amazon reviewers have given the toy a 4.8-star rating.
What reviewers say: "I bought this set for my 4 yr old granddaughter. She loves gardening, flowers and crafts. This gift is a hit! Very well made and the plastic box for storage is perfect. She can make individual bouquets in sets of 3 or connect all of the green bases together for an entire garden. Super cute idea. Hours of fun and creativity in her future. Highly recommend!"
12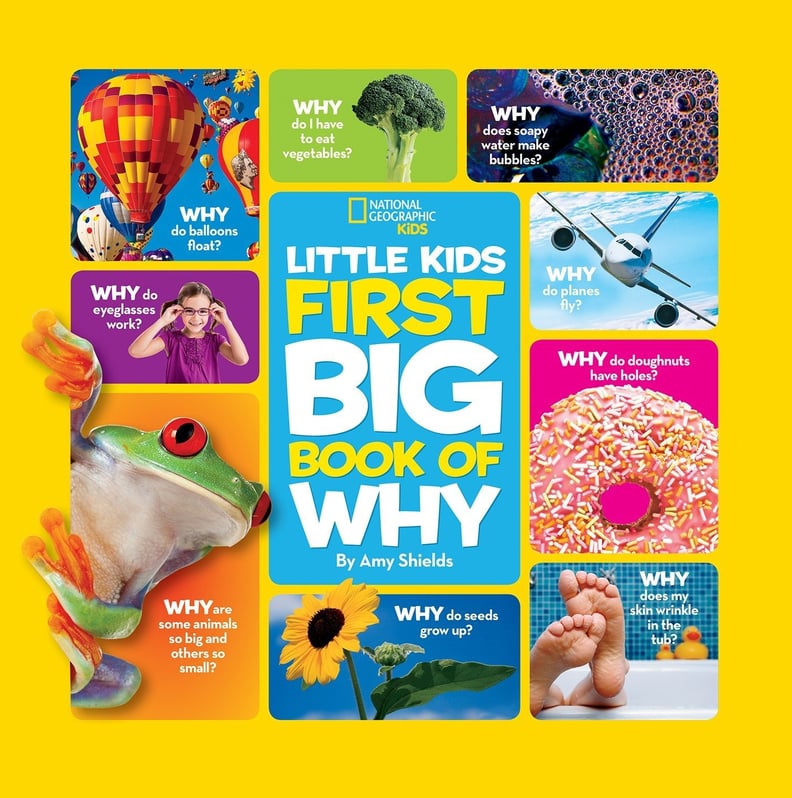 Best Book Gift For 4-Year-Olds
National Geographic Little Kids First Big Book of Why ($12, originally $15)
Four-year-olds are naturally inquisitive, and "National Geographic's Little Kids First Big Book of Why" will entertain all of their curiosities. The No. 1 bestseller on Amazon for "children's almanacs" has a 4.8-star rating based on more than 18K reviews. It's playful, educational, and full of vibrant imagery and answers to questions that will even have grown-up readers learning a thing or two, like how escalators work.
What reviewers say: "Purchased this book for my nieces 4th birthday and she loved it. It's educational and simple to read. If your looking for a book to explain all the WHYS then this is the book for you!"