Girl's Reaction to Looking Like Young Mirabel From Encanto
Little Girl Reacts to Looking Just Like Encanto's Mirabel: "It's Me, Mommy!"
Fans across the globe have already witnessed the power of representation that Disney's Encanto has provided (who can forget the little boy who thought he was looking at himself when Antonio came on screen?), and 2-year-old Manu Araújo Marques is no exception.
While Manu was watching the movie for the first time, young Mirabel — with her round glasses, bright eyes, and dark curly hair — appeared. Manu immediately said, "It's me, Mommy!," in her native Portuguese.
Manu's mom, Hannary Araújo, who captured the beautiful moment on video, said: "It's you? Look at Mommy, let me see if it's you." Manu then turned around to showcase their adorable resemblance. When Manu later saw the adult version of Mirabel, she said, "I grew up, Mommy!"
Hannary, who is based with her family in Minas Gerais, Brazil, posted the video to her daughter's Instagram page, where she wrote that they now want to watch the film every day.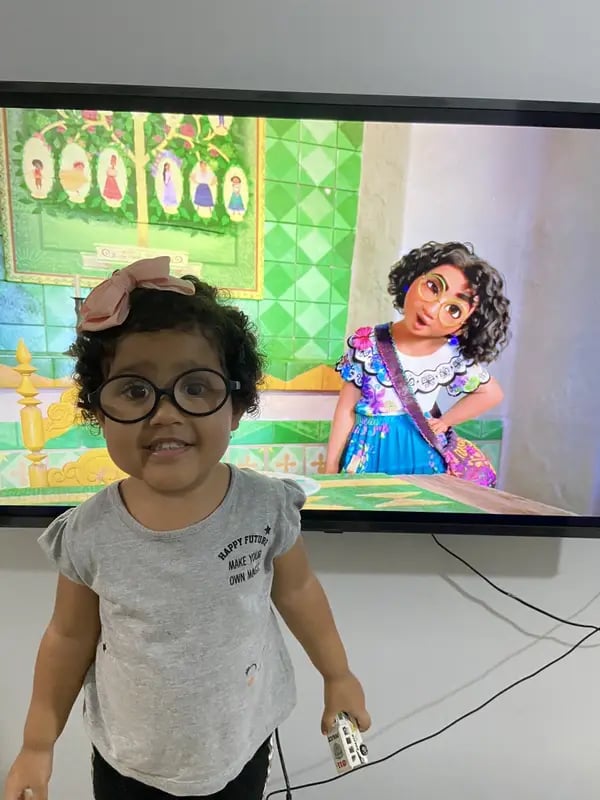 And it wasn't just connecting with a Latin American character that proved impactful for the family. Mirabel is the first main lead Disney animated female character in history to wear glasses, and that shared characteristic left an impression on Manu and Hannary both.
"There's nothing better than seeing your child's joy — especially being represented in a Disney movie," Hannary said, adding that the film "showed us the true meaning of representation for the whole world, especially for our children — those who will build a better future."
Image Source: Hannary Araújo