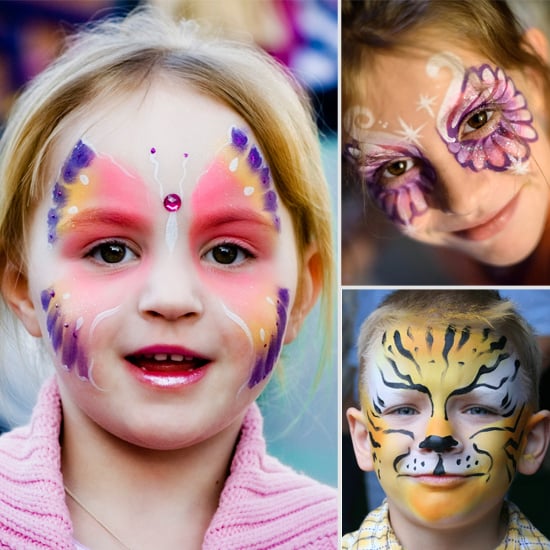 Along with wearing adorable Halloween costumes, this is the time of year for fun face paint. From cute kitties to scary monsters, doing your tot's face paint is easier than you think — with the right design, the face paint itself could be all the costume your kid needs. With a bit of patience and planning, you can pull off any of these amazing looks.
Click through for tips, ideas, and must-have products for successful face painting this Halloween.
01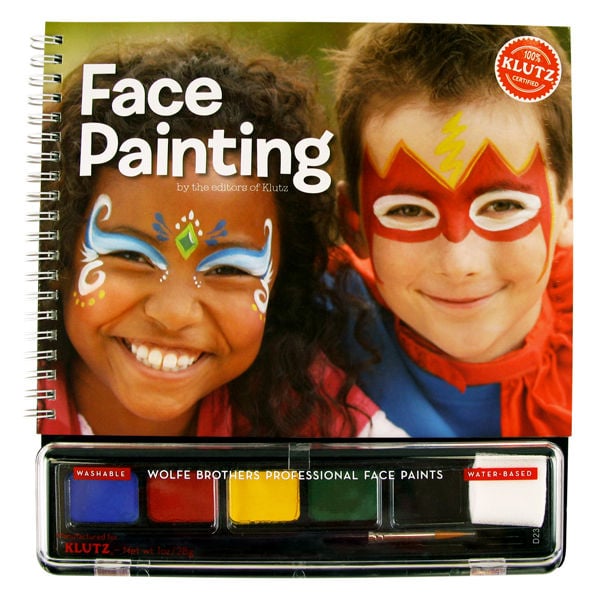 Face Painting Klutz Kit
Here's a Face Painting Kit ($14) that comes with a book full of fun and easy ideas. And it's the perfect size to take to your lil one's school for quick touch-ups before class parties.
02 Stay Clear of the Eyes
Kids aren't used to having lots of stuff on their faces — especially around the eye area. For a cute animal look, start by creating a circle of color around the perimeter of your tot's face and blending toward the hairline. Use face paint pencils to add details and fill the rest of the face. This way, if they rub their tired eyes, all won't be lost. Keep things safe by using all-natural face paints ($20) or try making your own natural face paint.
03 Buy Makeup Sponges
Your face paint kit probably came with a set of foam sponges, but to get perfectly blended face paint that doesn't look sticky, order a set of makeup sponges ($9). This way, you'll be able to lightly color areas around your child's eyes and create beautifully blended colors.
04 Add Some Bling
Older kids who are more comfortable with face paint will love the addition of assorted body jewels ($7), which are inexpensive and give face paint a pop.
05 Invest in Extra Black
Most face paint kits come with the same amounts of each color, but it's a good idea to pick up extra black paint ($6).
Pro tip: to create the tiger design pictured above, section the face into areas of orange, yellow, and white, using a makeup sponge to blend the colors back toward the hairline. Then use a paintbrush or cotton swab to add the black details.
06 Make It Sparkle
Jazz up their go-to look with a dusting of glitter. Body glitter ($11) is a great addition to your face paint kit.
Pro tip: to create the flower design pictured above, use a makeup sponge to create a circle around your child's eyes, using one color. Then use a face paint pencil or paintbrush to create the petals of the flower. Add touches of white and additional designs before topping it all off with some sparkle.
07 Skeleton Halloween Makeup Set
08
Extreme Face Painting: 50 Friendly and Fiendish Step-by-Step Demos
Want step-by-step, guaranteed-successful instructions for face painting? Then this is the book for you. With 50 ideas for fun face painting, Extreme Face Painting ($18) has detailed picture directions and tips for making your child's face paint perfect.
09 Use Bold Colors
Use bright, crisp colors to make sure your kid's leaving the house with some amazing face paint. Don't be afraid to apply it in heavier layers to create saturated areas of bright hues that complement one another.
10 Keep It Simple
If you're seriously lacking in the art department but your children's hearts are dead set on getting their faces painted, there's nothing wrong with keeping it simple. Add a painted mustache, paint a small shape on the side of your child's face that works with her outfit, or draw on some whiskers for a fun touch.