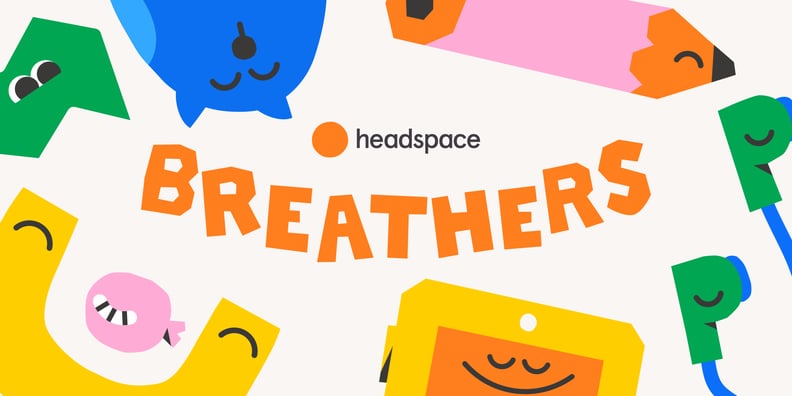 Headspace, the company dedicated to teaching people to incorporate meditation into their daily lives, released a new series that focuses completely on parents and caregivers who want to understand their kids' emotions and help them self-regulate. Initially launched on March 16, Headspace Breathers seeks to help families practice mindfulness in this hectic period of staying at home, not seeing loved ones, and increased screen time due to remote learning.
Each week, a new episode of Headspace Breathers will focus on a specific theme, such as "Finding Focus" or "Balancing Emotions." Led by kids' mindfulness expert, Samantha Snowden, the episodes will lead families through practical, creative, and playful exercises. She'll also share tips for caregivers and kids as to how to best incorporate mindfulness into their lives whether they're at home, school, or out running errands.
"When designing Headspace Breathers, I thought of the activities and practices that have been most effective for the children and families that I've worked with," Samantha told POPSUGAR. "The activities in Headspace Breathers empower caregivers with ways of relating to their children and their emotions with more curiosity and openness. They help to break habitual ways of reacting, encouraging a stance of compassion, positivity and acceptance. Changing the emotional climate of our families starts with us as individuals. Headspace Breathers offers tools for self-regulation that positively influence the regulation of our families as a whole."
"Changing the emotional climate of our families starts with us as individuals."
Of the playful and engaging activities and exercises that serve to help your family build resilience and emotional awareness, she added: "The activities offered in Headspace Breathers are designed to be used in the middle of our busy lives, whether you're in the car or waiting in line in the grocery store. The series offers family members an opportunity to connect with themselves and each other, shifting the emotional climate of the household to one that is more open, honest and loving."
Check out the first three episodes of Headspace Breathers below.
Balancing Your Child's Emotions | Headspace Breathers
Balancing Screen Time for Kids | Headspace Breathers
Helping Kids Focus | Headspace Breathers