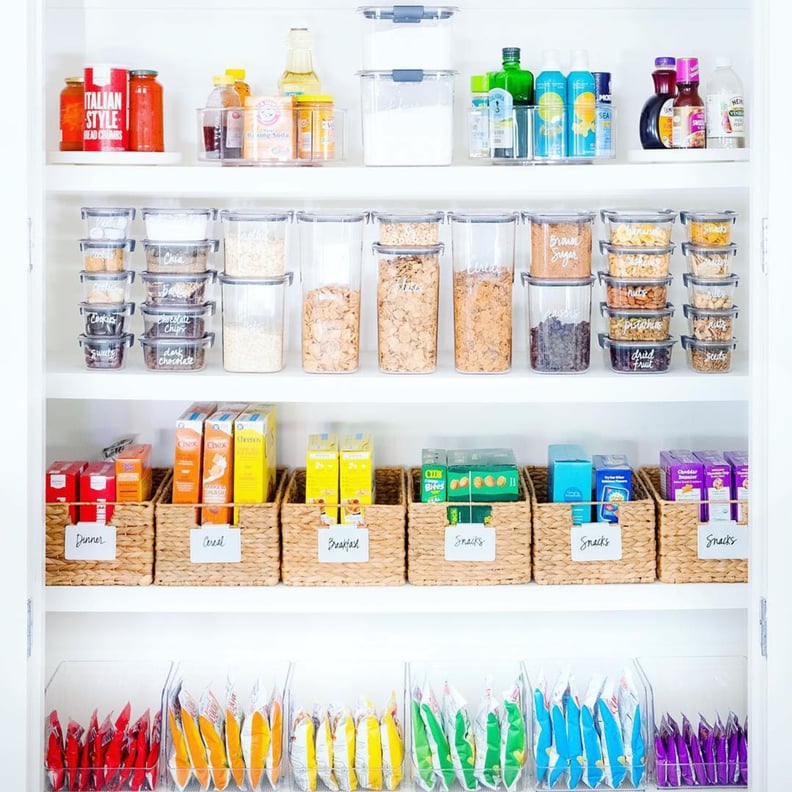 After spending about a half hour scrolling through The Home Edit's feed on Instagram to write an article about its organization solutions for kids' rooms, I had looked through so many photos of belongings in rainbow order, I went home and reorganized every single app on my Apple TV home screen according to ROYGBIV. Then I did my phone apps, even though my thumbs were screaming at me not to due to the muscle memory they've built over time. The feeling I had looking at both screens afterward was, not to be dramatic, one of euphoria.
Which is what I told The Home Edit's Clea and Joanna when I spoke to them on the phone the next day. The pair teamed up with Amazon Alexa to chat to POPSUGAR about staying organized in the new year, and shared a few tips for using Alexa to keep it together, like asking her to keep track of your to-do list or creating a Blueprint skill — aka a personal guidebook — for example, with information like emergency contacts, bedtime routines, and where things are around the house for your babysitter to refer to. And while all of their tips for organizing are amazing (seriously, one look at their Instagram and you'll fall in love), I couldn't help but be fixated on the whole rainbow philosophy.
"It's really useful!" Clea said to me when I told her about organizing my phone apps. "It's a big conversation starter." She's not wrong — one look at my phone and my boyfriend asked with a hint of judgment, "Is your phone . . . rainbow now?" So I wondered, what's their solution when someone is anti rainbow organization?
"In a playroom, it's extremely helpful. It's very intuitive for kids."
"There are definitely people — either for aesthetic purposes or because they just can't wrap their head around it — who are not rainbow candidates, and that is totally fine. We do not push our rainbow ways onto people!" Clea said. "There are a lot of people whose aesthetic is natural woods, or a black and white situation."
Although they don't force their love of rainbow on their clients every time, they are passionate about color order in specific parts of the home. "In a playroom, it's extremely helpful," Clea said. "It's very intuitive for kids, so for children and their rooms specifically, it is a really smart way for them to learn where things go and where to find what they're looking for."
"Also for clothing," Joanna chimed in. "Usually you're like, 'I think I'm in the mood for a red shirt today.' So OK, here's your whole red section. It's just intuitive and smart." Clea added: "For clothing, we kind of insist on it because it's the only smart system. If it's not in that order, you're going to be hunting randomly for things, and there's no need for that. And no one's ever fought us on it, because it just makes sense. We tend to sort by clothing type — you obviously want all your pants together — and then by color. It's the only way to do it, and it looks good! Double win."
"No one's ever fought us on it, because it just makes sense."
Is the urge to reorganize your entire closet present yet? If you take a look at the things Joanna and Clea have organized for their clients, the rainbow trend doesn't stop at closets and kids' rooms — anything and everything from pantries and refrigerators to linen closets and bookshelves gets the rainbow treatment.
"In terms of books, not everyone wants their books set up by color — they want them alphabetical or they want their series to stay together," Clea said. "Listen, I am not a librarian and I would not want to be trying to hunt by the author's name personally; I just think it's a lot easier to line them up by color." Spoiler alert: I did this, and as a huge bookworm who thought she'd care about things being in rainbow rather than alphabetical order, I give it my stamp of approval.
And for those wondering, my boyfriend is now obsessive over the exact rainbow order of our Apple TV apps despite his attitude in the beginning. It appears Clea and Joanna can turn anyone into a rainbow-lover in due time. Still not convinced? Take a peek at all of the things they've organized in rainbow order ahead — you're going to get hooked, promise.
Kids' Book and Toy Closet