Encourage Homework Diligence With an Inspiring Study Station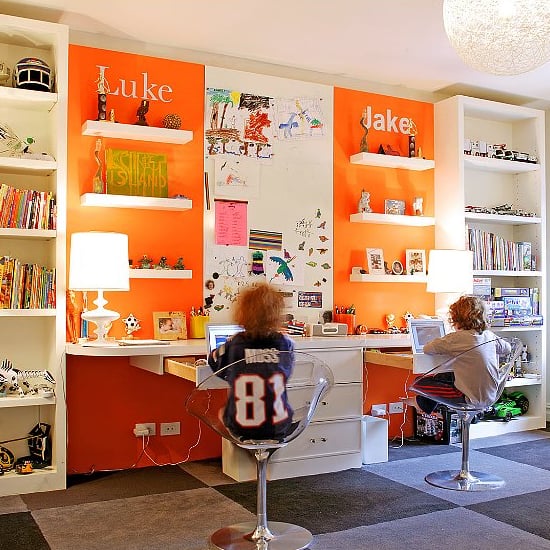 If there's one thing to dread with the start of the new school year, it's the renewed battle over nightly homework assignments. Convincing kids to sit down and do their work is one of the hardest parts of our job. One sure way to get them excited about homework is a comfortable and creative space dedicated to them. Whether your home has all the space in the world for an elaborate desk with an overabundance of supplies, or you need to use a closet to host your nook, we've rounded up the most inspiring homework stations around. Check them out!
The multi-seat station A Pop of Pretty created with products from Ikea provides a great space for several kids to work at once.
A hidden station is always an option, as Kim Wilson of Sand and Sisal demonstrates. Leave it open for easy access during the week and then close it on weekends or when guests are visiting.
For her daughter's homework station, Jessica of Mom 4 Real added a cork board, a chalkboard wall, and plenty of colorful school supplies.
For kids who need the quiet and privacy of doing their homework in their own room, but don't necessarily have the space for a separate desk and bed along the the wall, lofting is always an option. Check out The Friendly Home's
version of the desk tucked under a lofted bed.
Kelly Rae Roberts has a great take on the "cloffice." Her station is literally built into the closet (love the wallpaper addition!) and a chair is pulled up when needed.
If you're short on space, a "clofice," or a closet that's been converted into an office is a great option for a dedicated homework station. Just add a desk, a lamp, a chair, and you're done!
The key to a good homework nook is a space that encourages kids to do their work. This desk and stool version from Craft-o-Maniac
does that with great wall hangings, a stash of supplies, and a central location.
If space is a concern, consider going double-sided. This workspace
, made from a bookcase, some fiberboard, and two pairs of legs, barely takes up any floor space.
When multiple kids need study spaces, it's often more efficient to set up one long table that all of the kids can use. Aimee Lane from It's Overflowing has inexpensive instructions for doing so.
If your child has a wall of closets, consider removing one and placing a desk there in its place.
If the idea of another piece of furniture in the room sounds a bit cramped, consider building the desk right into the wall. A carefully planned shelving unit can serve as a homework area too.
Creating back-to-back study spaces gives kids the space they need to do their work, while allowing them to collaborate when necessary.
How cool is this study area created by Nick Johnson Interiors? The bright colors and cool lighting are sure to inspire little learners.