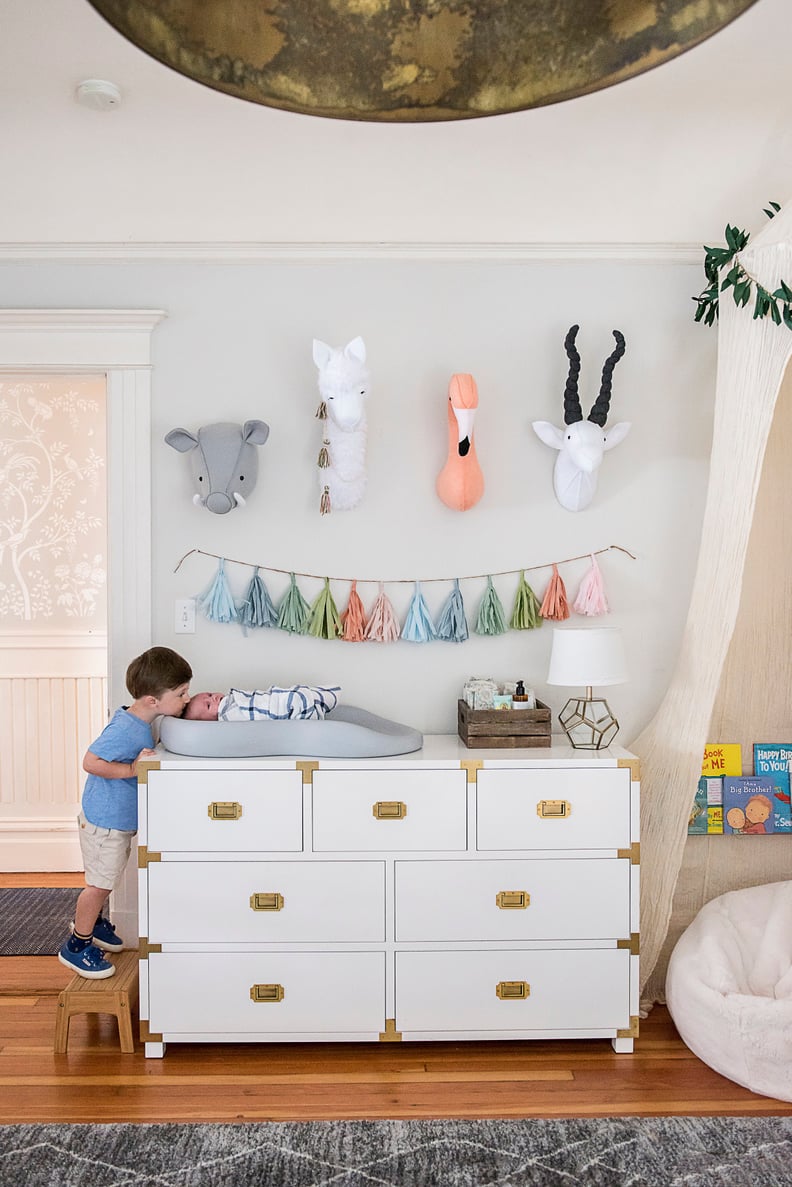 POPSUGAR Photography | Julia Sperling
POPSUGAR Photography | Julia Sperling
When it came time to decorate the nursery for my second son, I had a major design challenge: I needed to convert the formal dining room in my cozy San Francisco apartment into a multi-functional room, providing a place to sleep for my youngest as well as space to play for both him and his toddler-aged brother.
Unsure of how to tackle the project, I sought expert help from Decorist, an online interior design company that helps you decorate your space virtually for a flat fee. While I knew I wanted a sophisticated safari-inspired look, I needed a professional eye to help me refine the design and perfect the layout. Decorist Design Director Jessica McCarthy and main furniture partner buybuy BABY worked with me to craft the room.
"Creating something aesthetically pleasing yet functional was my main goal," Jessica told us.
The end result combines whimsical play elements that draw my toddler into the room with the practical features I need to care for my newborn. And it packages all this in enchanting style, beautiful beyond my wildest expectations. It's a room that captivates children and adults alike. Keep reading to get Jessica's pro design tips and learn how to transform any space into a dazzling dream nursery.

01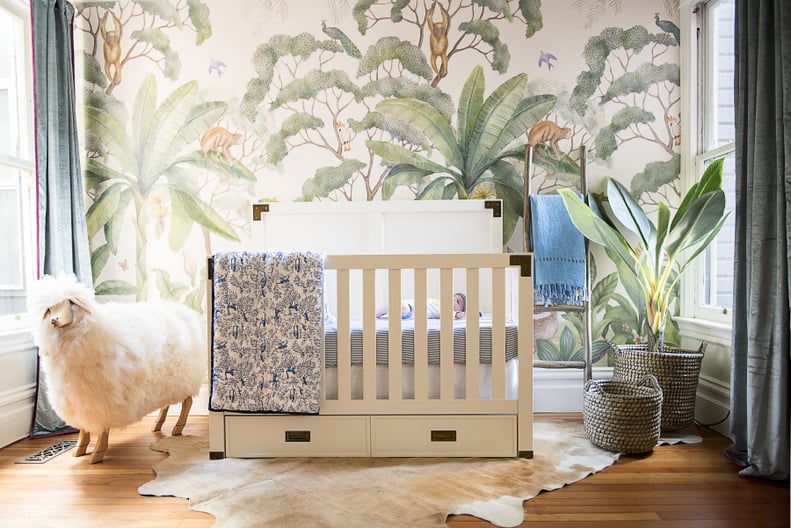 Set Your Design Tone Early – And Stick to It
"My tip is to always stick with a common theme, find an inspiration and use that as your anchor," Jessica advises. "For my nursery aesthetic, I was inspired by a jungle wallpaper mural ($175 per roll). I loved how elegant yet whimsical it was for an accent wall and wanted the room to follow suit." Jessica explained, "The jungle wallpaper set the tone for the rest of the items we sourced."
02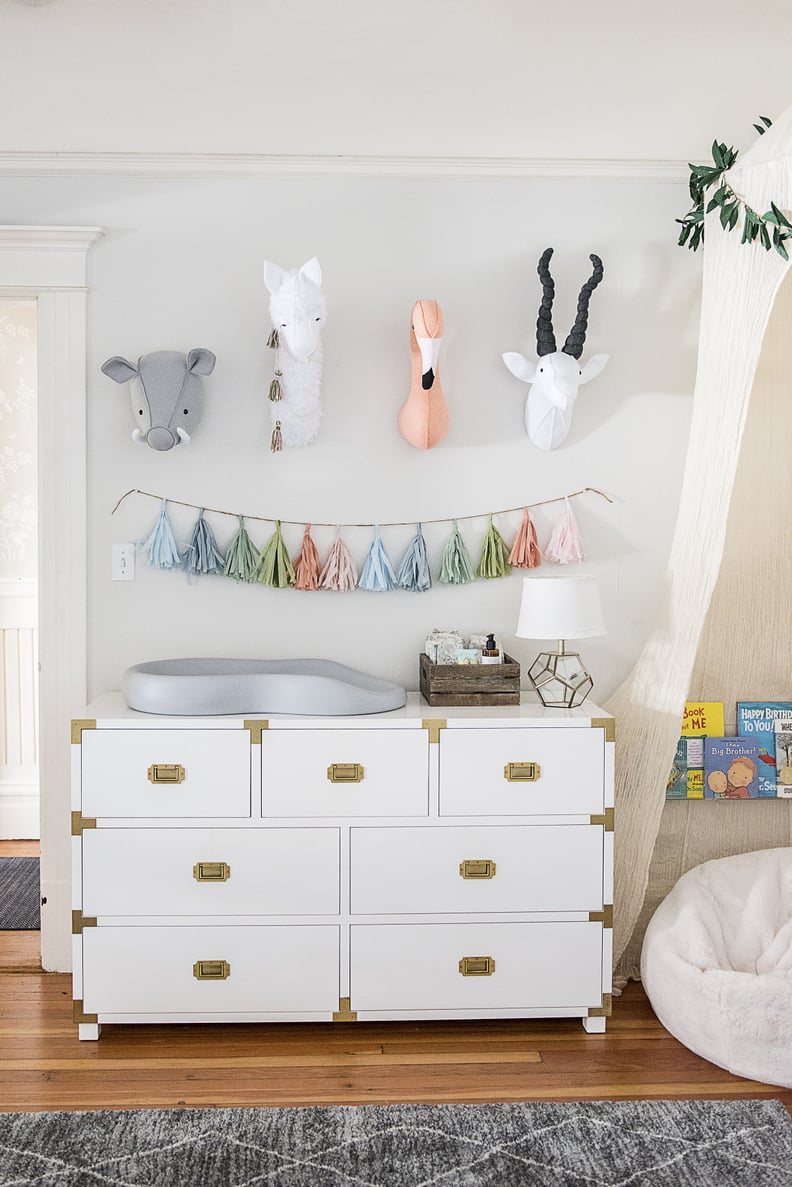 Add Affordable Custom Accents
Jessica imbued the changing area with youthful charm by adding handmade decor, like the darling menagerie of animal busts ($50-$75). Etsy is a great place to unearth affordable and unique accents, such as the colorful tassel garland ($23) above the dresser or crepe paper vine garland (from $20) draped atop the tent. You can also source personalized designs, such as the "Beau" name banner (from $21) above the bookcase, on the online marketplace.
03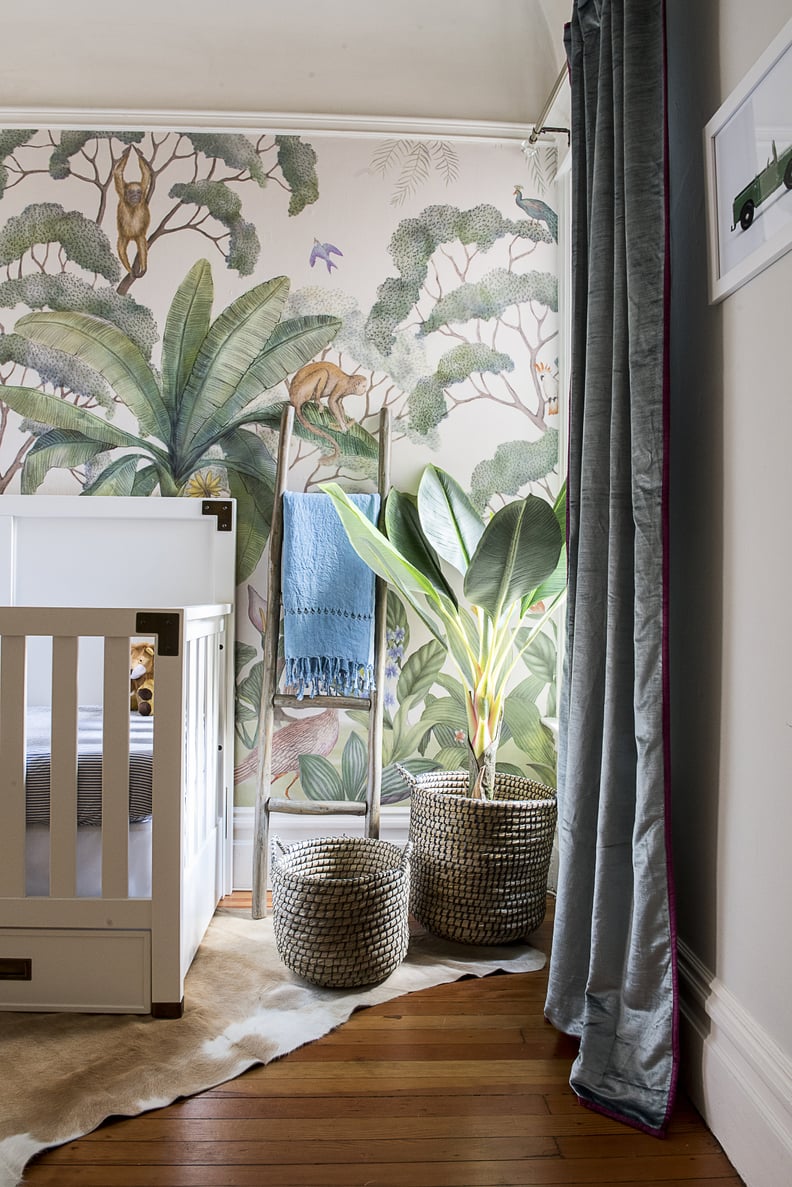 Sneak in Storage Everywhere
Kids may be small, but their belongings can make a huge mess. To combat the clutter in my nursery, Jessica thoughtfully sourced attractive ways to incorporate storage into every inch of the room. "Going along with the safari theme, I wanted to use organic, earthy elements such as woven baskets, tin containers, and aged brass accents," she explains. A ladder adds to the ambiance while also servings as the perfect place to hang spare blankets, and even the Wyatt 4-in-1 Crib ($700) has drawers tucked beneath it for holding extra bedding and linens.
04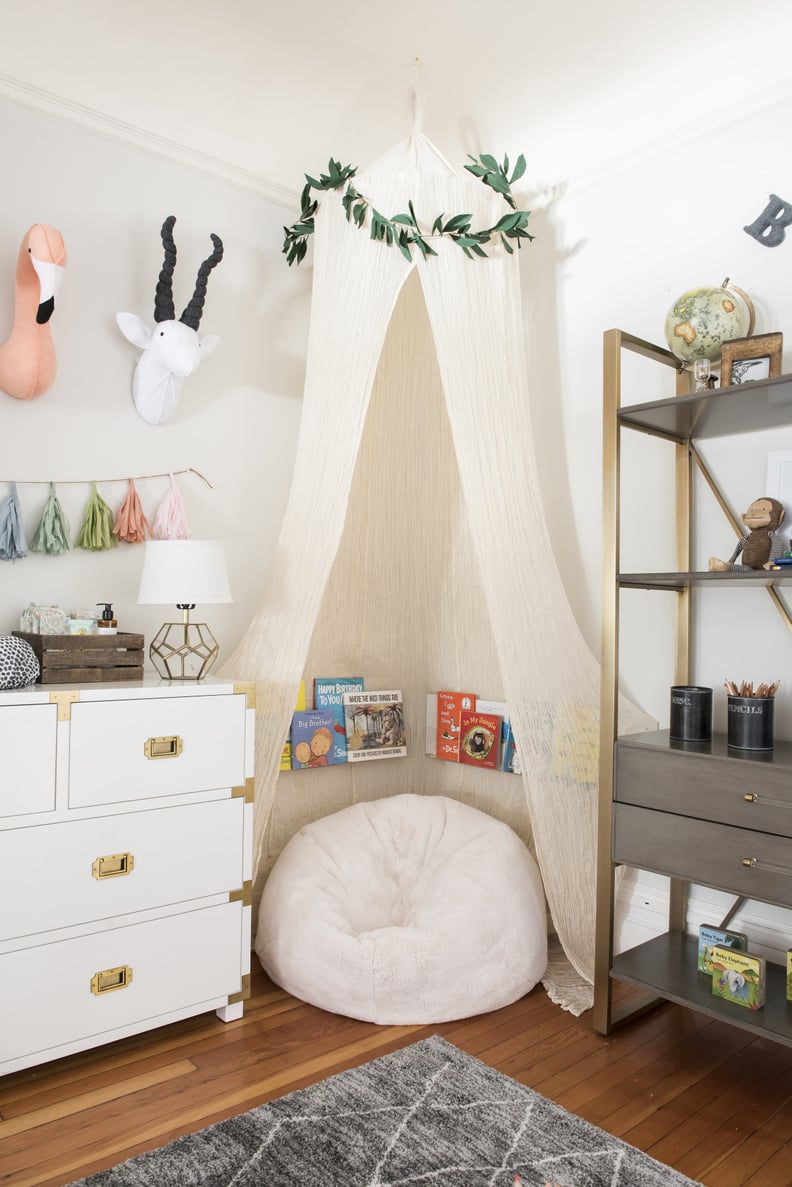 Think Like a Kid: Small, Secret, and Magical
A nursery can contain all the essential kid features without actually appealing to kids. But with some creative thinking, Jessica turned basic nursery must-haves, like a reading area, into remarkable features kids gravitate towards. Since there's already a glider in my older son's room, she opted to create a cozy reading nook with a gauzy tent and furry beanbag chair ($150). My toddler can't resist curling up inside the intimate space, plucking his favorite stories from the wall-mounted clear acrylic book shelves ($200).
05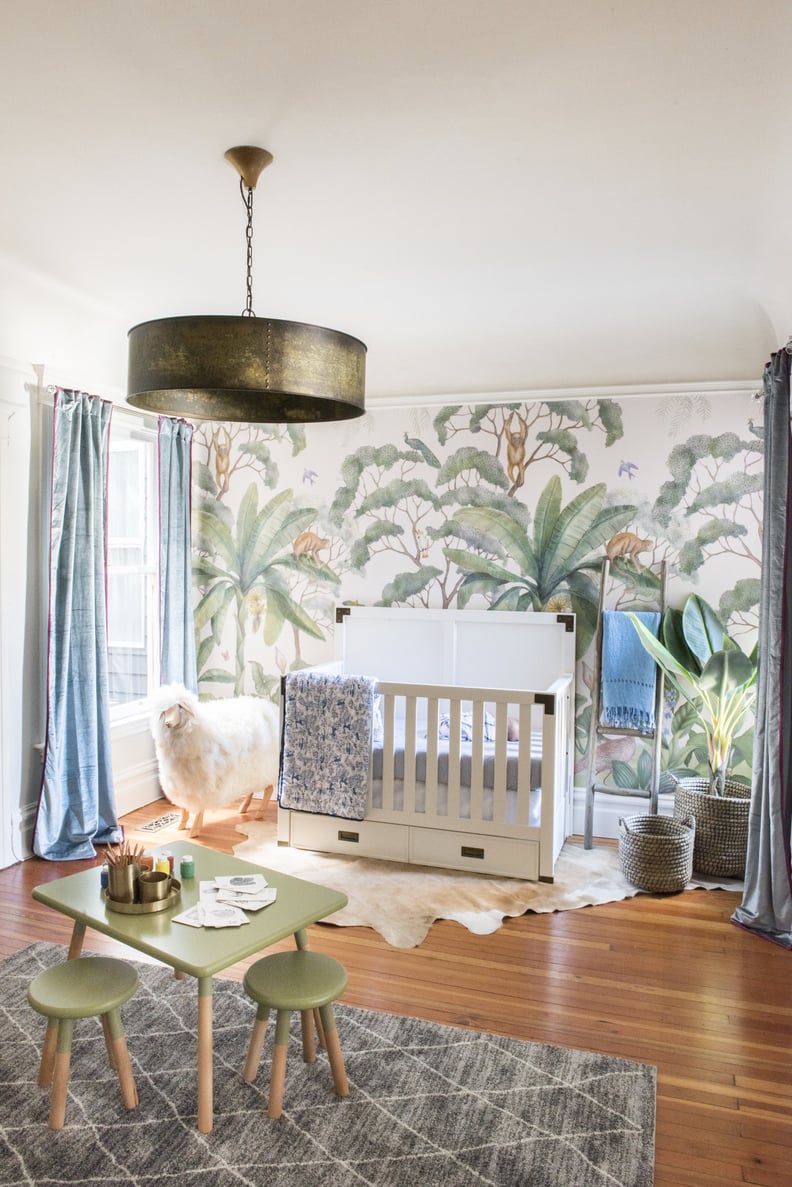 Make Area Rugs Work For You
Jessica put fashion-forward area rugs to work in my nursery, using a blue diamond pattern rug ($526) beneath the 3-piece table and chair set ($170) and a natural cowhide($400) beneath the crib; thus, informally defining the play and sleep areas. When it comes to her selection of floor coverings, she didn't skimp on style. Jessica explains, "I especially love the cowhide under the crib, it adds a sophisticated touch and cowhides are actually really durable; perfect for a nursery and a bit unexpected!"
06
Organize, Organize, Organize
Organization is the antidote to nursery clutter. Labeled bins for toys and wall-mounted lucite bookshelves for favorite reads are stylish ways to quell chaos. And since baby clothing can quickly run rampant, it's especially helpful to use drawer organizers to sort onesies and tiny pants by size and type. Pros swear by collapsable boxes, like Aldo Fabric Drawer Organizers ($18) or Ikea's super affordable Skubb Set ($7). Painters tape is great for labeling each box because it can be easily removed and updated.
07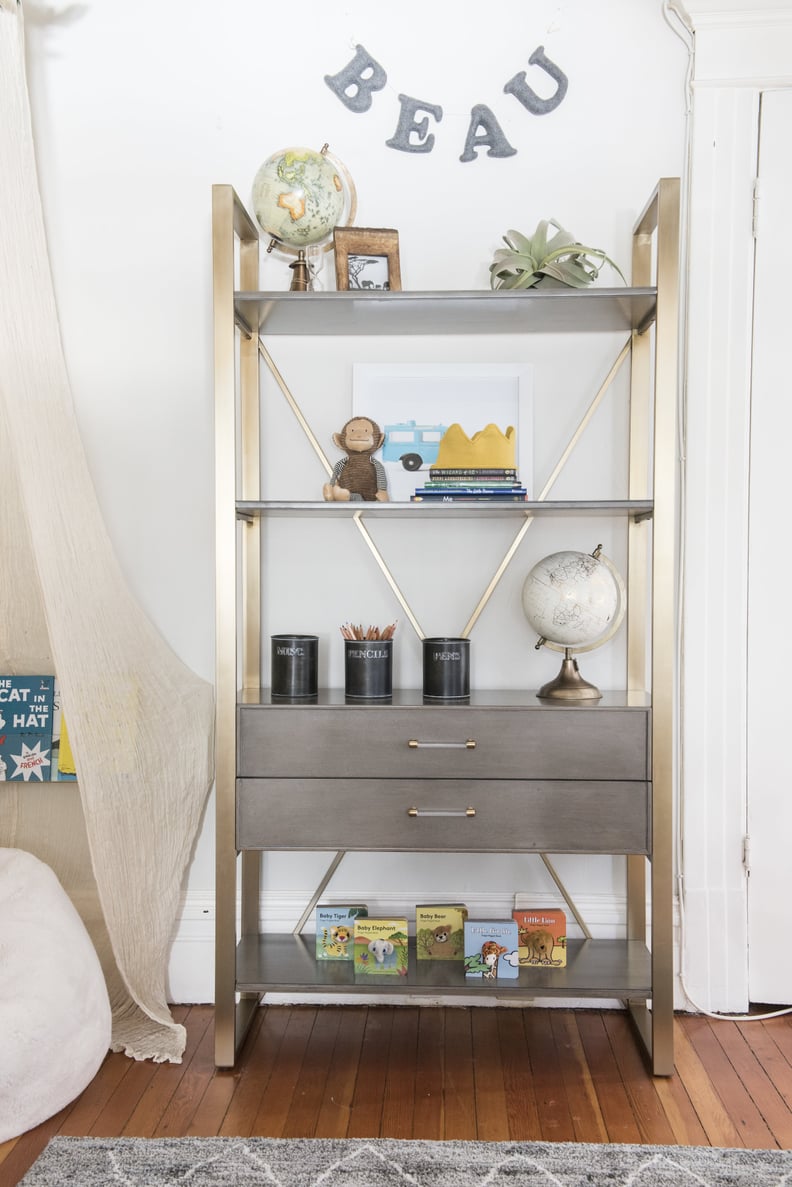 Don't Dumb Down the Design
Jessica helped me find stunning pieces outside the realm of typical nursery decor to satisfy all the room's major furniture needs. Instead of a changing table, we plopped a changing pad atop a beautiful campaign dresser. And for arts and crafts storage, "we went with a chic and somewhat unexpected wood and brass bookcase ($1,536) from Bed Bath & Beyond," Jessica explains. I love how the sophisticated bookcase will grow with my children and even look good in other rooms as my family's needs change.
08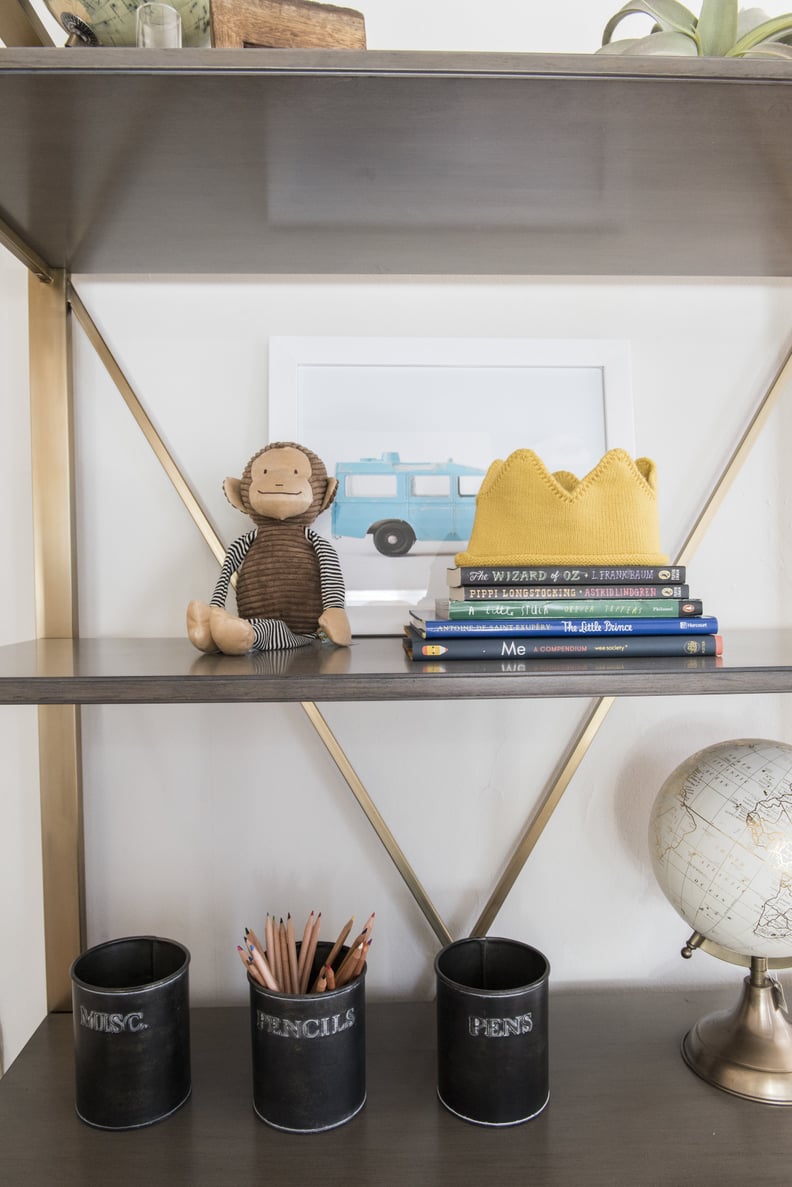 Elevate Accessories
Instead of turning to the typically plastic and primary-colored products marketed for kids, Jessica suggests looking for durable, yet aesthetically pleasing products that do the same job more elegantly. Elevating these many small touches around my nursery added up to a big impact. For example, "never underestimate the power of attractive craft supplies and toys," Jessica explains. "I ended up sourcing wooden colored pencils rather than the typical ones to add more of an organic feel. They're functional yet so cute and really go with the theme of the space!"
09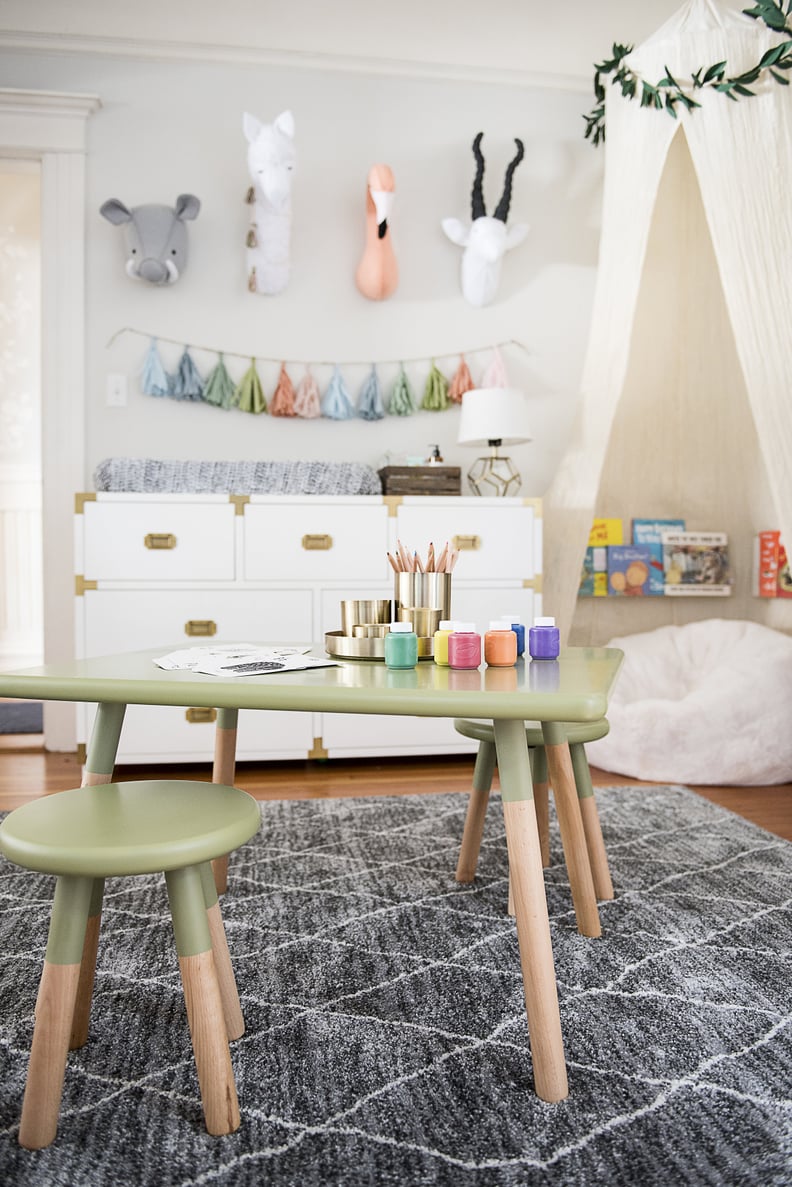 Consider the Rest of Your Home
"I see a lot of parents executing a different design style in their nurseries than the style used in the rest of their home. This is a positive and negative because although it allows you to experiment a bit, the nursery ends up not feeling cohesive with the rest of the home," Jessica reflects. To avoid a nursery that was too juvenile or simply in a different style from the rest of my eclectically decorated home, Jessica was careful to keep the nursery playful while still making it sure it flowed with the other rooms my house. She summarizes, "Stay true to yourself, your style and always add that bit of sophistication that makes the nursery timeless for years to come."