How to Explain Coronavirus to Kids
2 Medical Experts Explain the Right Way to Talk About Coronavirus With Your Kids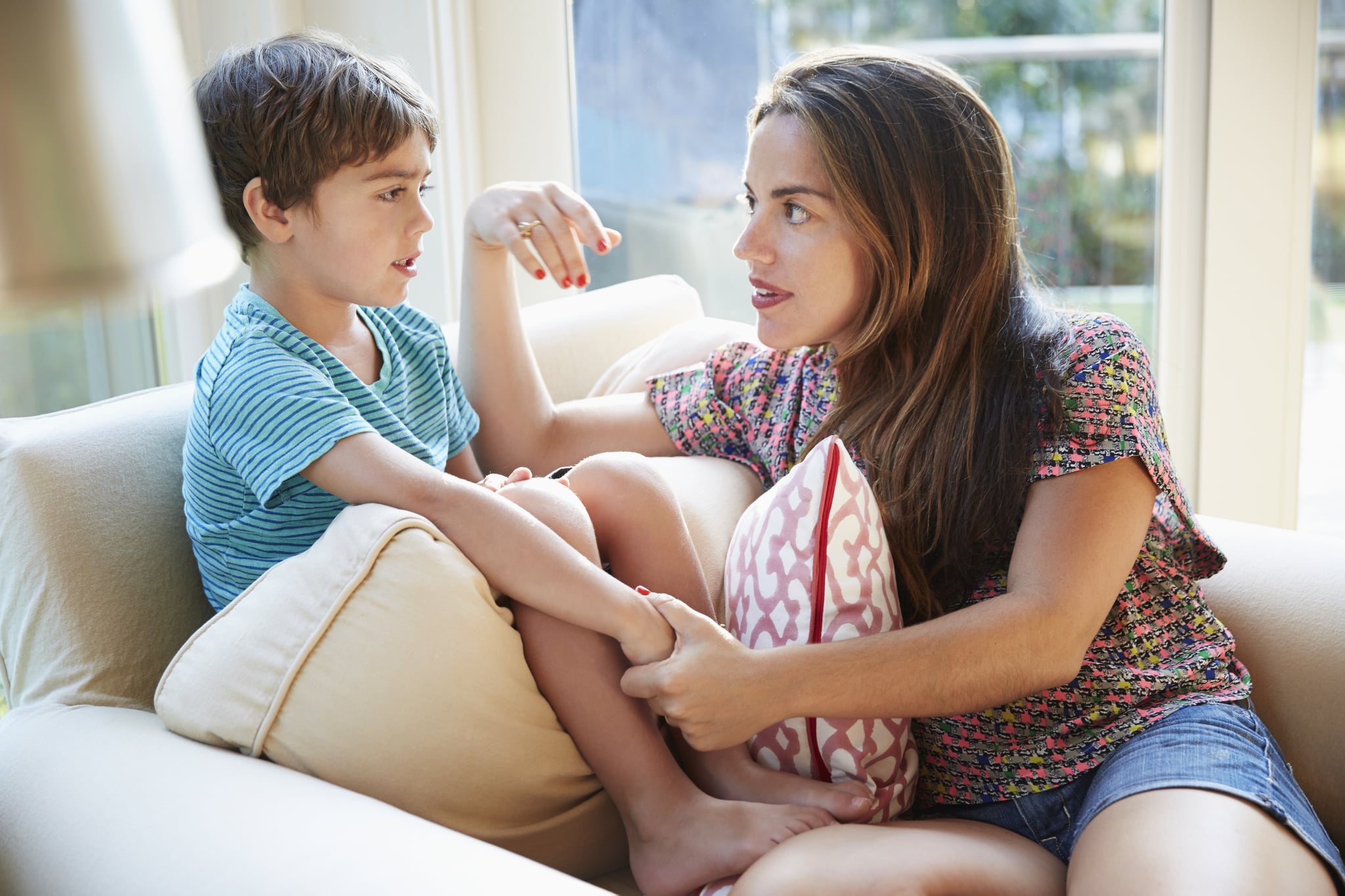 With confirmed cases of coronavirus spreading in the US, it's likely your kids have been hearing about it on the news, from friends at school, or (as has definitely happened in my house) in conversations you have with other grown-ups. They may be feeling scared or confused, but there are things you can do to comfort them and explain coronavirus to them in a way they understand.
Even when we just have the TV on in the background, my oldest son has definitely picked up on some of the scarier news stories, which has led to quite a few questions on just what coronavirus is and whether we need to be worried about it. I'm certainly not an expert (medical, childcare, or otherwise), so I spoke with two medical experts to get their take on how to talk to kids about coronavirus.
Why is it important to talk to kids about coronavirus?
First and foremost, our experts stressed the importance of talking to your kids about coronavirus, even if they think they know what it is based on what they've already heard. "Many kids are hearing conflicting information from media as well as their peers," Tara Allen, RN, CPT, CHC, a registered nurse and certified health coach, nutritionist, and personal trainer, told POPSUGAR. "It's important that kids understand, at an age-appropriate level, that there are precautions that can be taken to help prevent sickness and boost their immune system. Excess worry about events outside of their control will not be beneficial in any way."
Dr. Roseann Capanna-Hodge, a pediatric mental health expert and psychologist in Ridgefield, CT, agreed, adding, "Kids get bombarded with a lot of information, and everything they may hear may not be accurate. It is especially important for parents to dialogue with their kids about the facts about coronavirus, so they don't believe inaccurate information, which can feed into their worries."
What types of worries might kids have about coronavirus?
According to the CDC, there are currently more than 60 confirmed cases of coronavirus in the US, with six of those resulting in death. While most people do recover, your kids are more likely to focus on the scarier aspects of the virus. Dr. Capanna-Hodge said, "With all the media on those that have died from the coronavirus, along with parents' own anxiety, it's quite understandable for kids to be worried. For children whose parents travel for work, they might be particularly worried about their parents getting sick. Their anxiety may bubble over just before or after their parent goes on a trip, and parents need to be mindful of that worry."
I needed to hear this advice more than anyone. I, too, am anxious about traveling and what may happen if schools close. I find myself bringing it up with my husband even when our kids are around, but Dr. Capanna-Hodge recommended, "As parents, we should do our best not to create fear in our children and instead give our kids the basic facts about the coronavirus and what we can all do to avoid it."
Which safety measures should parents be focused on?
When it comes to protecting yourself against coronavirus (or any virus), both experts agree that hand-washing is key. "Now is as good a time as any to reinforce proper hand-washing techniques," Allen said. "Hand-washing is the single most important tool kids have in their power to get rid of germs. It may also help to remind them how important it is to get a good night's sleep and eat well in order to build a robust immune system," she added. Allen recommended that parents remind kids to use soap and water, rub vigorously for at least 20 seconds (or sing the "Happy Birthday" song twice), and then rinse off the soap (and germs). Dr. Capanna-Hodge added that parents should remind kids to avoid touching their eyes and mouth.
Do my kids need to wear a mask to protect against coronavirus?
The short answer here is "no." According to The New York Times, the surgeon general recently requested that people stop buying masks for two important reasons. First, this depletes the supply for healthcare professionals and others who truly need them, and, second, they simply aren't effective in preventing you from catching coronavirus.
Your kids may still be concerned when they see people walking around with masks, however, and the best thing you can do is to comfort and reassure them in an age-appropriate way. "Children don't need a long list of information, but do need basic facts about the coronavirus. Tie it to an illness they understand or may have had personal experience with, so they can understand that while the coronavirus is serious, it isn't any more serious than the flu," Dr. Capanna-Hodge told POPSUGAR.
You may want to tell them that sometimes people who are sick wear masks to stop others from catching their germs, but people who aren't sick don't need them and should instead focus on the safety measures we already mentioned.
How can I talk to my kids about possible school closures due to coronavirus?
Kids may have heard that schools in other countries, and even a few in the US, have closed in an attempt to stop the spread of coronavirus. As of right now, health officials have not said it is necessary to close schools, but your kids may still be worried about whether or not their school will be shut down.
No matter the topic of conversation, Allen recommended that parents "convey a tone of empowerment — rather than fear — in order to comfort their kids." Remind them that if their school does close, it is simply to help keep everybody healthy. Let them know that many schools have plans in place to help kids keep learning from home (they may or may not be excited about that part) and that you'll have lots of fun together at home. You may even let them pick up a few books or art supplies that they'd like to have around in case they are stuck at home with you for an extended period. Dr. Capanna-Hodge even pointed out that calming activities like yoga and art help children manage stress, so it's a win-win.
After speaking with Allen and Dr. Capanna-Hodge, my plan is to start by asking my eldest son (my other two are too young to understand what's going on) what he knows about coronavirus and go from there. If he has heard untrue rumors or is concerned about certain aspects of the virus, I now have the necessary information to educate and empower him and, hopefully, calm his fears.
Lastly, if you or your child are still experiencing anxiety after working through these tips, Allen suggests that you contact a therapist or your child's school counselor. "They are able to give anxiety-specific advice and resources."