How to Use Disney+'s Parental Controls
Disney+ Has Added Parental Controls So Your Toddler Can't Binge The Avengers
Disney has added some helpful parental-control features to its streaming service to help parents better regulate the content available to their kids, depending on their ages. Because Disney+ houses Disney, Marvel, Lucasfilm, 20th Century Fox, and more content, it was previously fairly easy to get to a movie or show of any rating, even if you're a 2-year-old playing with the remote to get to an episode of Doc McStuffins.
Now, with the streaming service's parental controls, adults have the option to set age limits on children's profiles, as well as PINs on those profiles containing older content — just so, you know, your toddler doesn't start casually watching Avengers: Endgame during snack time.
Keep scrolling to learn more about Disney+'s parental-control features and how to set them up, and check out the video above for a visual tutorial of the features.
Parental-Control Features on Disney+
Create a Kids' Profile. On your main Disney+ screen, you can create a new profile just for your kids that has an "easy-to-navigate" interface and only features kid-friendly content including content rated TV-Y7-FV and movies rated G.
Set a Content Rating. In profile settings, you can set a content rating for each user. By default, profiles created (that aren't kids' profiles) are able to view all content on the service. You can change this for older kids if you want to give them some access, but not all. Here are the available content ratings (in the US):

TV-Y: features titles rated TV-Y (with limited movies)
TV-Y7: features titles rated TV-Y7 and below (with limited movies)
TV-Y7-FV: features titles rated TV-Y7-FV and below (with limited movies)
G, TV-G: features titles rated G or TV-G and below
PG, TV-PG: features titles rated PG or TV-PG and below
PG-13: features titles rated PG-13 and below
TV-14: the default content setting, includes everything

Add the "Kid-Proof Exit" Setting. On a child's profile, you can select the "Kid-Proof Exit" setting, which sets up an exit question (see below), making it more difficult for young kids to get out of their profile and back to the home screen to select another profile that may have more mature content.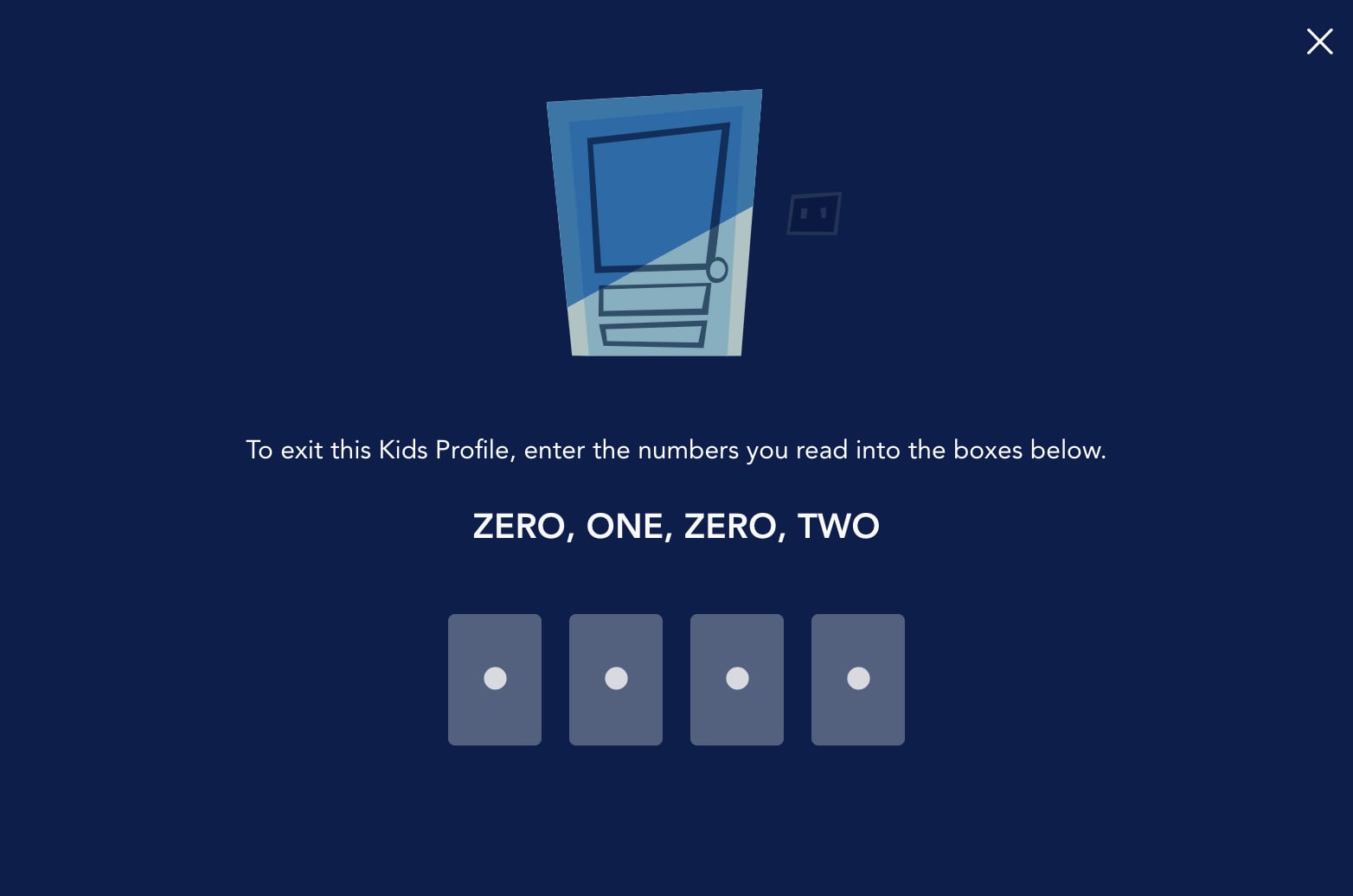 Add PINs to Adult or Older Kid Profiles. To further ensure that your kids can't get into another profile with content that's not approved for them, you can set up a four-digit PIN for each profile. And no worries — if you or an older child forgets a PIN, it can be reset with the help of the account password.
Set Up Profile Creation Restrictions. If you feel the need to further protect your account, you can restrict new profile creation in account settings. To create a new profile with this setting enabled, you'll be required to enter a password.
Image Source: Disney+