JoJo Siwa 2020 D.R.E.A.M. Tour Dates
JoJo Siwa's Dream Tour Was So Popular, It'll Start Back Up in 2020 — Get Your Tickets on Nov. 22!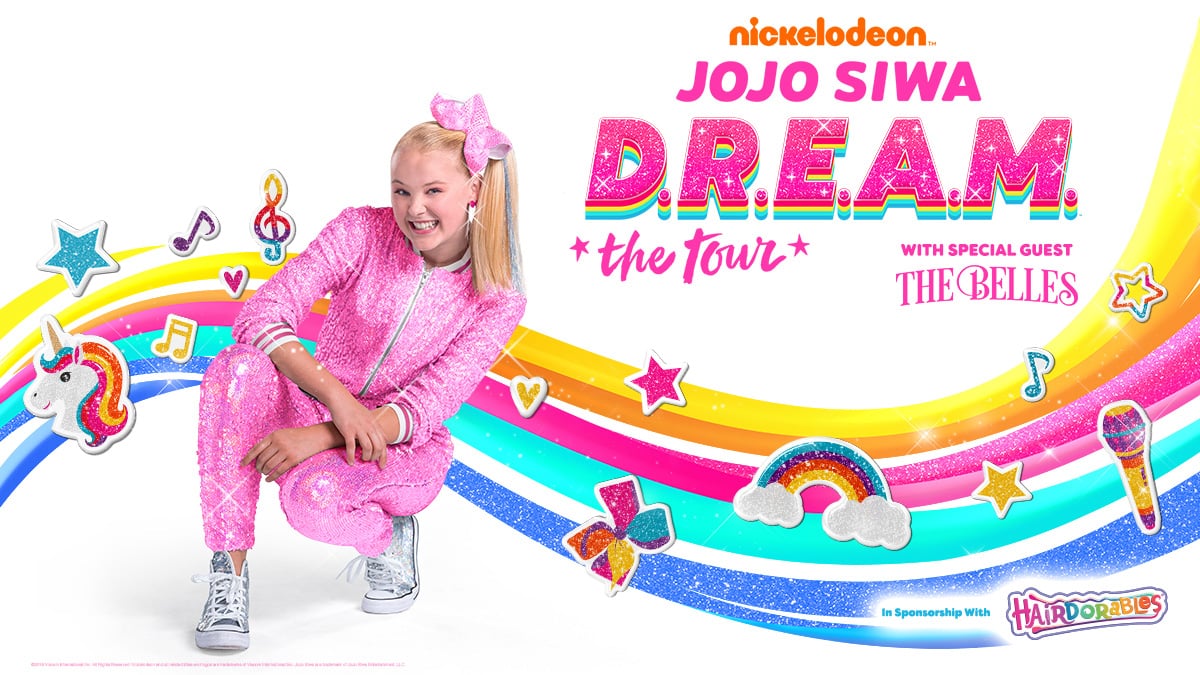 Nickelodeon superstar JoJo Siwa is bringing her colorful, glittery outfits and giant hair bows on the road in 2020. The 16-year-old's D.R.E.A.M. tour, which kicked off on May 17 in Phoenix, AZ, and went through October, is back on come January. After a stint in Australia, JoJo will return to the United States and Canada in March, ready to perform her hits — like "Boomerang" and "Kid in a Candy Store" — for her legions of fans.
Keep reading to see if JoJo's D.R.E.A.M. tour is coming through a US or Canadian city near you, and grab your kids tickets when they go on sale on Nov. 22.
JoJo Siwa's 2020 D.R.E.A.M. Tour Dates
March 11, 2020: Colorado Springs, CO
March 13, 2020: Lubbock, TX
March 14, 2020: La Cruces, NM
March 15, 2020: Glendale, AZ
March 17, 2020: Bakersfield, CA
March 21, 2020: Inglewood, CA
March 22, 2020: Inglewood, CA
March 24, 2020: Fresno, CA
March 25, 2020: Sacramento, CA
March 27, 2020: Salt Lake City, UT
March 28, 2020: Boise, ID
March 29, 2020: Spokane, WA
March 31, 2020: Yakima, WA
April 3, 2020: Edmonton, AB, Canada
April 5, 2020: Calgary, AB, Canada
April 6, 2020: Saskatoon, SK, Canada
April 8, 2020: Winnipeg, MB, Canada
April 10, 2020: Grand Forks, ND
April 11, 2020: Minneapolis, MN
April 14, 2020: Rosemont, IL
April 15, 2020: Green Bay, WI
April 17, 2020: Moline, IL
April 18, 2020: Spingfield, MO
April 19, 2020: Champaign, IL
April 21, 2020: Madison, WI
April 23, 2020: Fort Wayne, IN
April 25, 2020: Evansville, IN
April 26, 2020: Lexington, KY
April 27, 2020: Cleveland, OH
April 30, 2020: Hamilton, ON, Canada
May 1, 2020: Ottawa, ON, Canada
May 3, 2020: Syracuse, NY
May 4, 2020: Portland, ME
May 6, 2020: Manchester, NH
May 8, 2020: Washington, DC
May 9, 2020: Trenton, NJ
May 12, 2020: New York City, NY
May 15, 2020: Hershey, PA
May 16, 2020: Norfolk, VA
May 17, 2020: Charlotte, NC
May 19, 2020: Raleigh, NC
May 20, 2020: Columbia, SC
May 22, 2020: Tampa, FL
May 23, 2020: Miami, FL
May 27, 2020: Estero, FL
May 28, 2020: Jacksonville, FL
May 29, 2020: Pensacola, FL
May 31, 2020: Houston, TX
June 2, 2020: New Orleans, LA
June 3, 2020: Bossier City, LA
June 5, 2020: Oklahoma City, OK
June 6, 2020: North Little Rock, AR