Jurassic World: Camp Cretaceous Parents' Guide | Netflix
What to Know Before Your Dinosaur-Loving Kids Watch Jurassic World: Camp Cretaceous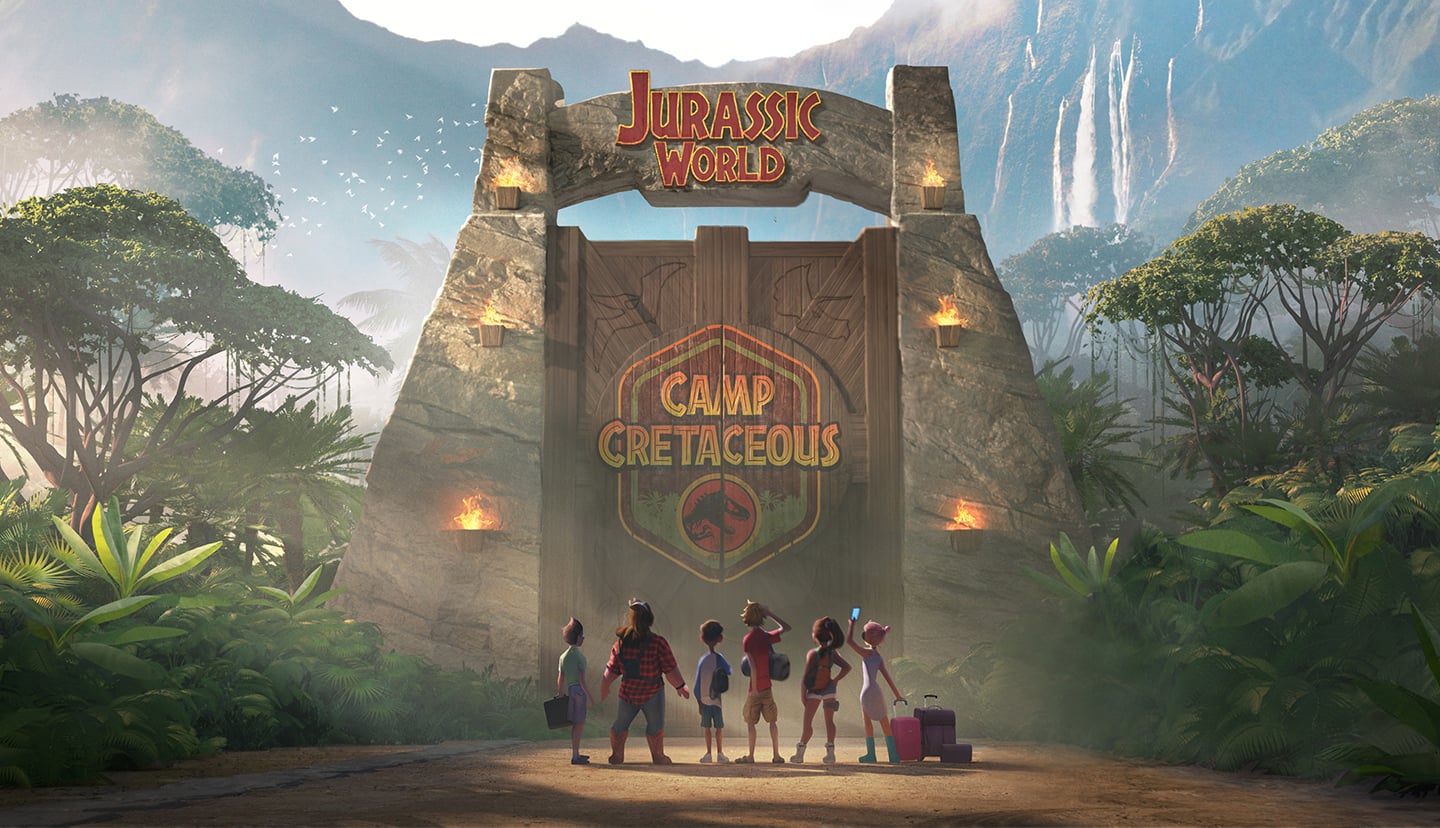 Netflix's latest series release comes in the form of a Jurassic World spinoff, and even though it's an animated kids' show, it's still plenty ferocious. The first season of Jurassic World: Camp Cretaceous, which is comprised of eight 24-minute episodes, follows Darius and five other teenagers who are given the opportunity to be the first kids in the world to visit Camp Cretaceous. Just like in the Jurassic World films, the dinosaurs become completely untamed and unhinged, leaving the campers stranded and unable to call for help to the outside world (the timeline of the show is meant to be parallel to the first movie, so Chris Pratt and Bryce Dallas Howard are out there somewhere!).
Although it's meant to be a kids' show, it's basically an animated version of the movies, so here's what to know before letting your young ones binge-watch the first season.
What Parents Should Know Before Their Kids Watch Jurassic World: Camp Cretaceous
The show is pretty violent. Just like in the show's trailer, one of the first things you see in episode one is a ferocious, growling T-Rex, which is quickly followed by a park guide getting eaten by Velociraptor in what you later learn is a VR game. However, there are real dinosaurs throughout the show, naturally, and they're not just pictured grunting and screeching — they're actually fatally dangerous for humans, let alone unarmed and under-supervised kids, to be around, so be aware that a lot of the scenes with them are frightening.
The kids are consistently in mortal peril. As this is a show about a bunch of young kids at a camp in a dinosaur sanctuary, there are plenty of scenes in which they get into very scary situations with the dinos — not just like "Ahh, we need to run away from this dinosaur behind glass!" More like: "Oh my freaking god, there's an actual murderous dinosaur chomping at me, I'm about to plummet to my death, and things are on fire." For example, there's a scene in which a dinosaur is trying to tear down a zip line platform that all of the kids are strapped into — stuck because of a faulty emergency brake, of course! Everything ends up being OK in that scenario, but as with any action movie, there are plenty of other anxiety-inducing situations. We even watch one of the kid characters fall from a sky-high monorail in the finale, and it's assumed that they're "gone," aka, um, dead? So, yeah, if you wouldn't let your kids watch the Jurassic World movies, you might not be into them watching this show as the level of violence, though animated, is similar.
Most of the kids are terrible at following rules, which could result in a teachable moment. If you watch this one with your kids, you'll be shocked — or maybe not — at how badly behaved most of the kids on the show are. They're constantly disregarding rules, which leads to danger. Referencing these scenarios — even though the specifics are far-fetched as this is a show about dinosaurs — could lead to a thoughtful conversation about why it's important to listen to the adults in charge (even though the adults in this show are suuuuuper irresponsible) and take rules seriously to keep yourself and others safe.
The show's characters have a tremendous amount of privilege that isn't addressed. Aside from Darius, who won his way into this exclusive week of Camp Cretaceous, all of the other kids are either popular influencers or have parents who are park VIPs. It's glazed over completely and could be a good way to start a conversation with your kids about all different kinds of privilege.