Families Are Taping Drawings in Their Windows to Stay Connected and Spread Joy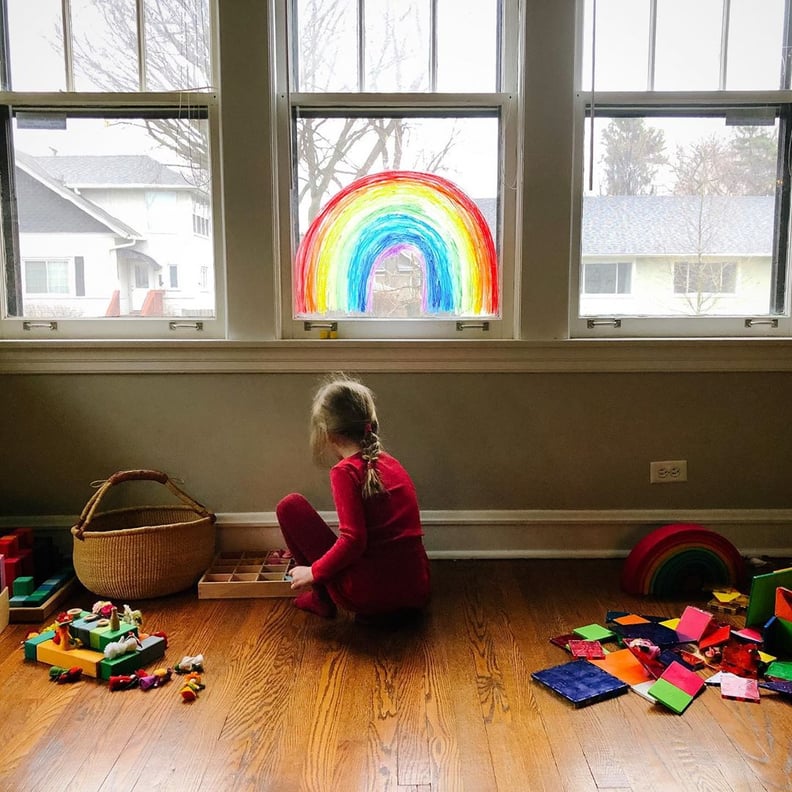 Earlier this week, my neighborhood parent Facebook group shared an idea: because we couldn't celebrate St. Patrick's Day together due to the need to socially distance to mitigate the spread of the coronavirus, why not celebrate it apart with a shamrock scavenger hunt? The directive was simple:
"All you have to do is put a shamrock in your window. That's it! Color it, paint it, cut it out, print it from the printer, whatever," the Facebook post, crafted by Mary Finley Mesch, read. "Then we can get outside, walk around and see how many shamrocks we can find!"
It was the perfect idea. After just a few days of self-isolation behind us, I'd already begun to find our limited outside time a bit . . . boring. We couldn't walk with friends, and we couldn't walk to the playground unless I wanted to engage in a power struggle with my 3-year-old as to why she wasn't allowed to touch the swing or slides. We could only walk until we were done and then walk home. But now, we had an adventure to look forward to!
"Everyone is going for solitary walks in our neighborhood right now. We put the rainbow up to remind each other that we are all in this together."
So, after my kids decorated their own shamrock (hooray for anything to pass the time!), we hung it up on the front door of our building (apartment-living problems!), and set off on a purpose-driven walk. We saw glitter-covered shamrocks and watercolor-painted shamrocks and giant poster-board-size shamrocks and shamrocks clearly doodled by a toddler. My children pointed them out with glee, and occasionally, we'd spot a kiddo perched in the window as well. We'd wave to them and thank them for their artistic contribution before carrying on in search of more. It was our very own quarantined version of I Spy. (For those looking for more of an educational challenge, one mom said she turned the walk into a social studies lesson, complete with a homemade map, and a math lesson, with her grade schooler counting and tallying the shamrocks.)
Turns out, this idea spanned well beyond my city's limits. And well beyond a little St. Patrick's Day cheer. Homebound people in Italy and Spain have been painting rainbows on their windows as a sign of hope and resilience in these times of uncertainty, and it's gaining steam on social media. Families from San Francisco to Philadelphia to Brooklyn are taking part. A parent in Chicago created a map of all her city's rainbows for kids to find. Even Blake Lively posted about it in her Instagram Stories as another reason she loves her community.
Myndi DeVore, a mom of two, shared her family's offering — a rainbow brushed right onto her front window in acrylic paint — to her Instagram feed.
"Everyone is going for solitary walks in our neighborhood right now," she told POPSUGAR. "We put the rainbow up to remind each other that we are all in this together . . . We are still united in our love for one another."
It isn't stopping there. Some residents are taping up red and pink hearts in a grassroots movement — complete with a #HeartsForHealthcareWorkers hashtag — to show healthcare workers how much their commitment to our safety is valued. And still other families are taping up anything and everything that their kiddos create as a way of connecting with the world outside their homes. If the need to self-isolate continues through Easter, there's even talk of it serving as a substitute Easter egg hunt.
So, if you are wondering what you can do in this time, put a rainbow or a heart — or anything, for that matter — in your window. Sure, it might not be the same as listening to a live opera serenade from Italian balconies, but it sure is another example of how we can still come together even while we're apart.