Postpartum Psychosis Might Have Led to Clancy Family Tragedy
New Information Released About Lindsay Clancy's Mental State Before Attack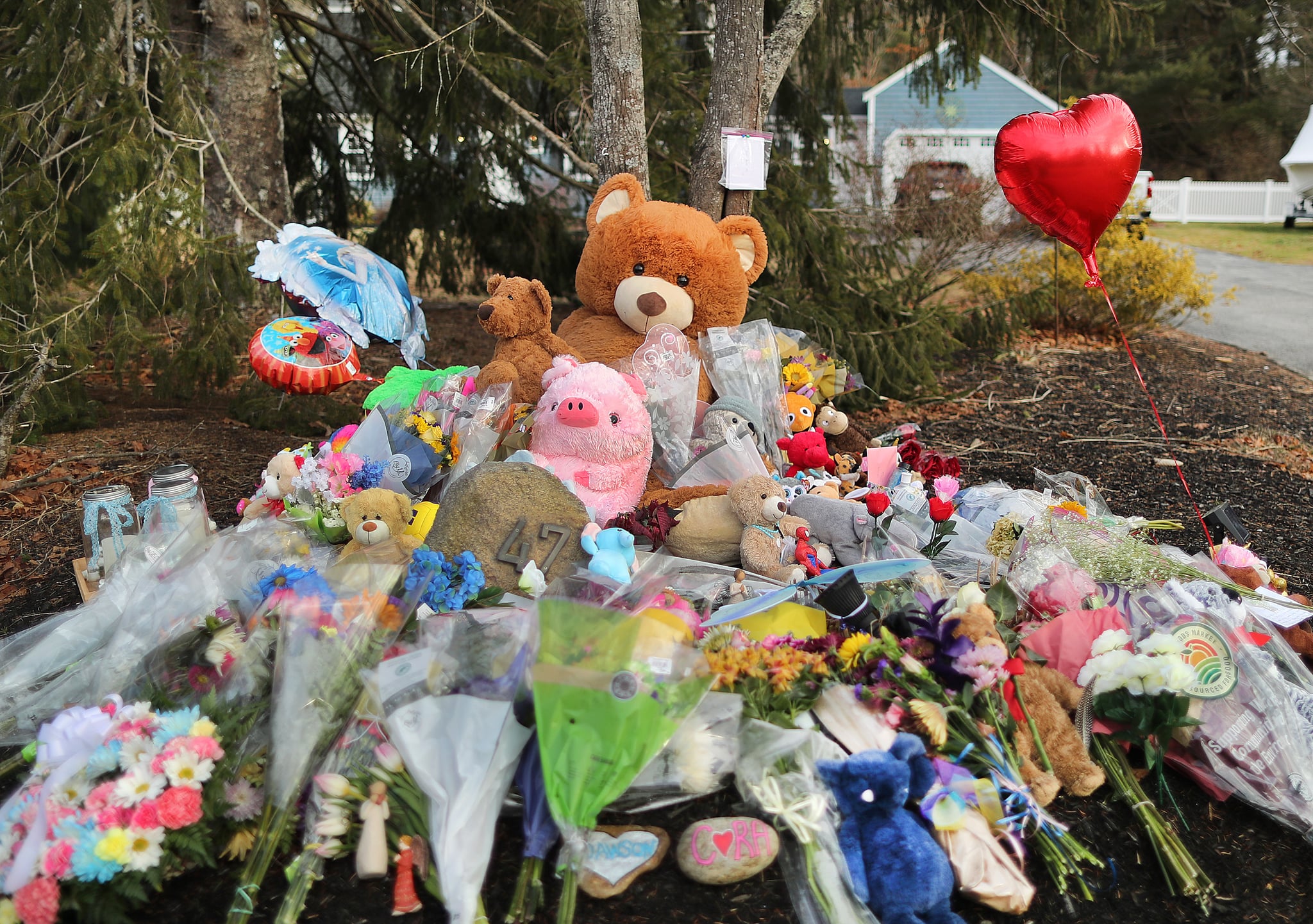 Content warning: This post contains mentions of suicide, postpartum psychosis and depression, and harm to children.
Conversations on social media about Massachusetts mother Lindsay Clancy continue to swirl as new information is released. The 32-year-old nurse was mother to 5-year-old Cora, 3-year-old Dawson, and 8-month-old Callan. On Jan. 24, she allegedly attempted suicide by jumping out of a window in her home, according to CBS News. The outlet reported her three children were found unconscious with obvious signs of trauma.
Cora and Dawson were pronounced dead later that day, and after being flown to Boston Children's Hospital with traumatic injuries, Callan was pronounced dead three days later. Clancy remains hospitalized with paralysis and in police custody. On Tuesday, Clancy appeared for her arraignment via Zoom from her hospital bed, where she pleaded not guilty to two counts of murder, three counts of strangulation, and three counts of assault and battery with a dangerous weapon. If convicted of first-degree murder, she will face an automatic life sentence in Massachusetts.
Prosecutors said on Jan. 24 that the murders were "deliberate premeditation and extreme atrocity and cruelty" and that she knowingly sent her husband, Patrick Clancy, on an errand that evening, according to People. "She created the situation, and she used Apple Maps to make sure she would have enough time to strangle each child before her husband returned from where she had sent him," prosecutors said. Her husband reportedly came home to find Clancy had cut both her wrists and neck and jumped from their second-story window. He found all three kids in the basement with exercise bands wrapped around their necks.
Patrick started a GoFundMe page after the incident, where he shared his thoughts about the situation, explaining that Lindsay was not the same person as the one who allegedly committed those acts. "She's recently been portrayed largely by people who have never met her and never knew who the real Lindsay was," he wrote. "Our marriage was wonderful and diametrically grew stronger as her condition rapidly worsened."
Rita Musgrove, the kids' great-grandmother, told NBC Boston that she spoke with Lindsay last week and nothing seemed amiss. However, the prosecution said Lindsay had "suicidal ideations in December of 2022 . . . and on one occasion had thoughts of harming her children," per People. On Jan. 1, Lindsay voluntarily committed herself to a psychiatric hospital, but she was allegedly discharged four days later.
Patrick told investigators that Lindsay was "having one of her best days" since her hospital release on the night of the murders, according to People. "She was smiling and happy, and there was no indication that she was going to harm the kids," said the prosecution. But after the murders she allegedly confessed to Patrick, saying she had a "moment of psychosis" after she "heard a man's voice telling her to kill the kids and kill herself because it was her last chance."
Sources told the WBZ-TV I-Team postpartum psychosis was a possible cause for Lindsay's actions, per CBS News. And Lindsay's defense attorney argued that the medications Lindsay was prescribed were to blame for her "postpartum depression, as well as the possibility of postpartum psychosis," per People. He described Lindsay as "a beautiful person who was thoroughly destroyed by these medications."
In a previous story for POPSUGAR, Mary Kimmel, MD, medical director of UNC's Perinatal Psychiatry Inpatient Unit, described postpartum psychosis as "the most severe form of postpartum depression." It's often associated with tragic events like infanticide and suicide, though these only occur in four percent and five percent of cases of postpartum psychosis, respectively. Symptoms of postpartum psychosis can include strange beliefs, hallucinations, paranoia, and rapid mood swings, according to Postpartum Support International. While the condition is temporary, it should be treated as an emergency because there is always the risk of danger due to the delusional thinking and irrational judgment.
Patrick's statement is a reminder that postpartum psychosis is a very complex mental health condition and that those who've struggled with it deserve sympathy. He urged the community to forgive Lindsay on his GoFundMe page. "I want to ask all of you that you find it deep within yourselves to forgive Lindsay, as I have," he wrote. "The real Lindsay was generously loving and caring towards everyone — me, our kids, family, friends, and her patients. The very fibers of her soul are loving. All I wish for her now is that she can somehow find peace."
Lindsay is due back in court May 2.
If you or someone you know is struggling with suicide ideation, postpartum psychosis, or depression, the National Alliance on Mental Illness has resources available, including a helpline at 1-800-950-NAMI (6424). You can also dial 988, the nation's suicide and crisis hotline.
Image Source: John Tlumacki/The Boston Globe via Getty Images