Even Lindsay Lohan Can't Resist the Latest Must-Have Crib
As POPSUGAR editors, we independently select and write about stuff we love and think you'll like too. If you buy a product we have recommended, we may receive affiliate commission, which in turn supports our work.
Lindsay Lohan, who just gave birth to her first child, recently gave Architectural Digest a sneak peek of her little one's nursery. We'd already been loving Lohan's pregnancy style, and now her nursery decor is also giving us major inspiration.
According to AD, Lohan partnered with baby furniture brand Nestig to create an ocean breeze-inspired nursery — and she totally nailed the airy nautical vibes. Her nursery features a mural of a soothing seascape, complete with a sailboat, a lighthouse, and plenty of peaceful waves that's easy to mistake for actual paint, but is actually wallpaper sold by Nestig.
The furniture is in keeping with the calming theme: Lohan decorating with a crib, mobile, dresser, and shelving from Nestig, all in natural wood and white. Together, the pieces bring the feeling of a little seaside oasis — the perfect place for her brand-new addition to call home.
The whole room is stunning, but if one piece caught my eye, it was the crib — the same crib that's currently in my not-quite-finished nursery (and, full disclosure, a generous sample from the brand), and that I've been noticing popping up more and more in the "nursery tour" content that's currently flooding my feeds. Nestig has several stunning crib models to choose from, but Lohan picked The Cloud Crib, a 3-in-1 design that's "inspired by the light and airy movement of clouds," with gently rounded edges and peaceful white rails, a perfect fit for her nursery theme.
If my TikTok FYP is any indication, The Cloud Crib is on its way to becoming the latest "it" crib, taking its place among other parenting must-haves like the Dagne Dover Indi Diaper Backpack and the Keekaroo Peanut Changer.
While it's modern minimalist aesthetic is certainly part of the appeal, another reason Nestig is so popular among parents-to-be is because the brand's furniture and decor are handcrafted in Brazil using sustainable materials and ethical manufacturing practices. Much of the wood used in Nestig's pieces is from sustainably harvested, solid Brazilian Pine — no particleboard here. They also test and independently certify every crib they sell via the Juvenile Products Manufacturing Association for extra peace of mind. In short, they're functional and also beautiful, as Lohan's nursery sneak peek proves.
We rounded up each of the pieces in Lohan's nursery — scroll through for more details and inspo for your own nursery.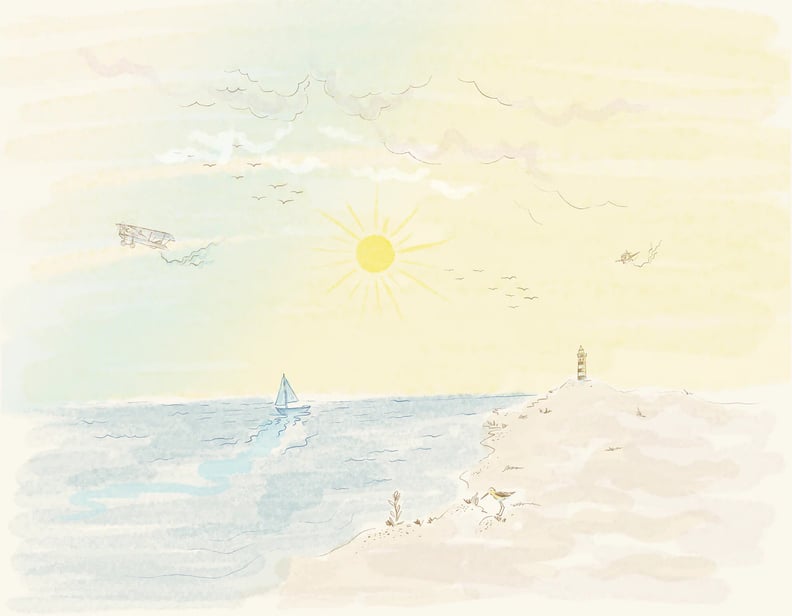 Nestig Morning Light Wall Mural
Nestig Morning Light Wall Mural ($499)
Nestig recommends having a professional paste on this mural, which is printed on non-toxic, PVC-free paper. The brand sells 16 other prints of murals, and and dozens of prints of wallpaper too, so you can find the perfect fit for the theme of your dreams.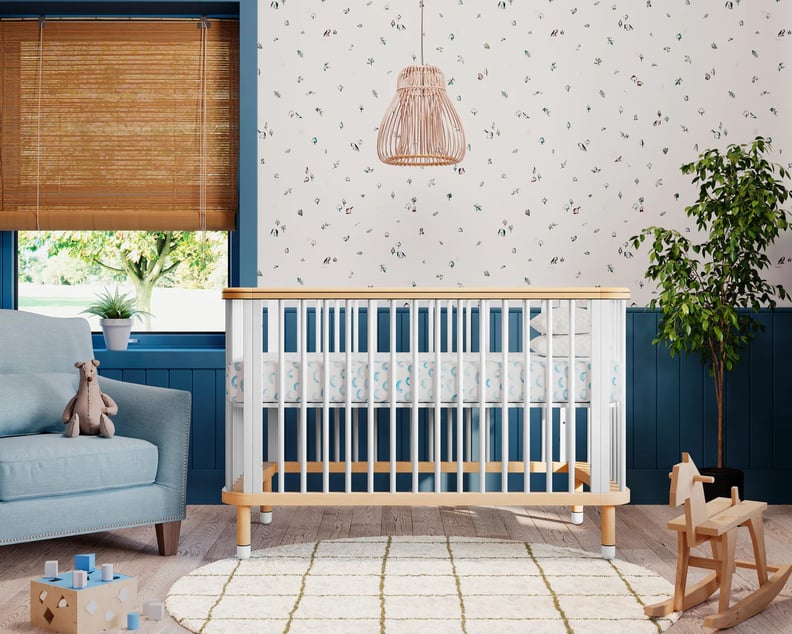 Nestig The Cloud Crib
Nestig The Cloud Crib ($749)
One major perk of Nestig's gorgeous The Cloud Crib is that it converts from a mini-crib to a full-sized crib to a toddler bed, and all the parts come with the crib you order (along with a mini crib mattress, but not the full-size crib mattress), so it can really grow with your growing family. Lohan's crib is a natural wood, but it also comes in a lovely walnut, and while the original crib has white details, Nestig also sells "The Candy Cloud Crib" with four different color accents: bluebell, black licorice, rose, and mint.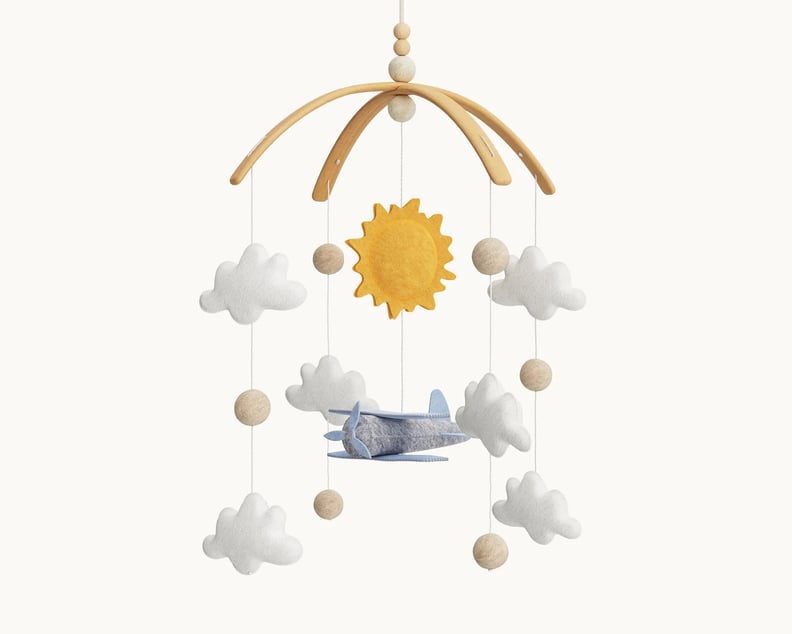 Nestig Aviator Mobile
Nestig Aviator Mobile ($85)
Nestig sells 18 different mobiles in different themes, from animals to starscapes. (And while Lohan chose the sunny pilot-themed mobile, there is a beach day option with a sailboat and beach balls and a seascape variation with starfish and a seahorse.) The mobiles each can be hung from Nestig's mobile attachment arm ($55), which clamps onto their cribs.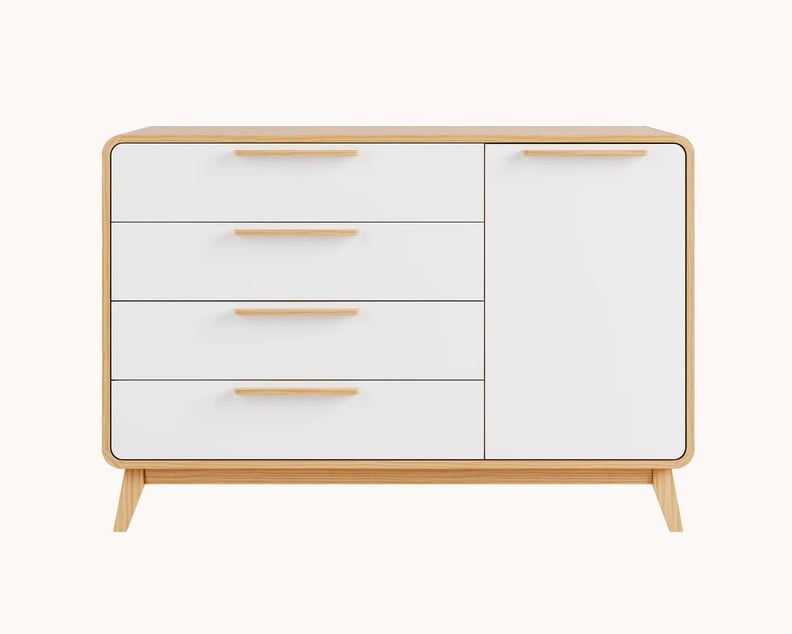 Nestig The Wave Dresser
Nestig The Wave Dresser ($1,099)
The rounded edges and modern profile make the Wave Dresser one of Nestig's most popular pieces. Lohan put a changing pad on top of her dresser to make it double as a changing table. Inside, there are four drawers and a cabinet with a rod for hanging (tiny) clothes — but if you need the extra storage space, the rod is removable.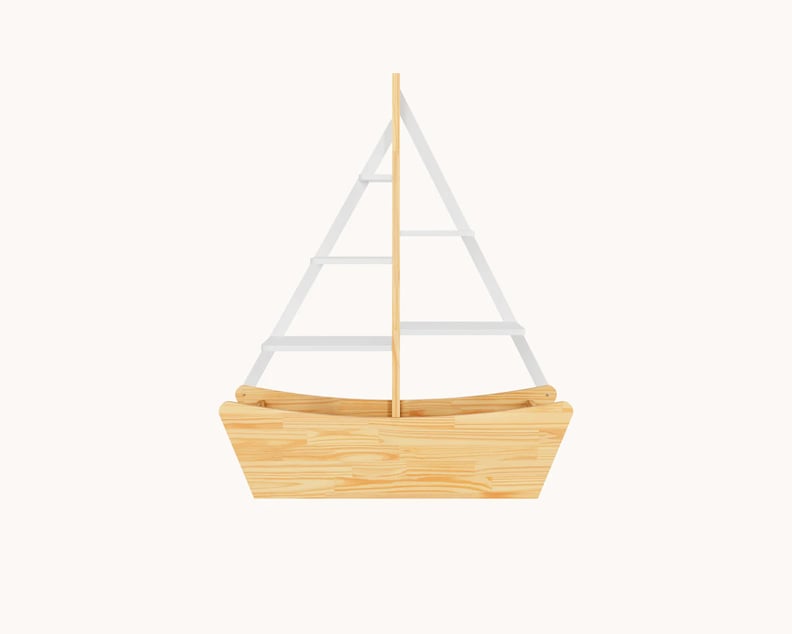 Nestig Seabound Shelf
Nestig Seabound Shelf ($399)
This cute shelf really ties Lohan's seaside theme together. The bottom of the "boat" is perfect for storing toys, while the shelves can be used to store books, stuffed animals, and other curios your little one picks up.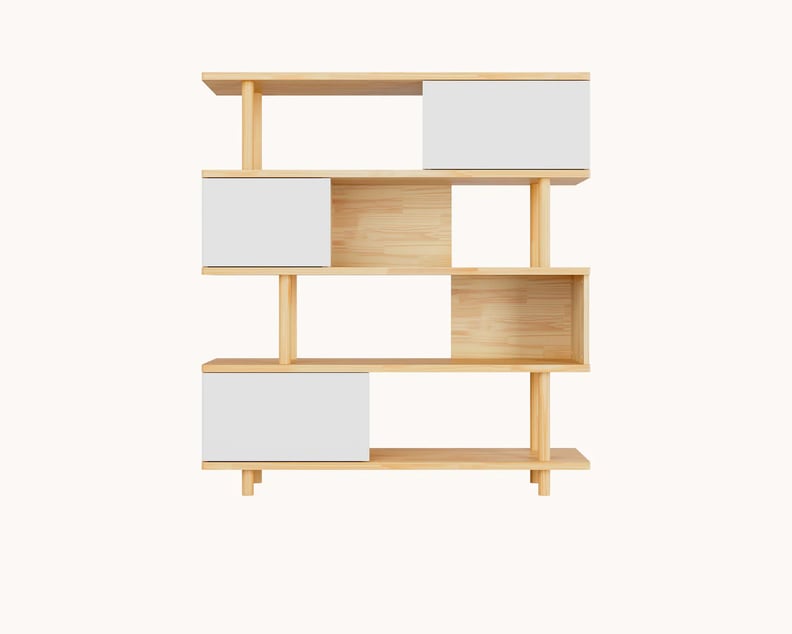 Nestig Explorer Shelf
Nestig Explorer Shelf ($899)
For extra storage, Lohan also snuck the Explorer Shelf into her little one's room. It has cubbies and shelves to tuck away extra toys, clothes, or books.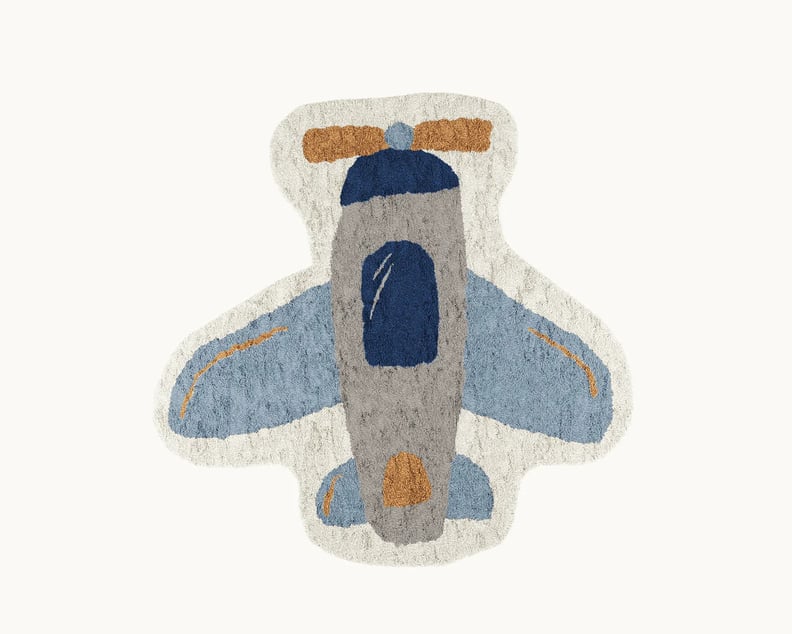 Nestig Aviator Rug
Nestig Aviator Rug ($325)
The right rug offers the perfect finishing touch for a nursery, and gives your baby a soft place to play. Nestig's are washable and come in prints that blend seamlessly with the themes of their other products. This rug, for instance, matches the Aviator Mobile.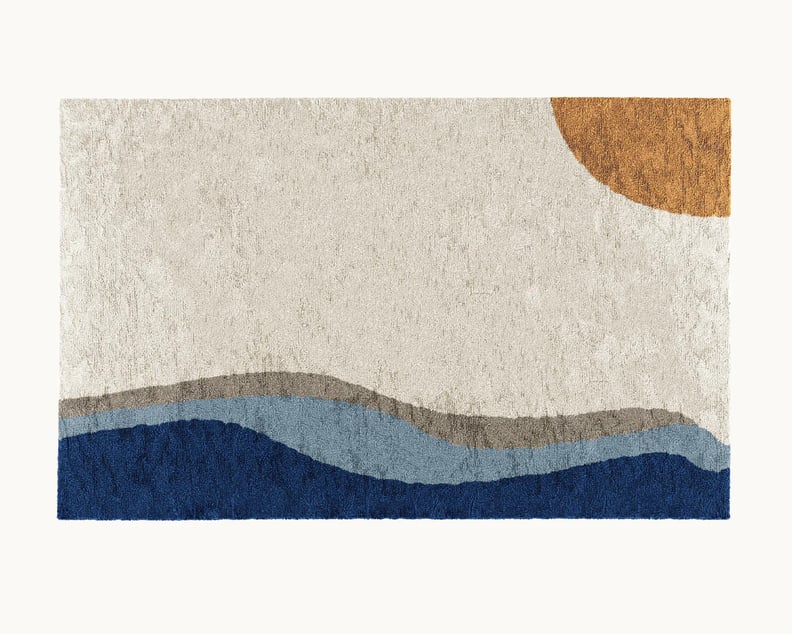 Nestig Breeze Rug
Nestig Breeze Rug ($399)
Besides being handmade and machine-washable, the rugs are created with nontoxic dye, and are made on organic cotton that's both dreamily soft and super durable.