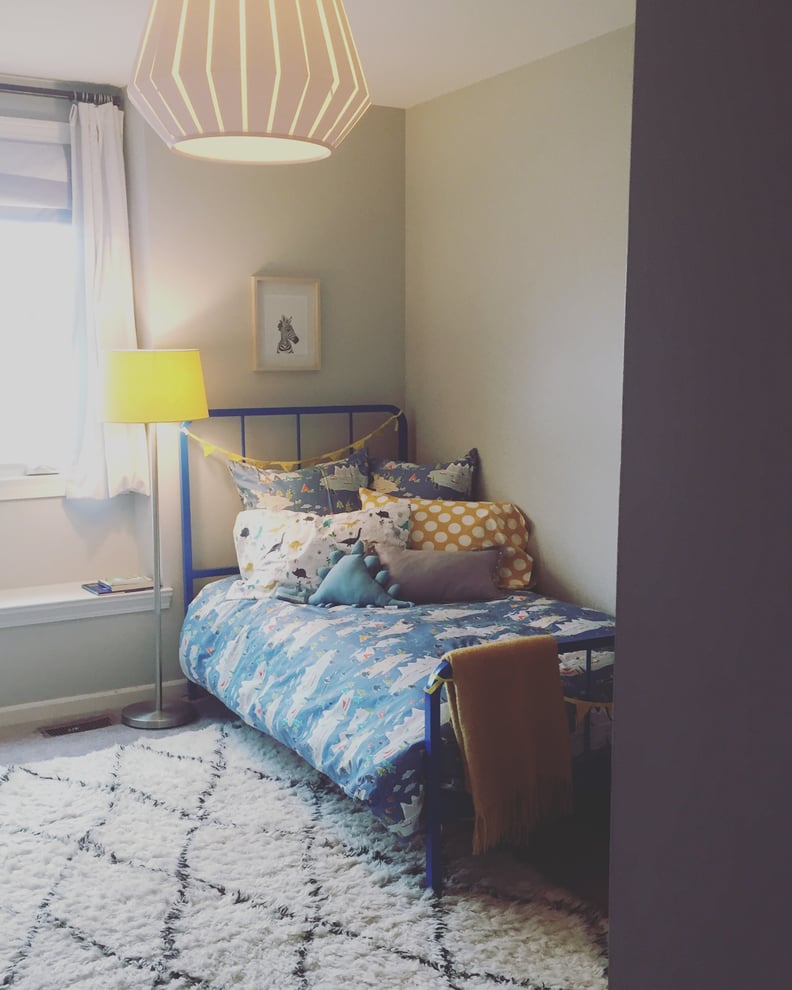 POPSUGAR Photography | Katharine Stahl
POPSUGAR Photography | Katharine Stahl
This past weekend, we moved my almost 3-year-old son from his crib to a big-boy bed. The transition hasn't exactly been seamless — he's transitioned himself to our bed every night around 2 a.m. — but the design process of transforming his nursery (check it out below) into a room fit for a growing boy (you can see his above): well, that was breezy.
Here's how you can turn your baby's bedroom into a little-kid space easily and affordably.
Think ahead. If possible, design your nursery with the mindset that it won't always be the home of a newborn baby. Try to pick transitional wall colors (Benjamin Moore's Gray Owl is a personal, gender-neutral favorite), furniture pieces that will grow with your child (a sturdy dresser and a book case are my must-have investment pieces), and even artwork that doesn't scream baby. I had a gallery of photographer Sharon Montrose's baby animal prints in my son's nursery. While the collection hanging together seemed a bit baby-ish to me, a single baby zebra still looks great above his big-boy bed.
Work within your nursery color scheme. My son's nursery was pretty neutral, with pops of mustard yellow and a medium grayish blue. When I spotted a camp-themed duvet from Serena & Lily that matched pretty much everything in his nursery, I jumped on it, even though he was years away from a big-boy bed. With that purchase, I guaranteed I could use his existing rug, pillows, blankets, storage baskets, and lamps, saving me tons of money.
Get rid of the glider to make room for a play area. After you've spent years pretty much living in your glider for nursing, cuddling, and bedtime book sessions, it can be hard to imagine life without it. But, now's the time to move it to a different room (mine is currently my favorite reading spot in our master bedroom). With that real-estate now open, you can set up a sweet play space for your little kid, which both encourages independent play and gets some toys out of your living room. Consider adding a fun tent or play canopy to the room (I'm in love with the Land of Nod rocket ship I just purchased for my son), a play kitchen, or a reading nook.
Ditch the crib. Even if your crib transitions to a toddler bed, I'd recommend ripping the Band-Aid off and making the switch to a twin or full-size bed. An official big-boy or -girl bed is an exciting thing for a little kid (my son wouldn't let his sister even sit on his for a week, despite screaming "I hate this bed" the whole two hours his dad was putting it together) and sends a message about their new "non-baby" status, which can be helpful if you're also working on potty training and/or new big-sister or-brother duties.