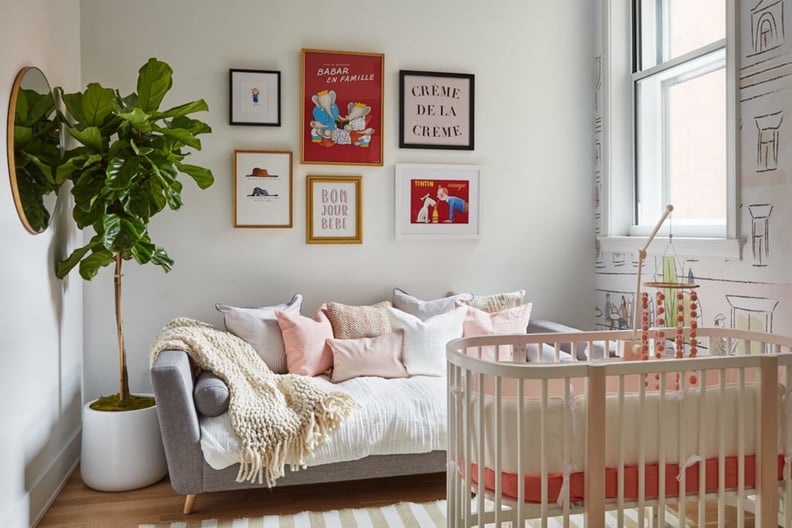 Seth Caplan
Seth Caplan
With a gorgeous new Manhattan loft and twin baby girls on the way, Man Repeller founder Leandra Medine and her husband, Abie Cohen, knew they needed help creating a cozy nursery without sacrificing function. For help, the couple turned to Decorist, a digital interior design service that specializes in making even the most overwhelming decorating projects a breeze. Decorist creative director Jessica McCarthy took the challenge head on, partnering with Bed, Bath & Beyond and Buy Buy Baby to create a soothing space punched up with plenty of Parisian style. If you're looking for tips for transforming your own small-space nursery, we've got your shopping list and inspiration covered!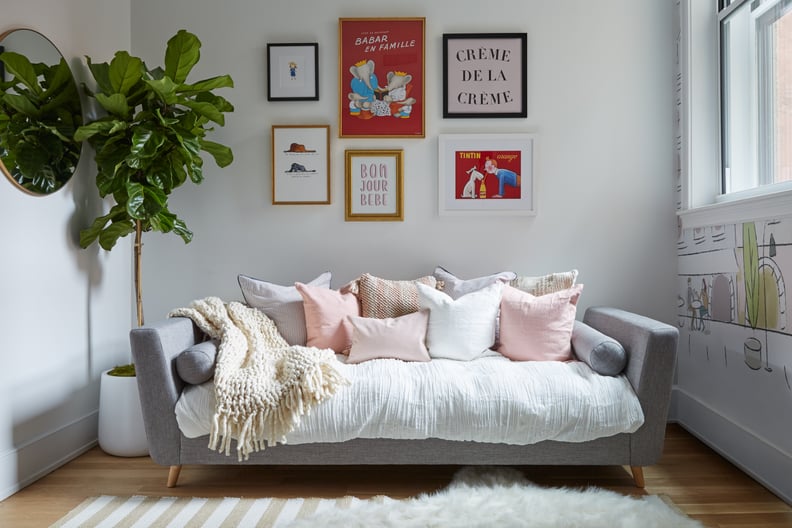 Consider a Daybed
Shoved against a wall, this Verona Home Cadley Daybed ($400) doubles as a bed and sofa without taking up too much room. Piles of pretty pillows, a textured linen duvet cover, and a soft, chunky throw blanket make it an ideal spot to cozy up with the babies for a cuddle or snooze.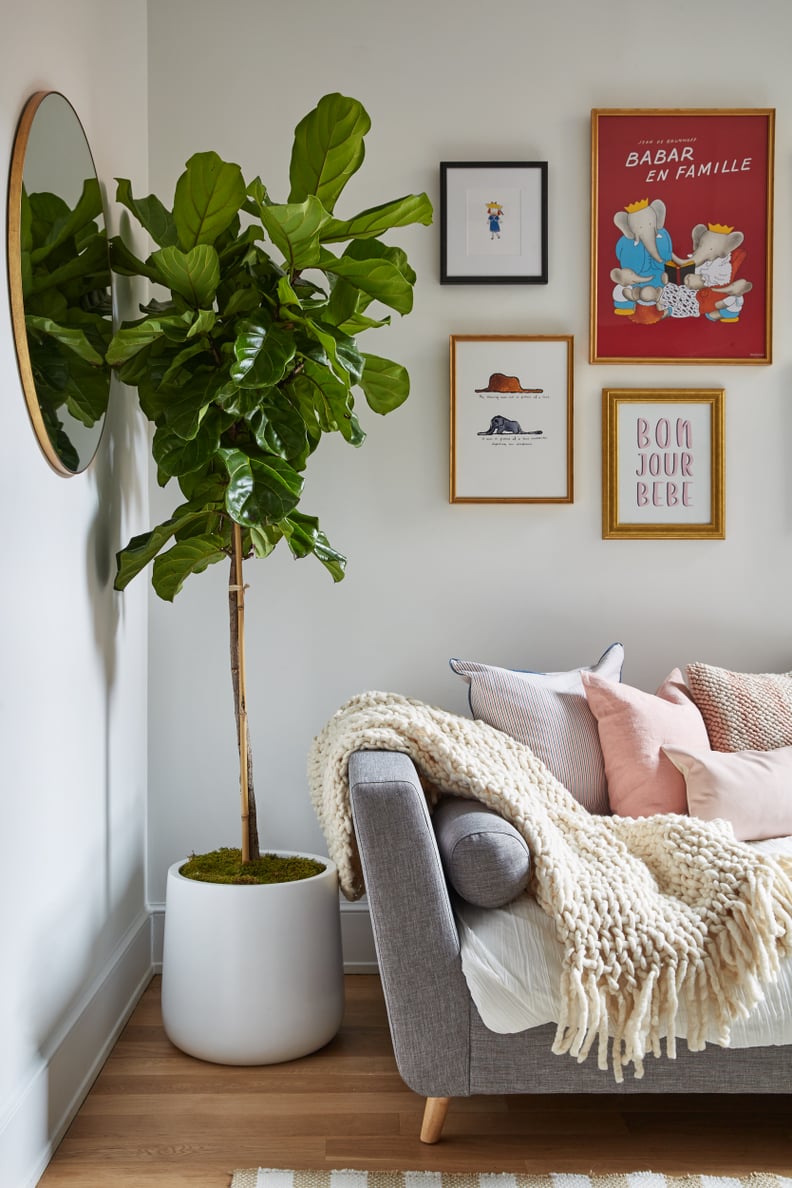 Add Light With Mirrors
This strategically placed Ren-Wil Oryx 30-Inch Round Mirror spices up a blank wall while also reflecting loads of natural light from the window it faces, helping the nursery appear even more spacious.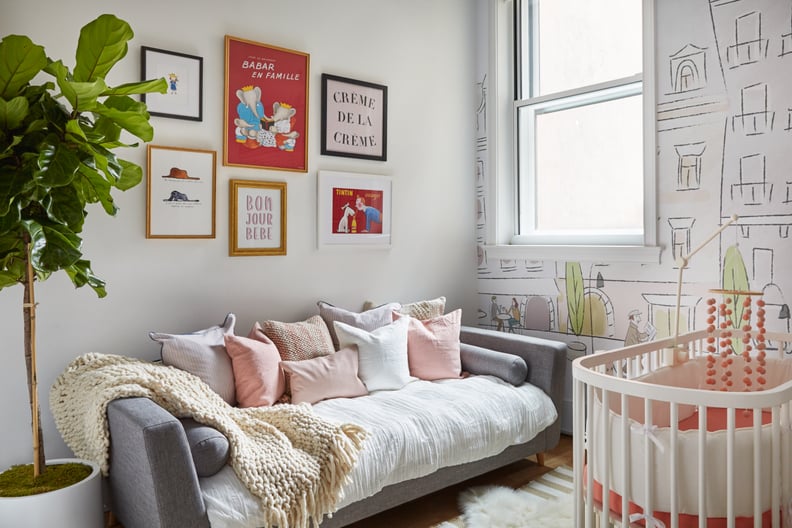 Layer Your Way to Softness
To create a supersoft landing for feet, Jessica layered a fluffy faux fur rug on top of a neutral-toned striped rug.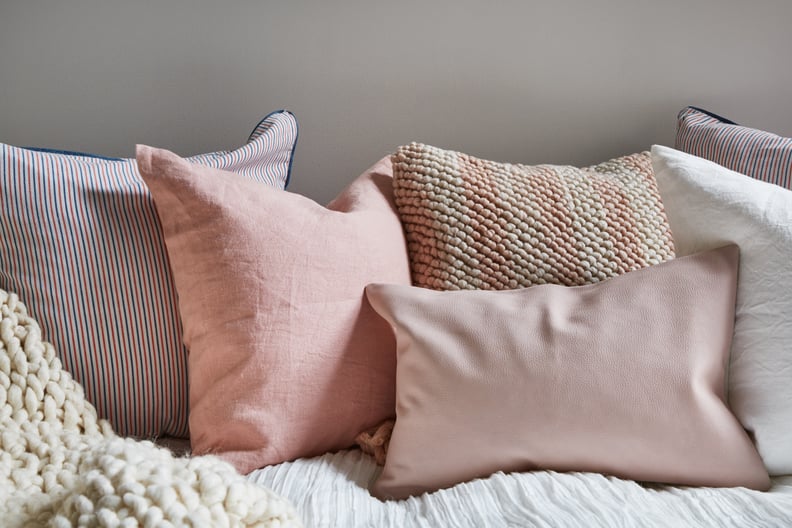 Explore Tone on Tone
Another pro tip for decorating a small space? Stick to a limited color palette and resist the urge to go pattern-crazy. For the pillows, Jessica layered different shades of blush and cream and opted for a variety of textures to add visual interest.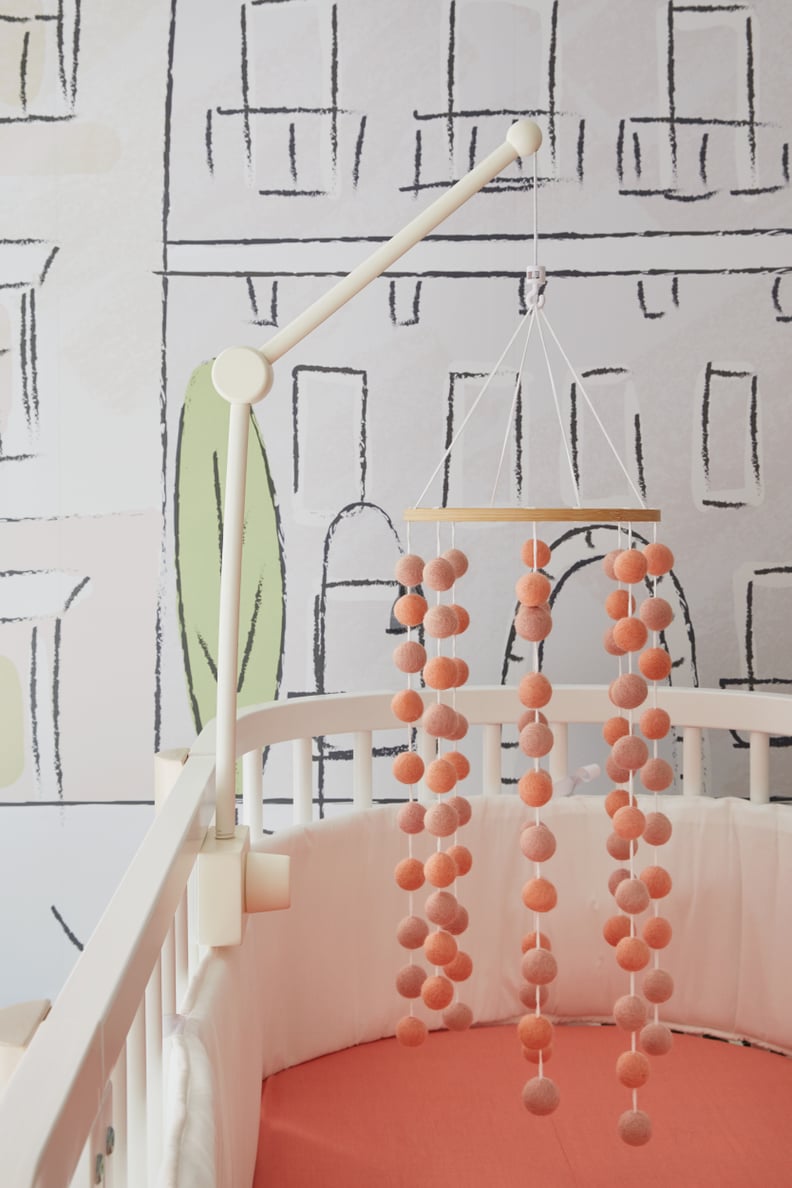 Choose a Bed That Grows With Baby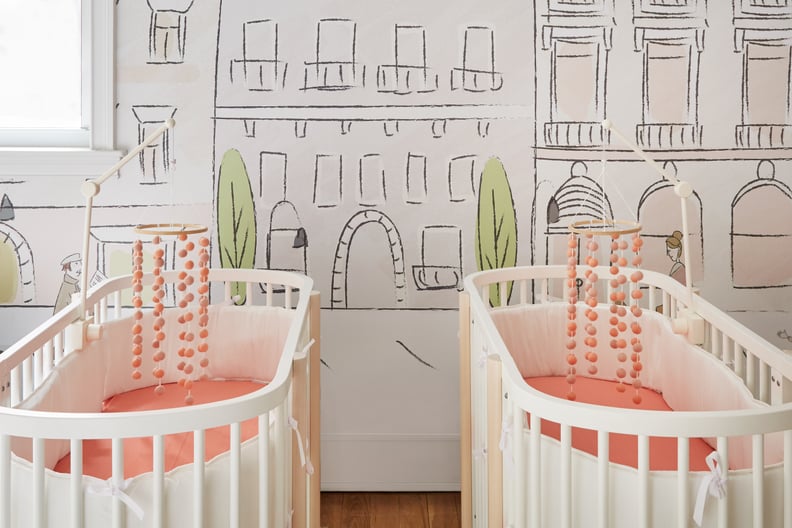 Consider Nontraditional Shapes
When choosing furniture, Jessica opted for oval-shaped cribs to make the most out of the floor plan. "I love oval and circular cribs for small spaces because you can easily float them in the room if you run out of wall space," says Jessica. Another perk? You don't have to worry about little ones running into sharp corners once they graduate from crawling to walking!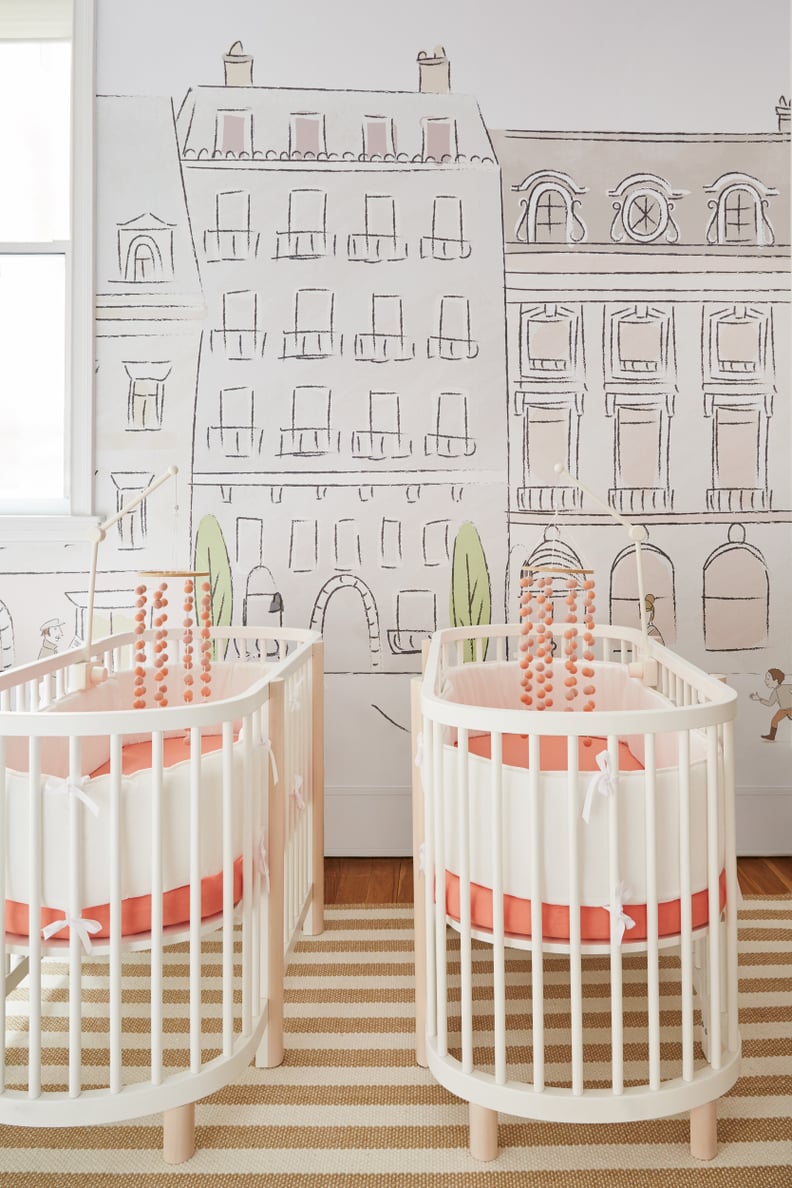 Take Your Accent Wall to the Next Level
To create a wow moment in the nursery, Jessica chose a large-scale graphic wallpaper that leads your eye from the floor to the ceiling. "The Parisian street mural expands the space with its light colors and large graphics. Adding an accent wall in a nursery does not take up any additional space and helps create a cohesive theme with so much impact!"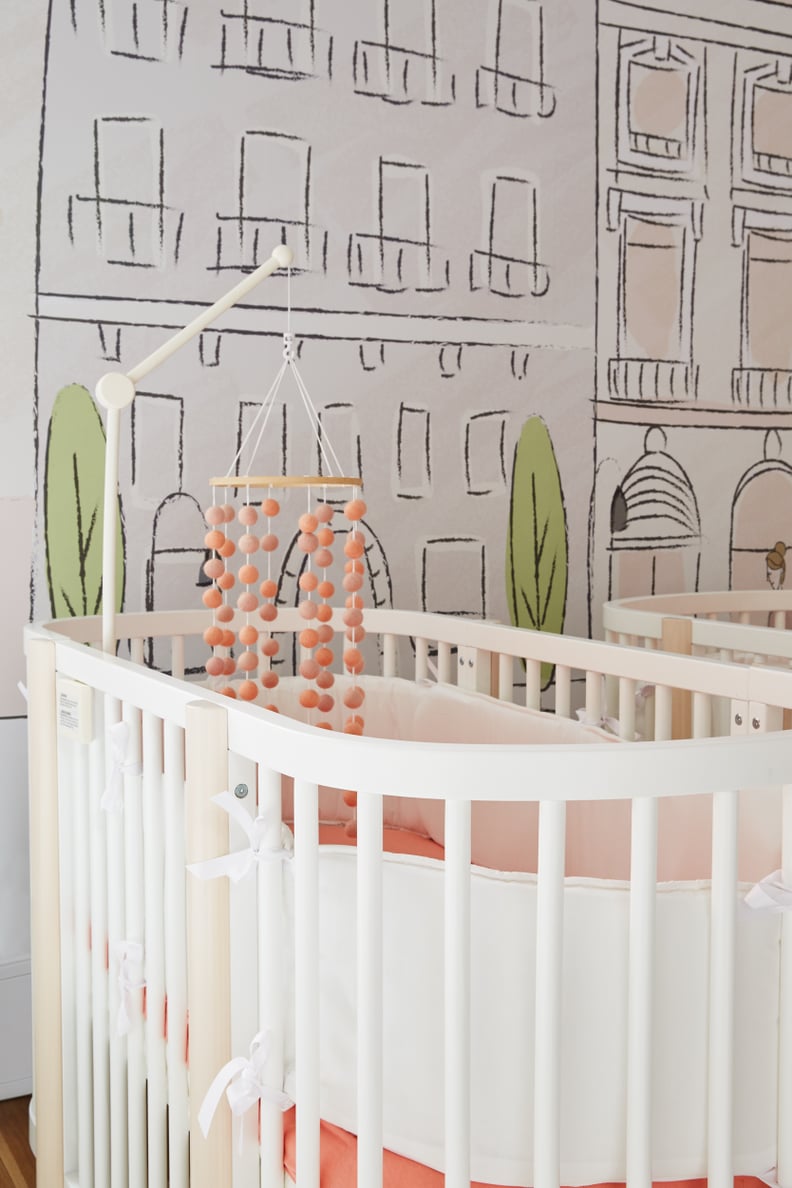 Accessorize With Mobiles
The modern mobiles are playful but sophisticated and add just the right amount of petal pink.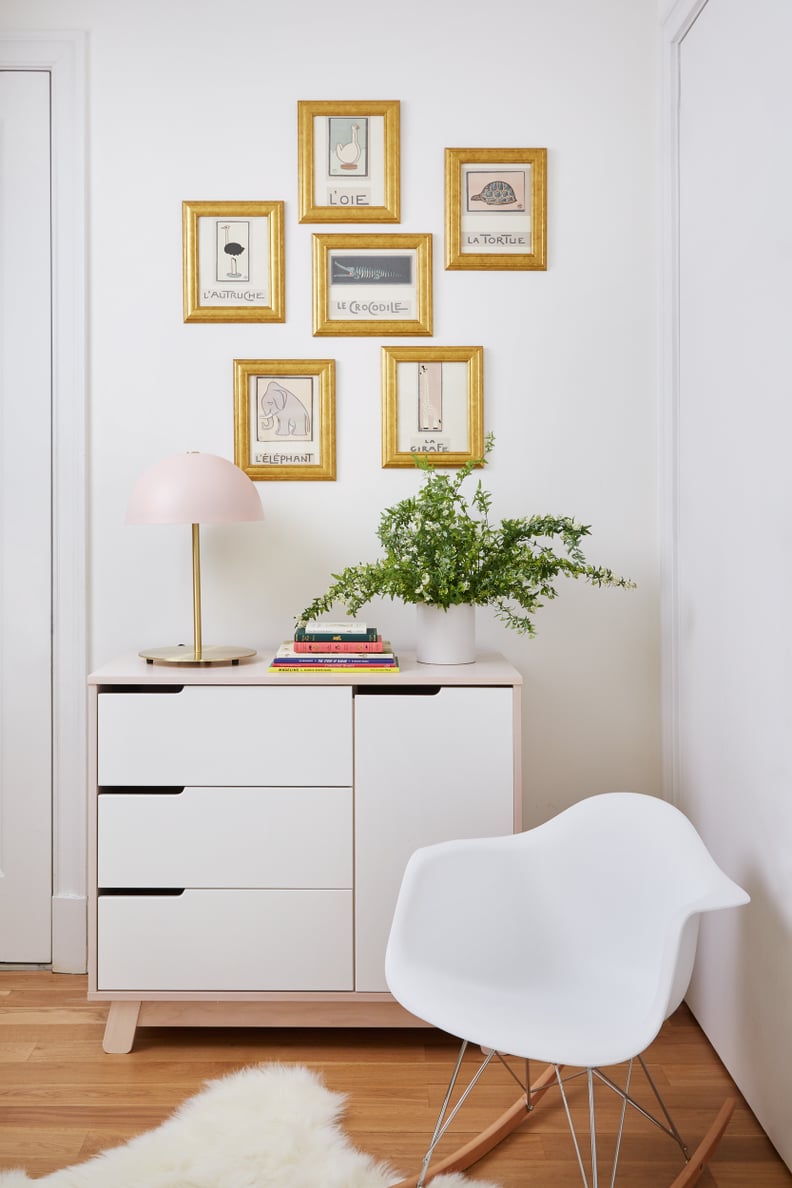 Go For Versatile Furniture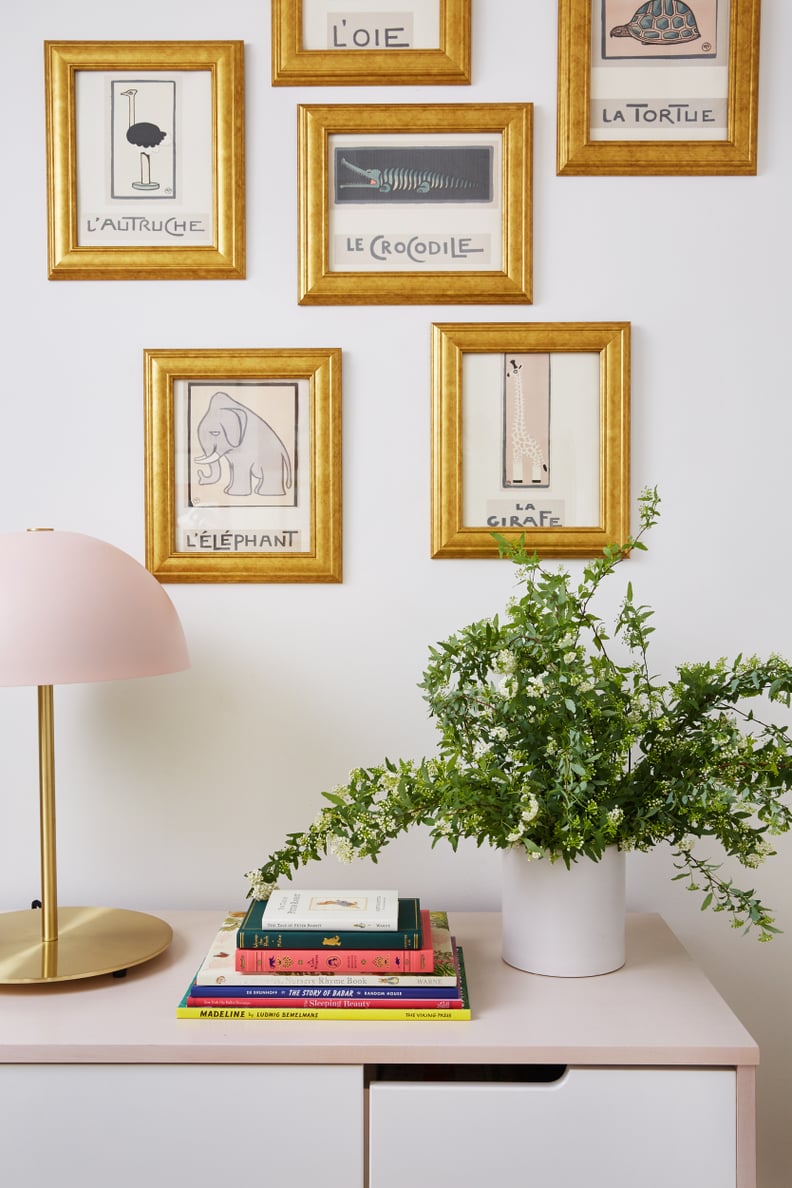 Dress Up Nursery Art
Gilded frames make the collection of kid-friendly illustrations look elevated.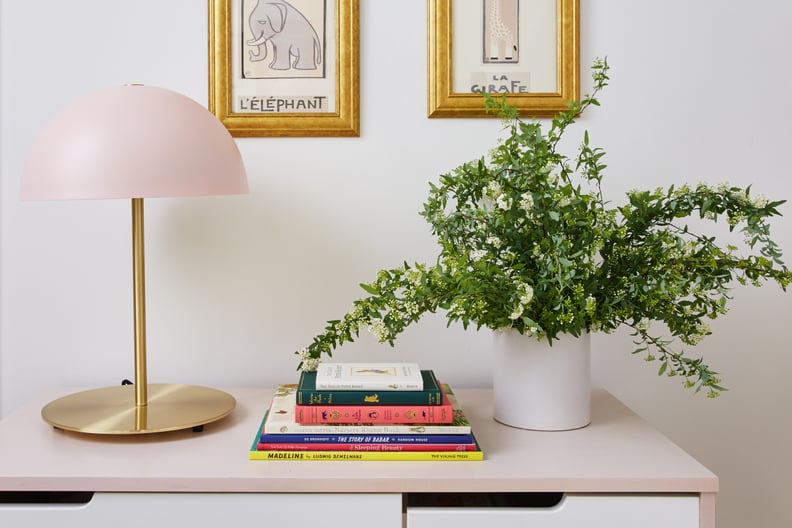 Introduce Greenery
Like the fiddle leaf fig tree in the opposite corner, a simple bouquet brings this nook to life.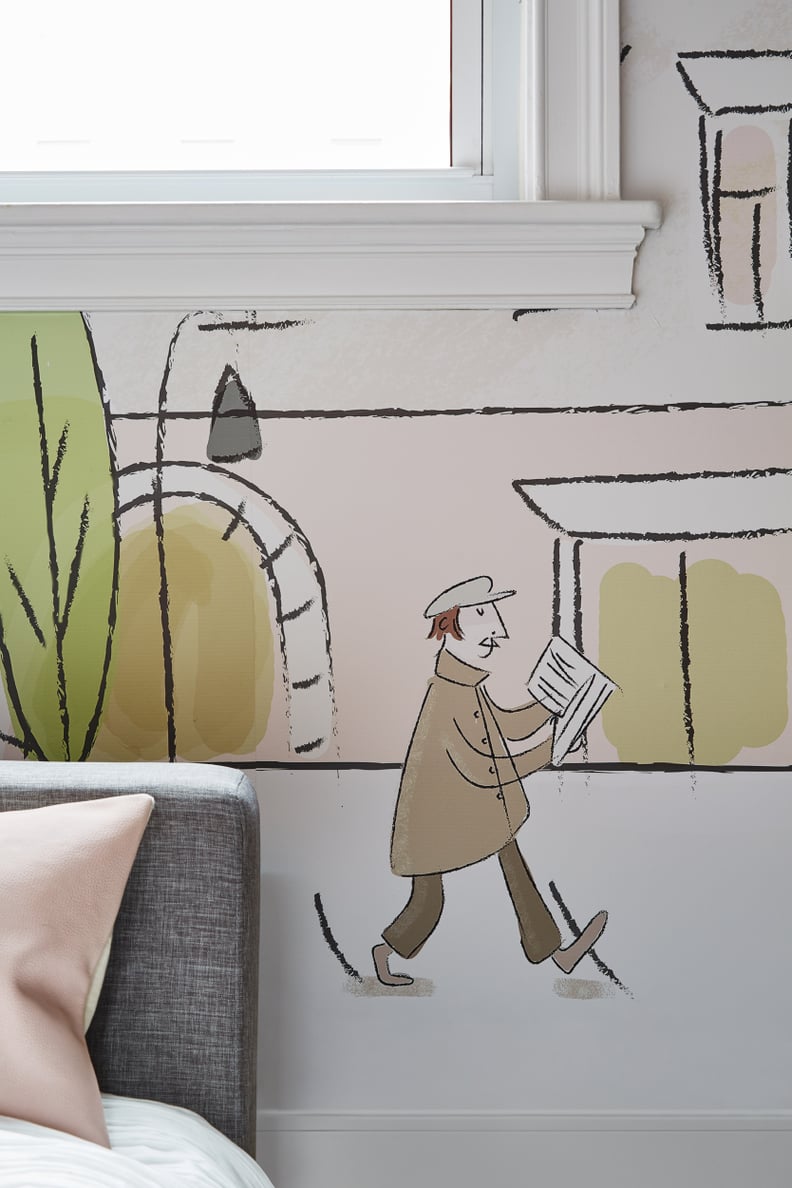 Explore More Pictures of the Nursery!