For all of those who think that having a mastectomy is gross or that it isn't possible to breastfeed after cancer, Kelly Knee is sharing the truth: both are miraculous.
After surviving a cancer battle and welcoming her fifth child, this empowered mom is sharing her story in the hopes that people will stop shaming others who they think look different and instead start supporting those who are overcoming struggles. "I have had two years to accept this mutilated body. I'm not saying I am bursting with joy about my new image, but it surely wins against the alternative of dying," Kelly wrote in a post on Scary Mommy.
As Kelly adjusts to life with her new baby boy, she has been deeply offended by people who think her mastectomy is disgusting. "I think that in that moment of defending myself, I realized I have nothing to be ashamed of," Kelly wrote. "I had cancer, my breast tried to kill me, and now my other breast is feeding and aiding in the life of another human being."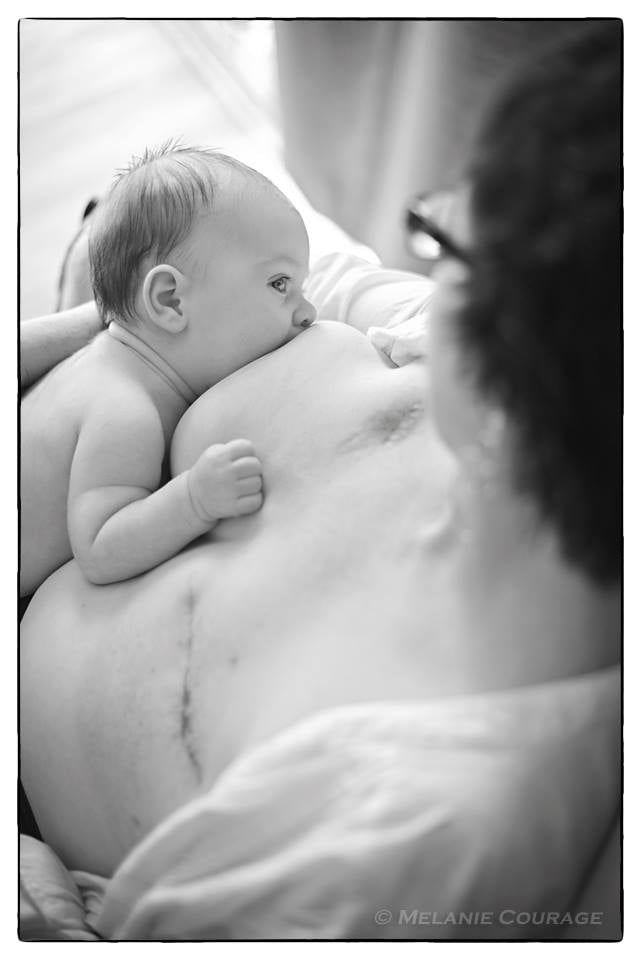 While some who have had breast cancer may never be able to forgive their boobs, or any other part of their body, Kelly is trying to see the good and appreciate what her breast is doing for her baby boy. Despite the pain that it has caused her, she is working to see past the scars the same way her kids do. "I have a love-hate relationship with my breasts. I hate that they tried to kill me, but I love that I am able to feed my baby," Kelly wrote. "My children don't care that I only have one breast. They don't care about the way I look, and they don't care that my chest has scars. What they do care about is the fact that I am alive, that I am able to provide food for them, and that they are deeply loved by so many."
As she overcomes any lingering self-doubt, Kelly now knows that she is capable of doing anything as a mother as long as she puts her mind to it. "I am not an outcast because I had cancer," Kelly wrote. "I am still a fully functional human with many possibilities ahead, and I plan to push myself each and every day."