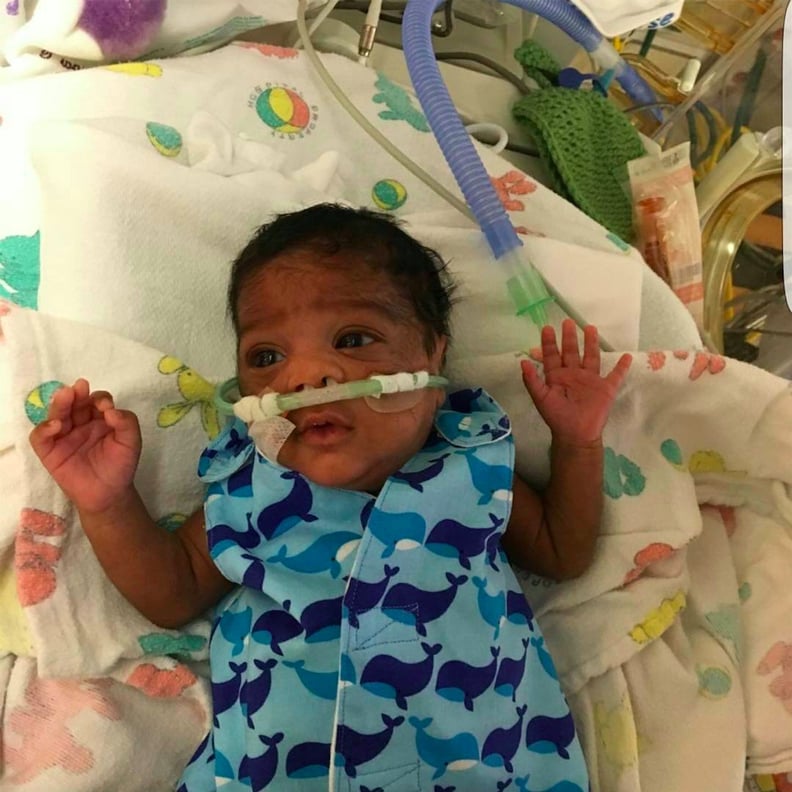 When Amanda Huhta gave birth to her baby boy prematurely at 25 weeks, she was so unbelievably frustrated that the hospital did not have clothes small enough to fit her son, who was just 1 pound, 12 ounces when he was born. Now, three years later, she's making sure no parent ever has to deal with the same struggle. Amanda decided to start the nonprofit organization Twenty-Five and Four — after asking her mom to teach her how to sew — sewing and donating clothes for babies in the NICU.
She explained how parents get so excited to pick out their baby's first outfit, but the minute they hear "NICU," that excitement is immediately forgotten. Baby clothes are not always feasible in the NICU due to tubes and IV lines. "At Twenty-Five and Four, we put the power back in the parents hands," Amanda writes on the website. "You get to pick out the style you like and material that defines you and your family. Whether it's cute little butterflies or big trucks and airplanes, you as the parent get to pick out your little one's outfit. Just like you were supposed to be able to do in the first place. This is for you."
The organization's goal is to make sure new parents are able to experience the joy of dressing even the tiniest babies for the first time. "You put the baby flat on it and it just folds over with Velcro, so if there is an emergency, they can just rip it off," Amanda told Babble. They come in sizes as small as a dollar bill and fit as small as one pound. Did we mention they're free to the families receiving them?
Twenty-Five and Four was started in Arizona, but now Amanda has volunteers in every single US state as well as in Ireland, Brazil, and Australia. She accepts donations on her website to help with the cost of shipping this amazing NICU solution. See some of the adorable tiny clothes she's made and the babies she's helped.