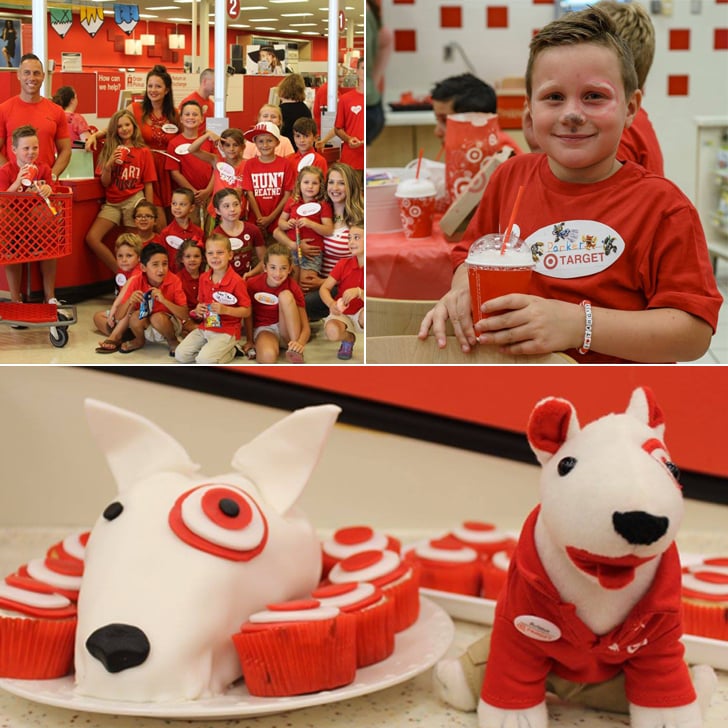 George J. Patterson and Jordan Himes
George J. Patterson and Jordan Himes
Every year Kara Cook works to throw her children creative birthday parties that reflect their interests but are also original. Since her little boy, Parker, happens to have a passion for Target, she felt that a red bullseye-inspired celebration at their local Target were the natural theme and venue for their next bash.
Even though Target doesn't actually host parties, Kara didn't let that stop her from making her son's dream a reality. A few weeks before the big day, she went to talk to a general manager and asked if they could make any arrangements for the children. While there was nothing official that could be done for the kids — like a tour of the backroom or lesson on the cash registers — this clever mom realized that there was nothing stopping her from taking the children to the store.
"He told me that we are customers and as long as we aren't disruptive, we shouldn't have a problem," Kara told POPSUGAR. "From that point forward, I started using the hashtag #LetsHopeWeDontGetKickedOut when posting my party prep."
When Kara sent out the invitations, she asked all of the guests to wear red shirts and khaki shorts. "Most of the parents responded that they had no idea Target did parties," Cook said. "I told them they don't, and we were crashing the place!"
Although she was nervous about how the party would be received by employees on the big day, as soon as they walked into the store, excited staff members greeted them for an afternoon filled with festive activities. Kara set up tables filled with balloons in the café and greeted kids with popcorn as well as name badge decorating and bracelet making stations. Then four parents led the children on a "Spot Bullseye!" scavenger hunt and they explored the store racing to solve five clues.
As their prize, the kiddos were treated to refreshing slurpees before a café lunch complete with hot dogs and soft pretzels, followed by homemade Bullseye the dog cake. The kids even got to choose their own party favors at the Dollar Spot and then checked out at a reserved cash register.
Although this isn't the typical birthday party theme or venue, Kara said that it turned out to be the easiest party she's ever put together. "The whole party from start to finish was only an hour and a half and was by far the easiest party I have ever planned . . . Even bringing the crafts, balloons, and cake into the store was easy because they have carts!" she said. "The biggest challenge was the anticipation on whether or not we could pull off the party."