If You Loved Planning Your Wedding, This Is the Nursery Room of Your Dreams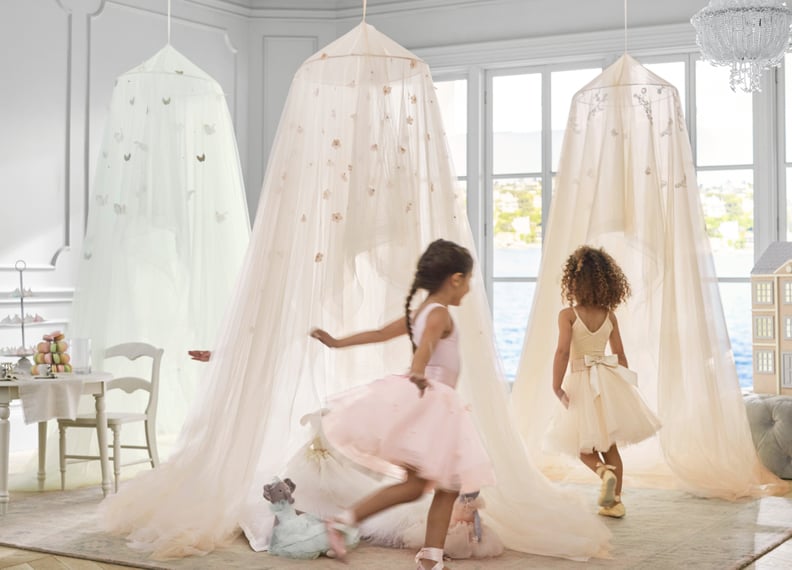 Pottery Barn
Pottery Barn
If you've ever spent any amount of time dreaming about your wedding, then you know the name Monique Lhuillier. But if you never got a chance to walk down the aisle in one of the bridal designer's gorgeous gowns, there's still a good chance you can own something just as beautiful. Or, at least, your kids can.
In her first foray into children's home furnishings, Lhuillier has launched a 120-piece capsule collection with Pottery Barn Kids that captures her signature romantic aesthetic with a youthful spin.
So, how'd she make the transition? All fashion designers need inspiration, and Lhuillier looked no further than her two kids, Jack and Sophia.
"I was inspired by my own experience as a mother, creating serene and magical nurseries and bedrooms for my children," she told POPSUGAR. "I loved the process of decorating both of their rooms."
The lineup features fabrics and materials fit for a special occasion but functional enough for reality. Among the quilted cribs, playroom-ready toys, and even some apparel in the form of tulle tutus, she and her kids have some preferences.
"My favorites are the butterfly chandelier that's designed to look like a draped beaded necklace, the lamb tuffet, and designer dolls — they all give a hint of fantasy," she told us. "The serene colors of the rugs add the finishing touches for a tranquil and peaceful room. My daughter, Sophia, loves all of the plush animals, and my son Jack's favorite is the leather club chair."
Despite Lhuillier's sophisticated style, the collection — which launches today online and in stores nationwide — isn't meant to look like a wedding planner took over the nursery room.
"As a parent, I believe it's important to create a space that reflects your child's personality, inspires creativity, and brings a sense of calm to the energetic lifestyles parents and kids lead," she said. "Becoming a parent is a very emotional life event that allows you to see life through the eyes of your child."