As POPSUGAR editors, we independently select and write about stuff we love and think you'll like too. If you buy a product we have recommended, we may receive affiliate commission, which in turn supports our work.
Though it'll be a few years before you snap their first "first day of school" photo, newborn babies are completely capable of learning — largely through play. (Case in point: tummy time.) So toys for newborns aren't just fun ways to spend time together; they actually build up your baby's brain.
"Every moment of play is like an experiment for discovering actions and reactions," says Betty Choi, MD, a pediatrician and the author of "Human Body Learning Lab." "By using their five senses, [newborns] learn how to observe and focus on details and patterns. Babies also learn how to communicate and connect with other people through play."
But how do you get the learning started with a newborn? Unlike an older child, you won't head outside to shoot hoops or put together a 900-piece jigsaw puzzle with a brand-new little one. Even some toddler activities will be out of reach. Instead, you'll want to dip your toes into the world of newborn toys. Newborn baby toys are designed to appeal to the attention spans and grip strengths of the tiniest babies. We asked pediatricians for their recs for the best newborn toys on the market — here are their top picks.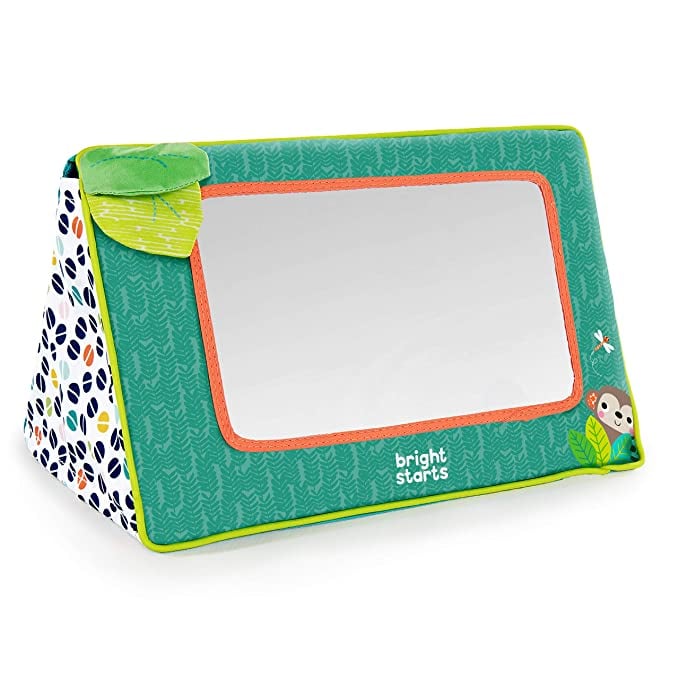 Best Newborn Toy: A Baby Mirror
Bright Starts Sit and See Safari Floor Mirror ($11)
It's always a little funny to see a baby enamored by their reflection, but mirror toys have mental benefits. "Babies can work on visual acuity skills, tracking, and learn familiar faces," says Amanda Stovall, MD, an Illinois-based pediatrician. "This mirror stands on its own, making it a good option for times when a parent is supervising tummy time but may not be directly on the floor next to them."
The cute toy has a little monkey and a colorful palette, but your newborn will likely focus on the faces they see in the mirror at first. As they grow, they may enjoy reaching toward the crinkly leaves.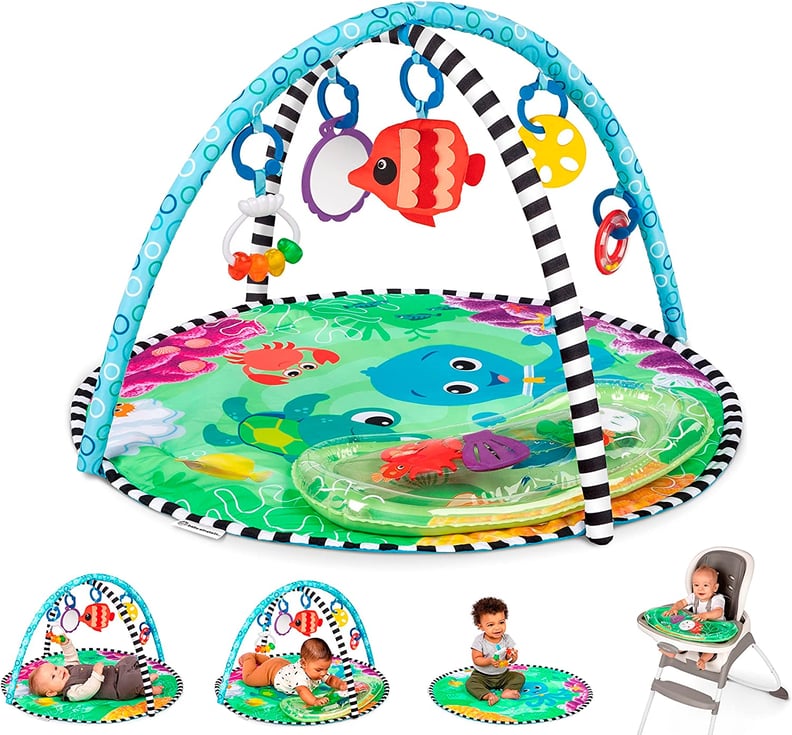 Best Newborn Play Mat
Baby Einstein 2-in-1 Water Play Mat & Activity Gym ($40)

Make a splash, minus the mess, by turning tummy time into a deep-sea adventure with this fun water play mat and activity gym. "Play mats like this one encourage babies to reach and grasp, working on hand-eye skills," Dr. Stovall.
Many water tummy time options have the water feature on the entire surface of the play mat. But Baby Einstein's is small and detaches, so you can use it on the go or later to entertain a babe in a high chair as you make dinner. "Ensure all toys are securely attached to the mat to remain safe," Dr. Stovall cautions. Plus, the mat has other toys that engage multiple senses, like a plush fish chime and a baby-safe mirror.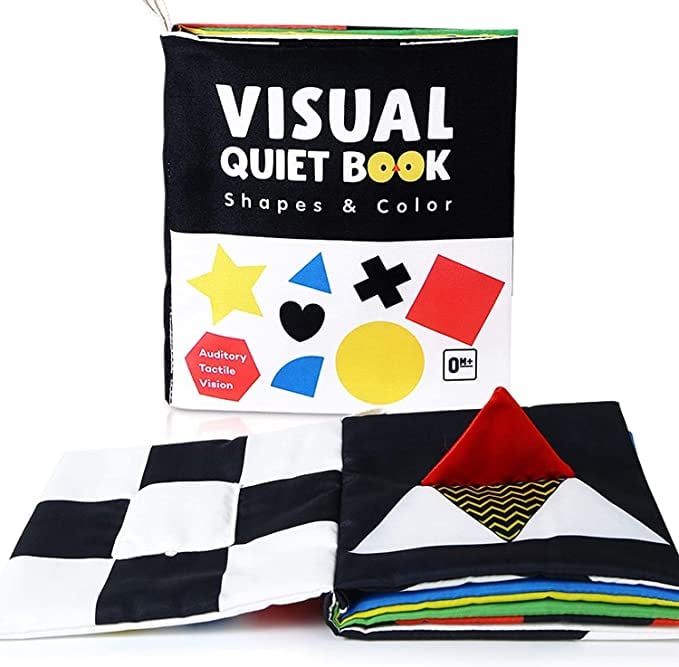 Best Touch and Feel Book For Newborns
Beiens Baby High Contrast Black and White Book ($14)
It's a myth that babies only see black and white, but it's true that they don't see colors as clearly as adults — their vision is still developing. "High-contrast black and white images are attractive for young babies because their color vision takes time to develop. Red is the first color that babies see," Dr. Choi says.
The boldly colored book boasts a 4.8-star Amazon rating and turns reading time into a multi-sensory experience with pages full of multiple textures, crinkle paper, mirrors, and flaps.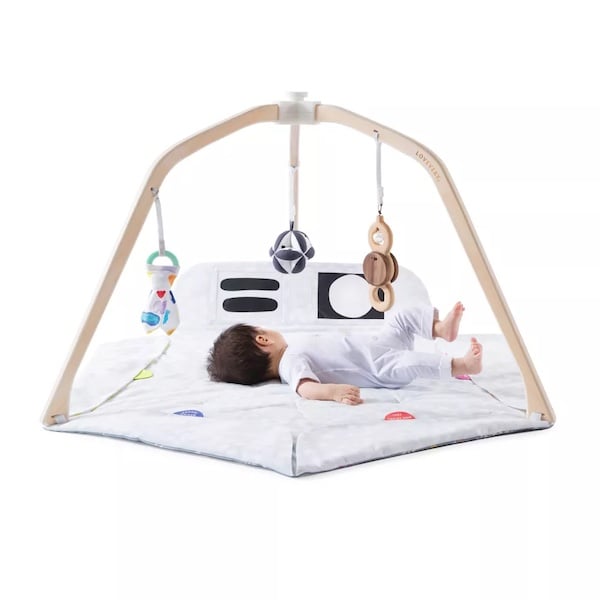 Best Newborn-Baby Play Gym
Lovevery The Play Gym ($141)
This play gym comes with a guide full of helpful tips on how to use it to build your baby's skills, starting from the time they're a week old.
"I really love the concept behind the Lovevery play gym. Hanging mobiles can encourage babies to practice reaching and grabbing, and picture cards can be updated as babies grow. The activity stations along the edges can be opened when babies are more mobile and curious, and the fort looks like a fun opportunity to play peekaboo," Dr. Choi says. "Before babies start to roll, this can be a nice spot for babies to hang out while a parent is busy doing work next to them."
This toy will grow with your little one and can be used for forts once they're toddler aged.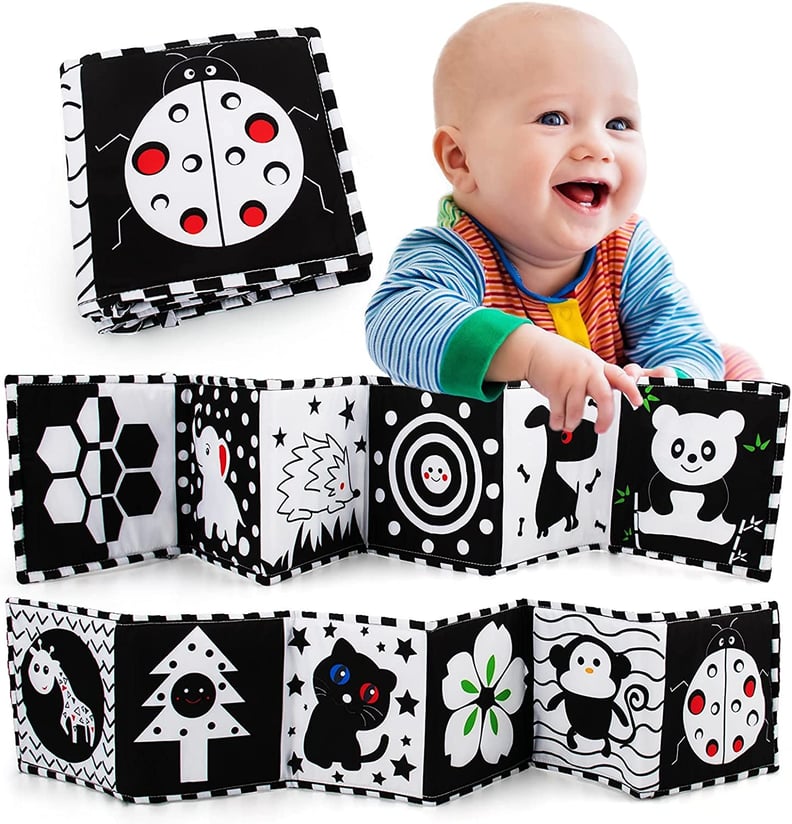 Best Soft Baby Book For Newborns
Teytoy Black and White High Contrast ($12)
"High-contrast soft books are so fun for babies to explore!" Dr. Choi says. Black, white, and red cards and books can aid in visual stimulation, and the soft and crinkly pages "can be a fun tactile and auditory experience for babies, too," she notes, adding, "These books are also a fun way to introduce the concept of reading and turning pages."
Another cool feature: the book folds out, so you can lay it by your newborn as they try tummy time.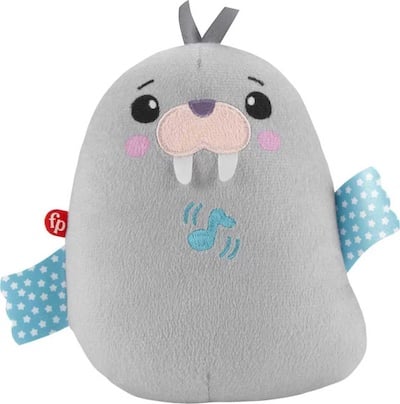 Best Cuddly Sound Machine For Newborns
Fisher-Price Chill Vibes Walrus Soother ($18)
Some babies adore the car. Others? Not so much. This walrus plays 10 minutes of calming music, nature sounds, and soothing vibrations and can help your newborn feel calmer when you're on the go. Bonuses: it's machine washable and just plain cute.
"Sound machines can be soothing for new babies," Dr. Stovall says. However, she adds, "While the machine is soft like a stuffed animal, it should be placed outside of the baby's sleep space in accordance with safe sleep guidelines."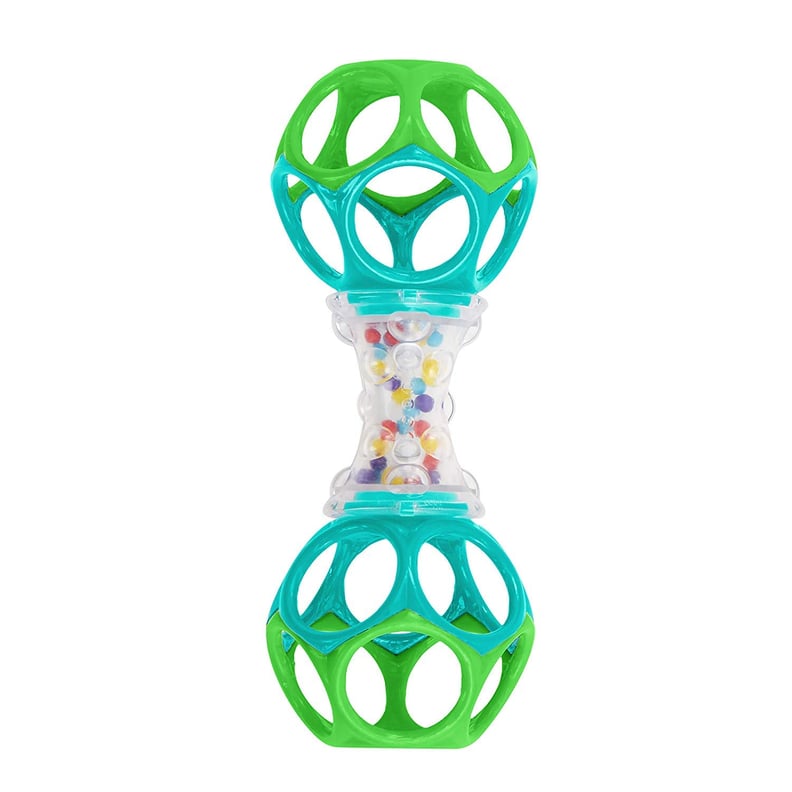 Best Baby Rattle For a Newborn
Bright Starts Oball Shaker Rattle Toy ($5)
Rattles are a classic baby toy, and this one from Bright Starts is one of the best-rated on Amazon, with more than 60,000 reviewers giving it 4.7 stars. "Shaker rattles can be very entertaining for young babies. The ends of this rattle are easy for babies to grab, and they'll love that they're able to make the rattle make noise," Dr. Stovall says.
Shoppers rate this rattle's durability and the fact that it's easy to hold as top features. It's also a cinch to wipe down.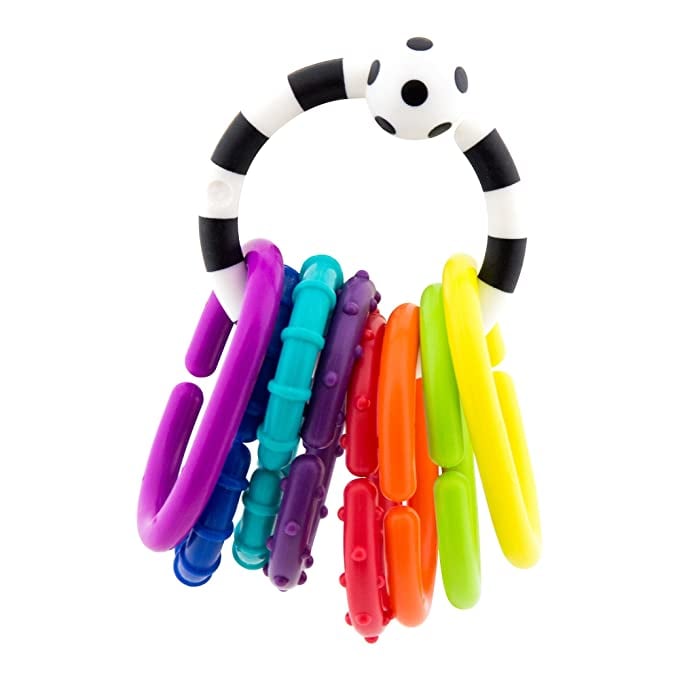 Best Ring Toy For Newborns
Sassy Ring O Links Nine-Piece Set ($5)
At under $5, these multi-purpose rings are a bang-for-your-buck purchase. The high-contrast ring that holds the toy together is perfect for brand-new babies. The bright colors will become more appealing as they reach the end of the newborn phase, and it's never too soon to introduce noise and texture.
From a parent's point of view, the rings are also practical, says Dr. Stovall. "The rings make it easy to link to a high chair, car seat, or stroller for easy entertainment on the go," she says. "It's great that the toy is dishwasher safe, especially since many babies are using them as teethers."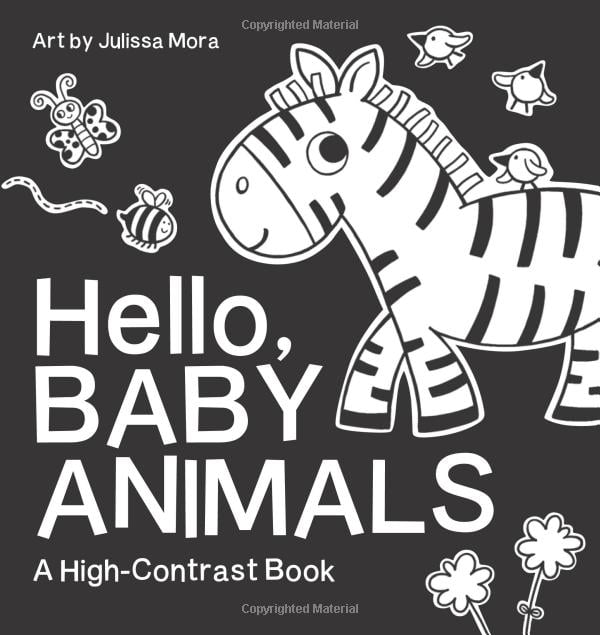 Best Board Book For Babies
Hello, Baby Animals High-Contrast Board Book ($7)
Reading to babies builds a foundation for books and learning. What's more, "board books are a great way to help a child work on fine motor skills by turning the thick pages," Dr. Stovall says.
This board book comes in high-contrast colors perfect for newborn eyes. And the durable pages will withstand tiny hands even as they become stronger.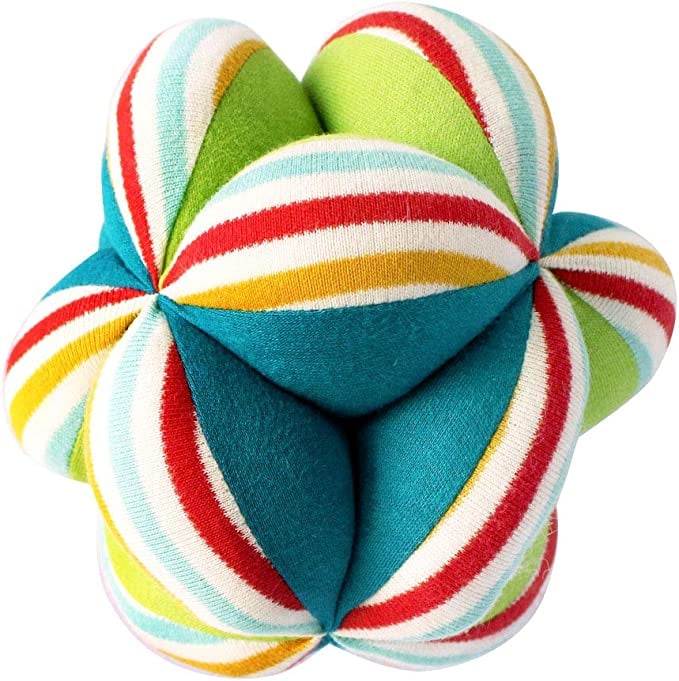 Best Plush Ball Toy For Newborns
Shumee Colorful Plush Fabric Ball ($23)
"Balls with different colors, shapes, fabrics, and sounds are wonderful first toys for babies," Dr. Choi says. "They can explore squeezing, pushing, pulling, rolling, dropping, and throwing."
This plush ball is segmented to make it easier for small hands to get a handle on grasping. A rattle and plenty of colors make it multi-sensory, particularly as your baby grows and becomes more attuned to colors.