Warning: spoilers for Queer Eye season 3, episode 6, "Elrod & Sons," ahead!
Any tried-and-true Queer Eye fan will often find themselves reaching for the tissues while watching episode after episode of the show (usually as soon as a new season drops). And while we can't get enough of every single transformation showcased, the story of 42-year-old Rob Elrod in the third season's sixth episode, "Elrod & Sons," was truly unforgettable. It focuses on Rob — a father of two who lost his way a bit after his wife Alison died of breast cancer two years prior to filming — and how he's been parenting his boys through his grief. Although the single father has a lot of help from his mother-in-law and recently bought a new house for a fresh start, picking up the pieces of his life after seven years with his wife has been understandably challenging.
"The last step that she wanted was for me and the boys to live a happy, fun life, and we can do that now."
After getting nominated by Alison's best friend, Sawnsai, the Fab Five swoops in to help Rob "let the sun shine in" as he prepares to throw a housewarming party for his friends and family. Like many people who lose a loved one, Rob suffers with letting go of Alison's things — he won't use her dresser drawers or sleep on her side of the bed — which makes moving on an incredibly challenging feat.
Although Rob's suffered unimaginable loss, he somehow manages to keep it together throughout most of the episode. "I feel like I've put a lot of things on hold," he told Antoni. "Alison and I used to love having our group of friends over . . . [over] the last two-and-half years I really haven't . . . even the friends who come over feel Alison so much it's almost more depressing to them even if it's a fun event."
After bawling through the entire episode, we decided to focus on some of the big takeaways for parents who have recently lost their spouses — some that apply for single parents, and all busy parents, in general — straight from Rob and the Fab Five.
1. Dedicate a space to your late partner.
Toward the end of Alison's life, she and Rob made arrangements to keep her spirit alive while she was gone, including writing out cards for all her kids' birthdays and having Rob promise that he'll move his sons to a larger home. While Rob stayed true to his word, he needed Bobby Berk's help when it came to compartmentalizing his late wife's physical belongings in the new home.
"I want to make sure that I find these memories of Alison in these amazing items that need to be preserved for the boys," said Bobby. "But tuck them away in their nice little home to where, when you want to revisit those memories, you can." By the end of the episode, Bobby has totally made over the family's new space, making the rooms functional for two little boys, and dedicating a special place to Alison: an enormous chest filled with all her things.
2. Keep things simple when dressing your kids.
According to Tan France, staying in certain "color stories" is essentially fool-proof for parents who aren't exactly fashion forward and don't have a lot of time to dwell on outfits in the morning. Stick with a simple pair of jeans or slacks and mix and match with shirts and shoes that are in the same color family, like blues and greens.
3. Get a few easy meals under your belt.
You don't have to feed your children ramen noodles and chicken fingers for every single meal just because it's quick. Antoni suggests making homemade fish sticks — a simple, quick dish — by coating some strips of mahi mahi in crushed macadamia nuts, for example. Having a few healthy options in your repertoire will make getting your little ones fed in a pinch a million times easier, without reaching for the microwave.
4. Find your passion.
Rob has always had a passion for music and explained that he and Alison went to dozens of concerts together when she was alive. In an effort to keep the tradition alive, Karamo enrolled him in bass lessons so he can play with his sons one day (and also have a fun activity to do for himself). "I want to bring you to a place when you can learn music so you can have fun," said Karamo. "It's also something you can pass down to your sons so that [they] can have the joy of music."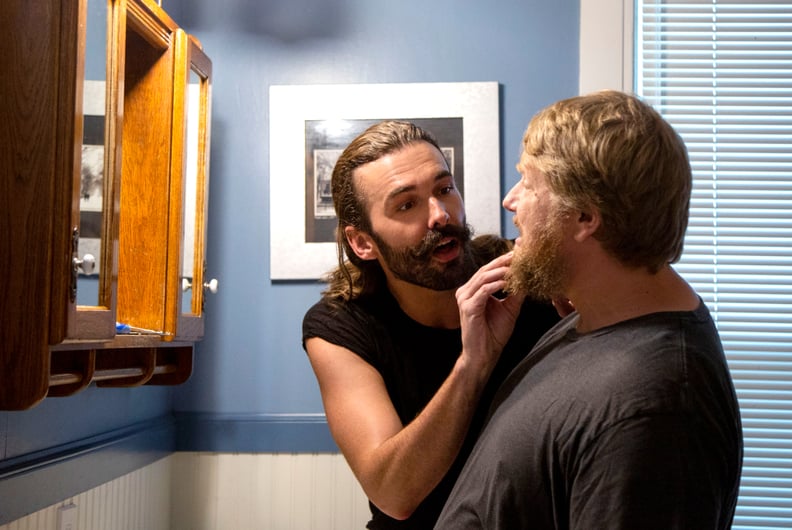 5. Take time for self-care.
Single parents typically don't have hours to dedicate to self-care every day, but Jonathan says a few moments to yourself in the shower can make a world of difference. "When you're washing your hair, get present," he said. "Think about how your fingertips feel on your scalp . . . It's really just a way for you to get out of your head and into your body and that's extremely healing to our nervous system."
6. Continue to celebrate life.
Healing from death is a journey that can take years. While it can be hard to stay positive through the grieving process, it's important to focus on the good days. "The last step that [Alison] wanted was for me and the boys to live a happy, fun life, and we can do that now," said Rob. "I feel absolutely amazing and I'm ready to move forward and attack this life and have fun."