24 Celebrities Who Rocked the Bikini While Pregnant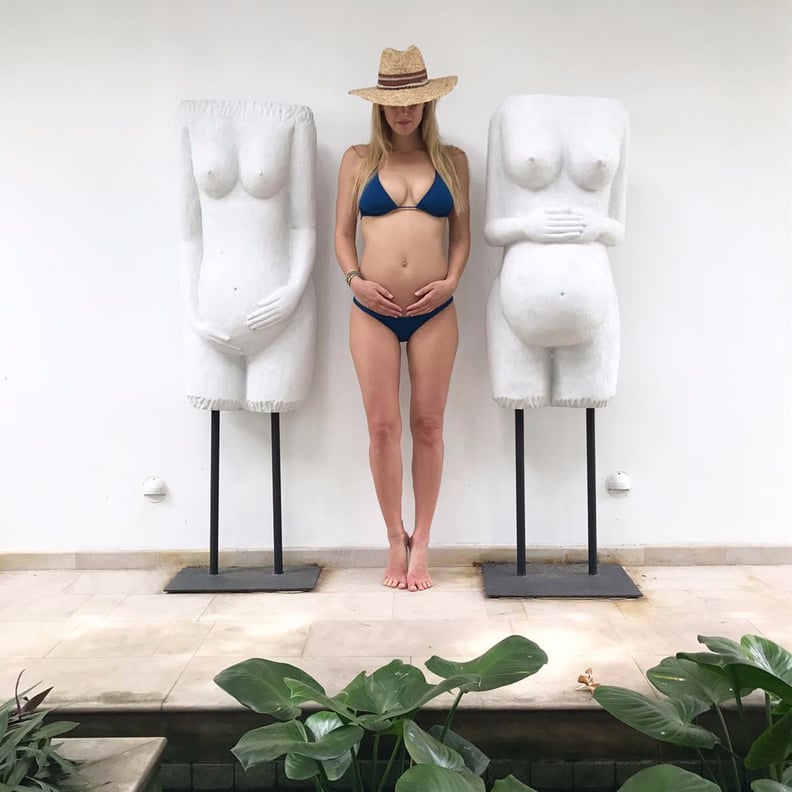 For expectant mamas heading on vacation, swimwear selection is always top of mind, but when you're heading to the beach — or even the backyard — you may want to celebrate the day wearing a two-piece swimsuit. Fifty percent of our readers showed off their burgeoning bellies in a bikini while pregnant — and they're not alone. Take a look at some of our favorite expectant celebs who also sported bikinis while playing in the sun.
01
Anne Hathaway debuted her pregnant belly in a bikini shot to kick off 2016. She wrote, "Happy 2016 to my beautiful Instafriends! So, posting a bikini pic is a little out of character for me, but just now while I was at the beach I noticed I was being photographed. I figure if this kind of photo is going to be out in the world it should at least be an image that makes me happy (and be one that was taken with my consent. And with a filter :) Wishing you love, light and blessings for the year ahead!"
02
Karolina Kurkova shared a fun family surfing photo that showed off her pregnant belly.
03
Hilaria Baldwin shared a sweet snap of her pregnant belly sharing some space with soon-to-be big sister Carmen.
04
While vacationing with her family, Molly Sims posted a bikini baby bump shot on Instagram.
05
Elsa Pataky decorated her baby bump while on set.
06
Kristin Cavallari shared a poolside snap, showing off her baby bump in a bikini. In another photo, she posed with her bikini-clad friends, writing, "Had the best weekend for @char_major 's bachelorette! Even though I was the first one in bed it was a blast."
07
Vanessa Lachey shared a beautiful sunset bikini photo — taken by her husband, Nick — while pregnant with Camden.
08
Shakira showed off her full, pregnant belly just before giving birth to baby Milan.
09
On Mother's Day, Stacy Keibler posted this bikini picture of her baby bump.
10
Ali Larter showed off the stunning view — and her belly — while on vacation.
11
Penelope Disick made herself at home atop her bikini-clad mom Kourtney Kardashian's baby bump while vacationing in the Hamptons.
12
Jaime King donned an itsy-bitsy bikini in her backyard.
13
When Peta Murgatroyd was 14 weeks pregnant, she accented her growing bump with a cheetah-print bikini.
14
Olivia Wilde was glowing as she took in the sun during her pregnancy in an Instagram post lobby Congress to help moms have healthy pregnancies.
15
During a babymoon before the arrival of their little boy, Eva Amurri Martino's husband captured a snapshot of her bump in Bermuda.
16
Catherine Giudici spent part of her babymoon by the pool with her bump soaking in the sun.
17
Bar Refaeli is having some fun with her second pregnancy and showed off an adorable bikini snapshot to prove it.
18
As a Victoria's Secret Angel, Candice Swanepoel is used to rocking a bikini and that was no different during her pregnancy.
19
Adam Levine snapped a picture of his wife, Behati Prinsloo, relaxing in the sun before the birth of their baby girl.
20
Ali Fedotowsky was in the relaxing zone as shared a picture from the first time she felt completely comfortable in a bikini.
21
Lauren Conrad revealed her first bikini bump snapshot during her babymoon.
22
Tess Holliday showed off her poolside baby bump skills when she was 38 weeks pregnant.
23
Tori Spelling wore her bump proud during her fourth pregnancy.
24
Jessica Simpson showed off her second baby belly with a selfie portrait while vacationing in Hawaii.