Sarah Michelle Gellar Talks 2020 Halloween Plans With Kids
Buffy, Beetlejuice, and Wine: Sarah Michelle Gellar's Halloween Plans Sound Spooktacular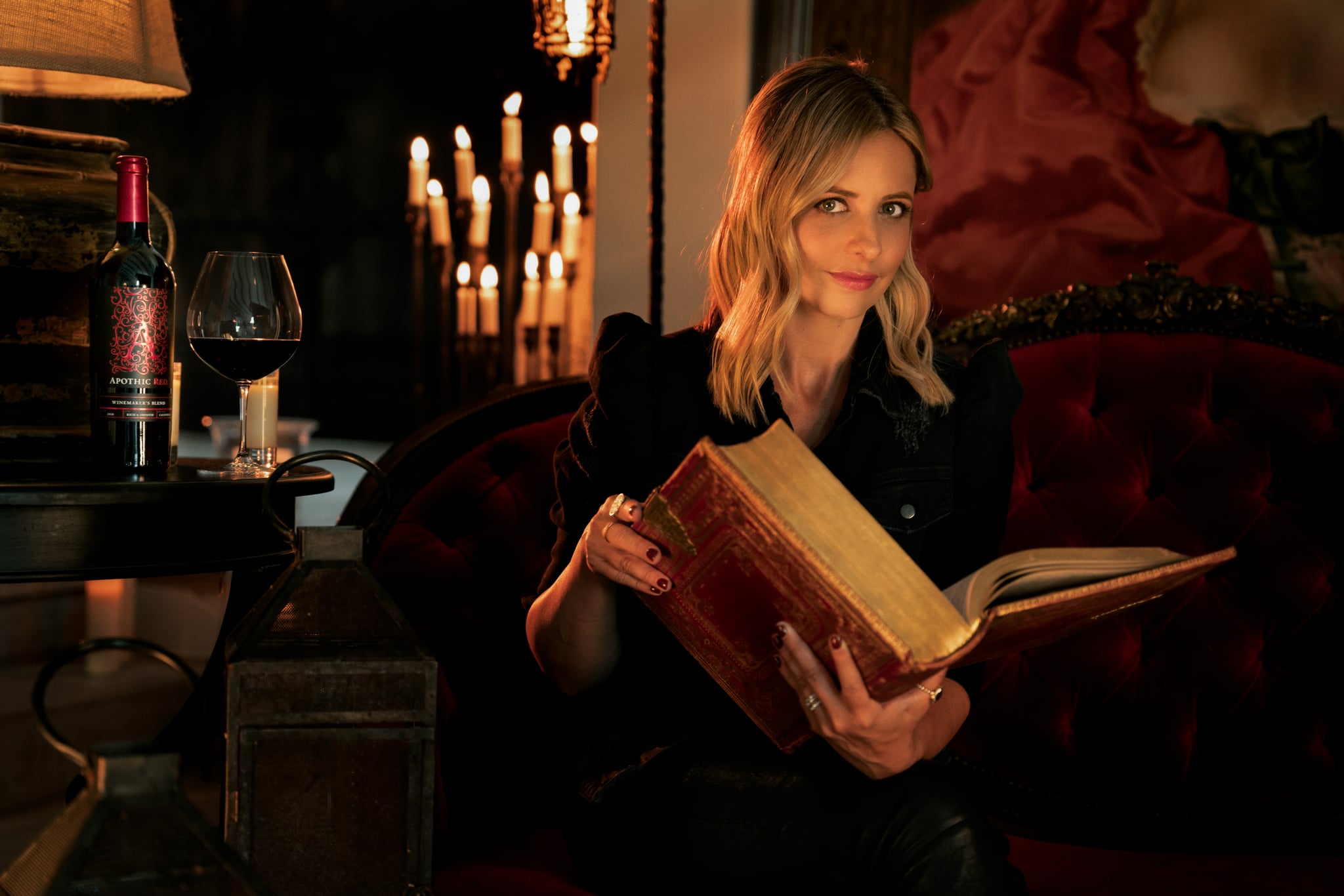 If you've ever wondered what it's like to kick back with Buffy the vampire slayer on a crisp October night (possibly in a cemetery with vampires lurking nearby), allow Sarah Michelle Gellar, aka Buffy herself, to share her Halloween plans ahead of the holiday. In an interview with POPSUGAR, Sarah said she and her family are looking forward to making the most of the holiday with dark chocolate, red wine, and plenty of spooky at-home surprises. "It's magical. [Halloween is] something you look forward to," she said. "And this year, it's obviously going to be extremely different, but it doesn't mean it doesn't have to be fun and exciting . . . I mean, Halloween is made for me. Costumes, wine, chocolate. I'm in."
As far as costumes go, Sarah has a few "tricks and surprises" up her sleeve. She shared part of her costume-making process on her Insta Stories the other day, which involved hot-gluing fake insects onto her outfit. "I love Halloween," Sarah said. "I think any actor, I mean, that's what we do, right? We put costumes on, and we pretend to be other people, and it's sort of that excuse to go even crazier. And for us in our family, it's always a big night. And I think that as a country, it's a really hard time, and we have to be flexible and make the best. And we can make new traditions."
"Once the kids get the candy, they have to hide it from daddy, otherwise daddy will eat the candy."
Typically, those traditions include scavenger hunts and plenty of candy for 11-year-old Charlotte Grace and 8-year-old Rocky James. "Once the kids get the candy, they have to hide it from Daddy, otherwise Daddy will eat the candy," Sarah said. This year, Sarah and her husband Freddie Prinze Jr. also plan to host an outdoor Halloween movie showing just for the kids. The movie lineup hasn't been settled just yet, but Sarah adds that her whole family loves Beetlejuice, and her kids recently became invested in her former work as a vampire slayer. "I think that they would genuinely love the show and love the storyline, whether it was me or not," she said.
In line with the Halloween spirit, Sarah has also collaborated with Apothic Wine to narrate "An Evening of Intrigue," a creepy online experience that lets you choose what happens when you find yourself at a supernatural Halloween party. Sarah's voice acts as a guide through the haunted house, cemetery, and creeptastic maze before you're paired with a bottle of Apothic wine based on your choices. So, it's basically what would happen if Buffy the Vampire Slayer was a choose-your-own-adventure game. Cheers to a spooky Halloween!