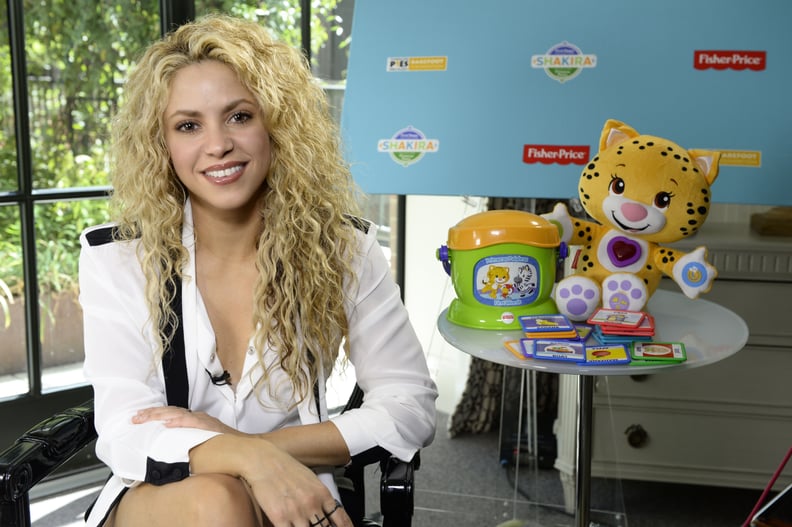 As a mother of two and a Grammy-winning singer-songwriter, Shakira understands the importance of cherishing every moment with her kids but also taking some time for herself.
The Colombian-born performer and her partner, Spanish soccer player Gerard Piqué, are not only raising two little boys, but they're also trying to get a hang of this parenting thing — just like any other new mom and dad. After their 3-year-old son, Milan, was born, the talented performer turned to her own mom, her mother-in-law, and the Internet for advice on everything from specifically how to raise her children bilingually to just generally how to be a good mother.
Inspired by all of her research and the birth of her second son, Sasha, the dedicated mother decided to create the parenting app Grow. In conjunction with Fisher-Price, the program is not only filled with developmental tips and age-appropriate activities, but also social capabilities to help moms and dads capture and share all of their favorite memories.
In honor of the bilingual app's launch, Shakira chatted with POPSUGAR to reveal not only her best parenting advice but also what kind of dad Gerard is and how it's possible to relax as a mom.
Read through to hear from Shakira and to learn more about this adorable family of four!

On relaxing as a mom: "My biggest secret to staying balanced is giving myself an hour to exercise each day. It keeps me balanced physically and mentally by letting me focus on the task at hand, and it gives me energy to be at my best for them. Sometimes I feel tired in the morning, but by the time I've exercised, my energy levels are back up."
On how Gerard complements her parenting style: "He's got his feet on the ground and is very practical about problem-solving. When I get stressed about how to organize things or juggle it all, he helps put it all in perspective. And he is my biggest support. We're both very hands-on parents, so it never feels like one is carrying the entire load on their own. He probably lets them have a little more chocolate than I'd like, though."
On how parenting has changed her: "It's shifted the axis of my universe. Everything is centered around them now. It's a new dimension of love, at least for me, that's indescribable. It's also helped me be more disciplined overall about sticking to a schedule now, because you're forced to prioritize. Before I was my own boss, but I have two tiny bosses to answer to now."
On raising bilingual children: "It helps if they are able to associate a person with a language at this early stage, to minimize language confusion. Their father, for example, always speaks to them in Catalan. I try to speak to them in mostly English, but if I switch, I try to not mix two languages in one sentence. Their first words were both 'mama.'"
On the most helpful parenting tip she's heard: "That the foundation of every level of development — social, emotional, cognitive, physical — depends on an abundance of love. You can never show you love them too much. A sense of security from early on gives them limitless room to develop their abilities and become responsible, caring adults."
On her kids growing up: "The older they get, the more interesting the challenges — I've only gotten to the toddler stage so far, but each one keeps me on my toes and forces me to educate myself further as I'm working to educate them along with their teachers."
On capturing moments of her kids: "One of the most memorable moments with Milan was when he started being able to identify items on flashcards. We started when he was 6 months old and he caught on right away. With Sasha, I've found that he's really musical and has an innate capacity for it; he even plays the drums! I've documented those moments and countless others. I'm a serial documenter."
On her new app, Grow: "I wanted it to be something that wasn't overwhelming, but that was really thorough and offered a rich variety of content. With this app, you can simply use the daily age-appropriate tip or activity sent to you, or you can access the entire library of tips at any time if you're looking for something different or want to focus on a specific developmental category that day."
On bedtime at her house: "I'm Colombian by birth but a bit German when it comes to the home schedule. Kids crave structure and like to know what's coming next. Again, it's that sense of security, and once they grow accustomed to it, they even self-enforce it."
On traveling with kids: "Before taking them on a long trip, I really try to weigh the pros and cons of what will be best for them, though if it were up to me I would bring them everywhere. Otherwise, I make sure to take all their vitamins and meds and things that are familiar to them, so the change of environment isn't so jarring."