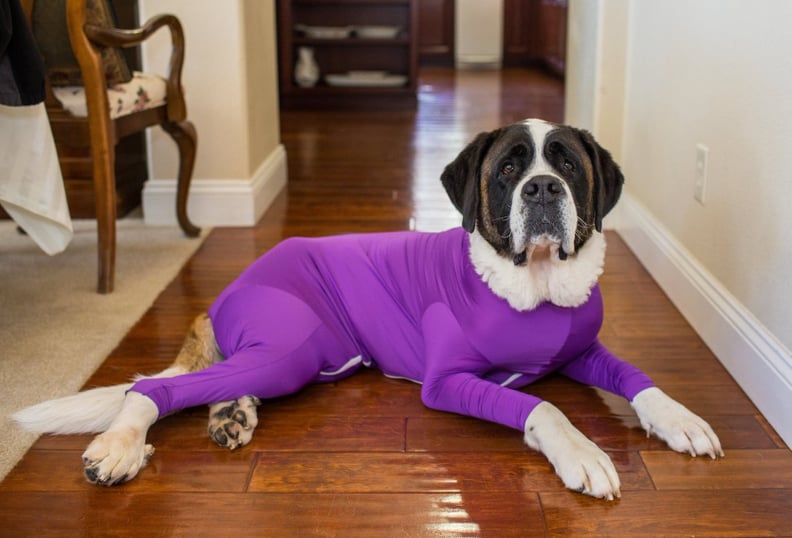 As POPSUGAR editors, we independently select and write about stuff we love and think you'll like too. If you buy a product we have recommended, we may receive affiliate commission, which in turn supports our work.
After asking a pet owner what they don't like about their pup, you'll get an emphatic, "NOTHING! MY DOG IS PERFECT!!!" But if they really stop and think, they'll likely have one common complaint: all. the. damn. shedding.
Tyson Walters is one such dog parent. His beloved Saint Bernard, Harley, was shedding everywhere, and he couldn't contain it: "There were tumbleweeds of hair in my car and all over my apartment," he wrote on his site. "I tried every product on the market and nothing worked so I decided to come up with something completely different."
Enter the Shed Defender — which is a pretty fancy name for a dog leotard. These spandex pet suits help contain all the extra shedding that would otherwise find its way onto your couch, bed, food, underwear, mouth . . . Don't worry, if you're a dog owner, you know that's just how it goes. Although it's not meant to be worn constantly (Tyson recommends a few hours a day, max), it's a great option if you are driving your dog in your car or visiting someone with pet allergies.
Its main purpose relates to shedding (and looking chic, of course), yes, but Tyson notes that the full-coverage leotard also protects against ticks and fleas, works as a warming layer in cold climates, helps calm anxious dogs thanks to its snug hug-like fit, and has even been used "to stop the constant, antagonizing barking of small dogs."
If you're already getting out your credit card, there's one concern: which color to get?! The Shed Defender comes in a variety of colors, from a hot pink for those trendsetting pooches to an ultraslimming black for those who'd rather not hit the sidewalk in the nude. There's also camouflage and an oh-so-meta leopard print.
Read on to peruse our favorite styles and see how the Shed Defender looks on "real dogs."