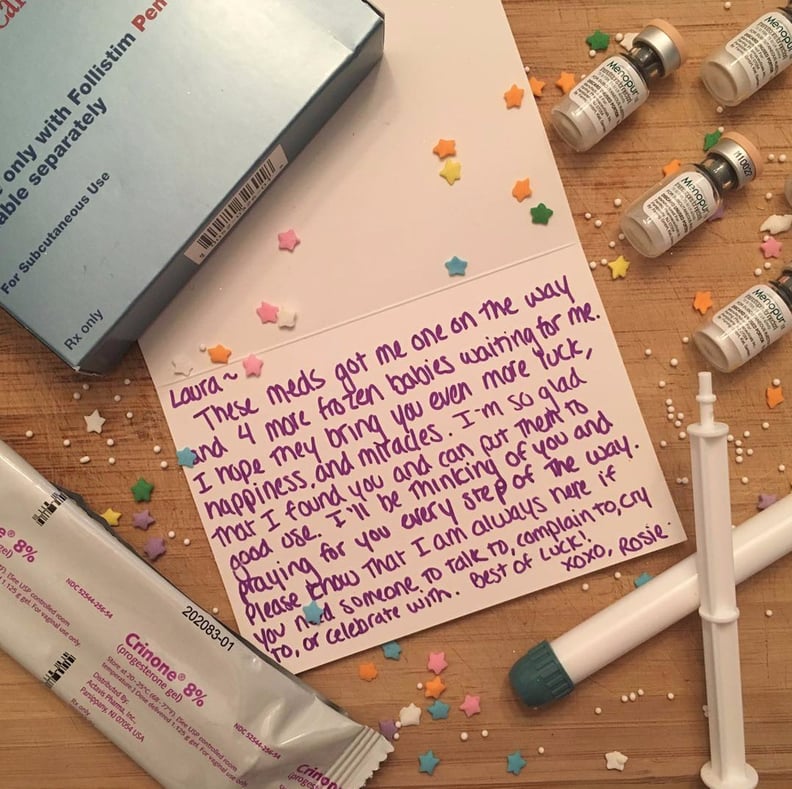 Even though Laura Brafford isn't pregnant yet, she's already experienced what she considers a true miracle and hopes to never take it for granted.
When she got her first prescription for in vitro fertilization, the hopeful mom-to-be was quoted with a $5,000 bill. "I was panicked," she wrote. "What I didn't see was the community God was preparing to surround me with. An army of infertility warriors that I only know via hashtags and small boxes on Instagram that hold tiny glimpses of our lives."
She quickly learned that these women weren't just social media followers. They are the people who not only understood what she was going through, but also would do anything they could to help her through it, even if they were complete strangers. "A community that is filled with women who are fiercely loyal in supporting and uplifting everyone's journey as if it were their own," she wrote.
Laura found out that her doctor's office would let her use leftover medications from other patients as long as they are sealed and haven't expired, so she asked if anyone had leftover bottles to send them her way. Since sharing her struggle, she's received an influx of packages from women across the country who are donating their unopened medication along with messages of support. "These meds got me one on the way and four more frozen babies waiting for me," one woman wrote in a card along with her surplus medicine. "I hope they bring you even more luck, happiness, and miracles. I'm so glad I found you can put them to good use."
The packages of donated medicine have continued to come in, and now Laura has more than $3,500 worth of medicine and enough for her next cycle. "[These] packages that not only came with no strings attached, but were filled with prayers and encouragement for our journey," she wrote. "With so much being wrong with our world today and so much heartache felt through the #infertility journey, this group of women don't get enough credit for the chain of miracles they are creating everyday."