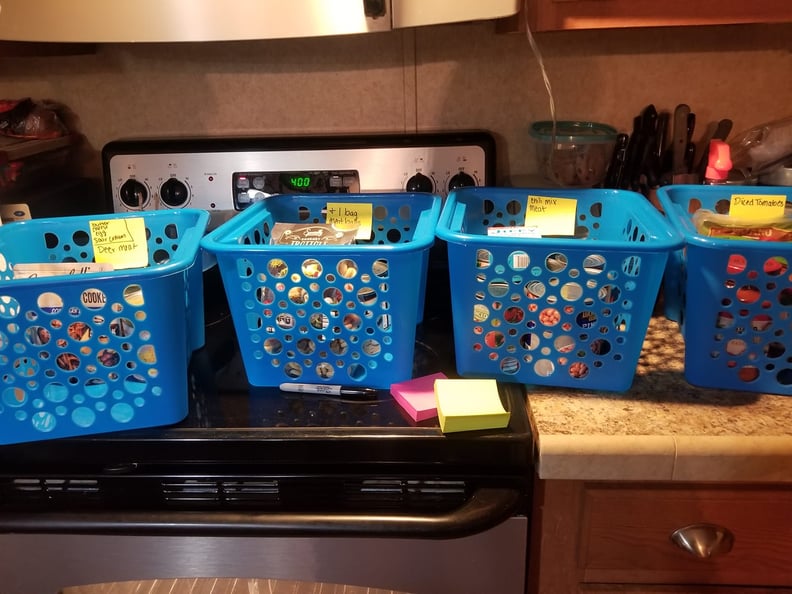 Jessica Bonnette
Jessica Bonnette
Cooking up a healthy, home-cooked meal for the family after a long day of work can be physically and mentally exhausting, which is why this Aldi shopper's superhelpful cooking hack just became the new first step in my meal-prep process. In a post shared to the TheALDINerd.com Community Facebook page, Jessica Bonnette shared her hack for cutting back on the time and energy that goes into preparing weeknight dinners: lay out your meals in advance!
"Aldi shopped today and set up meals for the week!" Jessica captioned her post, featuring a photo of the baskets she and her family use to sort out their meals for the week in advance. "My mom and I have a great system set up lately. We put the cans, sauces, boxes, anything that doesn't need to be refrigerated for a meal in one of these and plan a meal completely. Sides, desserts, and all! Anything cold that would need to be added goes on a sticky note in the back! We pull the box out when we get home from work and have everything ready. It's a great system, honestly."
As someone who loves to stay organized, this photo alone is enough to make me look forward to my next grocery haul so I can lay everything out in perfectly arranged boxes and scoop up exactly what I need to make a delicious meal on a Tuesday night. Try the hack for yourself, and prepare to look forward to cooking weeknight dinners just a little bit more.
Looking for more family meal ideas? Join POPSUGAR's Facebook group, Just Eat It! Surviving Family Meals to chat about feeding our kiddos with POPSUGAR editors and fellow parents.