Hitting the pool with kids can create some of the best Summer memories between you and your little ones. As your children gets older, many parents start to feel more relaxed around the water, especially after their kiddos officially learn to swim, but spending time by the water can still present dangers that parents need to be familiar with. From drain entrapment to dry drowning and secondary drowning, there are a variety of issues that parents need to be aware of before their kids cannonball into the water in order to ensure that they have a safe experience every time.
Whether you own a residential pool or frequent a public facility, this is the ultimate guide for navigating the pool as a parent.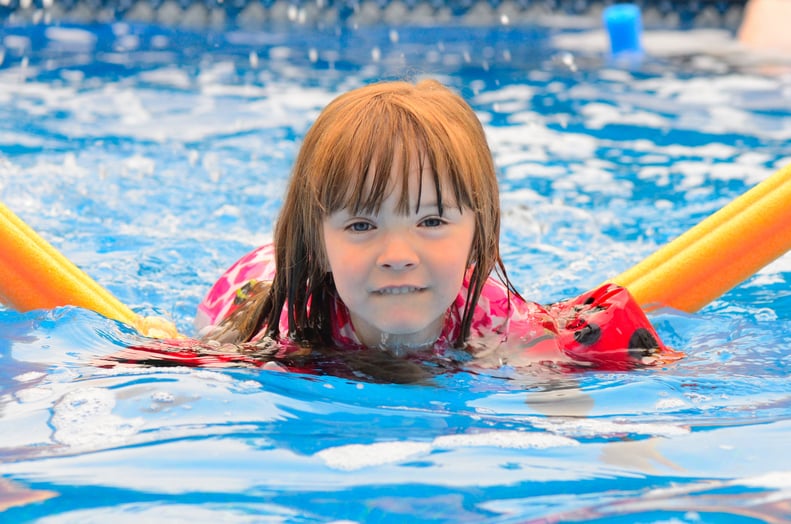 What to Teach Kids (and Yourself) About Water Safety Before Hitting the Pool
Don't wait until you get to the water to start teaching your kiddos and yourself about water safety. The more you each understand and talk about ahead of time, the more you both will be likely to remember around the water and during an emergency.
For Kids:
Teach kids to stay away from drains, suction outlets, and filters in swimming pools and hot tubs.
Teach your children how to swim and the importance of staying away from the water without supervision.
Talk to your kids about water safety right before every pool session and consider taking the Pool Safely Pledge together as a family.
For Parents:
Learn CPR — this can save a child's life in a potential drowning situation.
Understand the difference between secondary and dry drowning. What to Do Once You Arrive at the Pool
Once they get to the pool, there are things that parents should quickly look for and do before their child even gets into the water to keep them safe.
Tie long hair back and remove any dangling jewelry or lose strings from your child's swimsuits (to avoid any dangerous situations with drains or suction outlets).
Make sure they have proper floatation devices on if they can't swim, even when they are near the water but aren't swimming yet.
Do a quick sweep to spot any loose, broken, or missing drain covers.
Know where the emergency vacuum shutoff switch is before kids swim in case of an emergency.
See if there are Pool and Spa Safety Act (VGB) compliant, antientrapment drain covers at both public and residential pools (these are the covers that are curved, and they are much safer than the flat covers!). If they aren't, encourage your child to stay away from the drains at all costs. What to Do and Be Aware of While Your Child Is Swimming
Even if your child is a pro swimmer and there is a lifeguard on duty, there are specific things that parents should be on the look out for while their child is playing in the water.
Don't assume that you'll see or hear your child if they have a problem — remember that drowning can be fast and silent.
Always supervise or have a point person watching. "Designate an adult 'Water Watcher' to supervise children in and around the pool at all times," Elizabeth Klinefelter, Pool Safely campaign lead, told POPSUGAR. "This person's only job is to watch children, which means that smartphones, books, and other entertainment should be put away — no texting!"
Don't "turn off" once your child is out of the water. Children can accidentally fall into the pool or jump in without their parents knowing even after they said they were done swimming.
Stick close by or always ensure that an adult is within arm's reach. This way, they will be able to immediately jump into action if there's a problem.
Be your child's lifeguard, even if someone is on duty. How to Maintain Your Own Pool to Keep Kids Safe
If you have a residential pool in your backyard, there are certain steps you should take to ensure that children are as safe as possible during their time in and around the water.
Have a licensed swimming pool professional inspect the pool before the season.
Replace unsafe, flat drain covers with VGB compliant, antientrapment drain covers.
Have a safety vacuum release system (SVRS) installed. "This is an emergency sensor that automatically shuts off suction if a drain is blocked," Klinefelter explained.
Post CPR instructional signs near the pool for yourself and guests in case of an emergency.
Have at least a four-foot tall fence or barrier around the pool.
Ensure the water is only accessible to adults through a self-latching gate.
Have a door alarm from the house to the pool area.
Make sure that the pool cover is sturdy, applied correctly, and if applicable, properly latched (and always make sure the pool is inaccessible, even when covered.)