When it comes to getting to enjoy some family-friendly activities, Fall is one of the best times of year. From taking advantage of the changing foliage to preparing for a festive Halloween,
pumpkin picking is ultimate activity that quickly becomes a beloved tradition. However, before you bring your little one to the pumpkin patch and embark on some seasonal fun, there a few things parents need to keep in mind in order to keep the happy memories going before any unforeseen upset stops you in your tracks. These are the 13 things parents need to know before taking their kids pumpkin picking.
01 Prepare to Be the One to Do the Heavy Lifting
Even if you instate a "You pick it, you carry it" rule, count on being the one to brunt the load.
02 The Perfect Pumpkin Is Coveted
If your little ones have competitive spirits, don't expect that to get lost in the Fall fun. They will hunt down (oftentimes the same) perfect pumpkin, so be ready to play referee over who gets the prized pick.
03 It Can Get Overwhelming
For a kiddo, a pumpkin is never just a pumpkin, and with so many options to pick from, it can become intimidating. Be prepared with snacks and even well-scheduled nap times to help ward off any potential meltdowns.
04 Don't Underestimate Your Own Footwear
Even if it isn't muddy by your house and you're confident in your ability not to make a huge mess, keep in mind that you are going to be chasing your child around in a field of dirt. While you likely have your child dressed the part, make sure to wear something equally appropriate even if it isn't your first pick for fun Fall photos.
05 Expect the Unexpected
Although taking your kids to the pumpkin patch on a classic Fall day is something you might've spent months looking forward to, don't let your expectations for perfection keep you from enjoying the moment. Feet and hands get cold, some have meltdowns over the dirt, and others might pick the first pumpkin they see before being done, but that doesn't mean you can't have your family's own version of a "perfect" day!
06 Consider the Timing
If you're planning on waiting to carve your pumpkin, make sure to have that conversation before even leaving the patch. Rushing home with a perfect pumpkin ready to be carved only to learn that you have to wait a few more weeks for the gooey fun can feel like torture to a child.
07 Stems and Tears Are Closely Related
If you don't show your little one the proper way to pick up and carry a pumpkin (by holding it from the bottom), the stems will break and tears will be had.
08 Size Doesn't Matter
Even if your tot is too small to select a pumpkin of his or her own, this is still a family-friendly day that can be fun for everyone. Plus, older siblings love assisting with spotting the right one for their baby brother or sister and the pictures are priceless!
09 Make a Day Out of It
To make the most out of your pumpkin patch experience, do your research before you leave. Some places offer additional activities like hayrides and corn mazes, so consider extending the fun even after the pumpkins are purchased.
10 Bring Your Best Camera
Not only is the lighting unbeatable on a perfect Fall day, but with the colorful background and seasonal "props," this visit can make for some stellar family photos.
11 The Pounds Add Up — Quickly
Just because it doesn't seem like a lot per pound and your child is small so they can't carry much, be prepared for some potential wallet shock when your kids are ready to have their pumpkins weighed.
12 Remember That It's Never Too Late to Start a Family Tradition
Some of the best family traditions also happen to revolve around pumpkin patches that have apple cider doughnuts!
13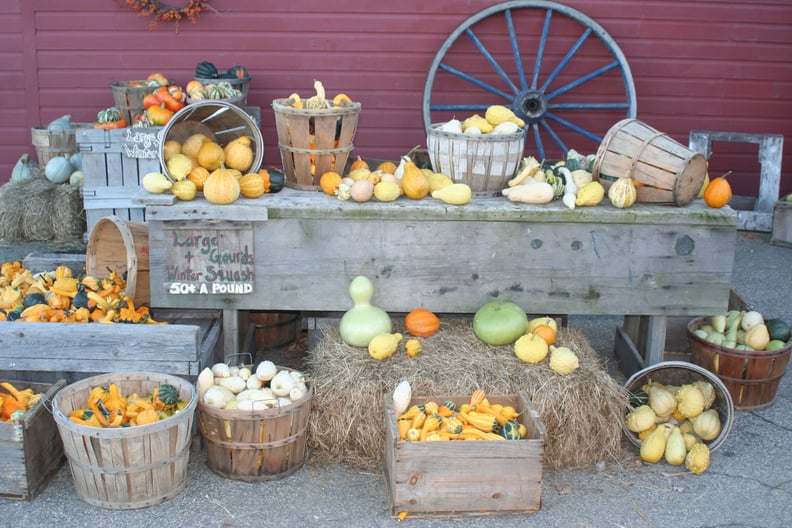 Know That It Isn't All About the Pumpkins
Many places don't just sell pumpkins — they also might have farmers markets or country stores. If you're trying to stick to a budget or special dietary restrictions, you might want to avoid taking your kiddos into these tempting seasonal shops.