The Creative Trick to Get Your Teen Excited For Study Time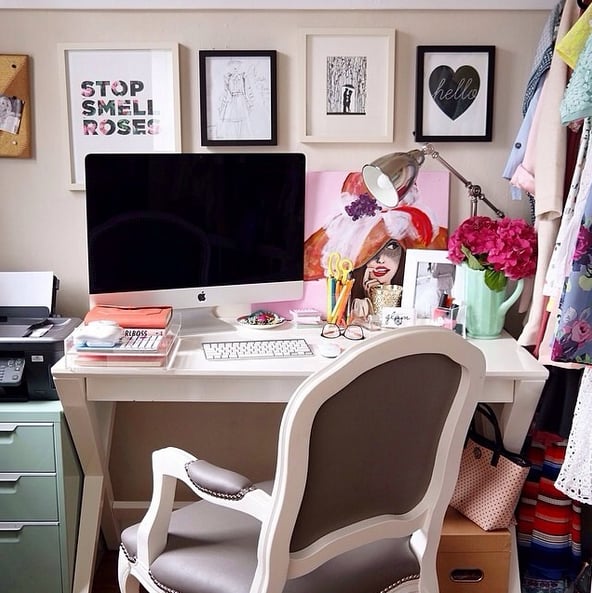 School is coming quickly (if it hasn't already started where you live), but since it still feels like Summer, it can be hard to get your tweens and teens excited about heading to their desks. Armed with the right inspiration, it's easy to create an organized study zone that's sure to inspire. With art, accessories, and a desk that work in perfect harmony, your scholar will be ready to get down to business. Scroll down for some awesome desk ideas that will finally get your adolescent all set for back to school.
Words of Wisdom
Remind your students about the important stuff in life with motivational posters that offer words of wisdom.
Squeeze In the Space
Even if your teen has a tiny bedroom, a desk is an important space for getting work done — get creative and squeeze one in wherever possible.
Make Work Fun
Colorful notebooks and bright desk essentials will make studying more exciting for a teen who loves accessories more than schoolwork.
Get Colorful
Don't be afraid of adding bold hues to your teen's study area. Especially if you are helping a college freshman move into their first dorm, bright colors will add personality to a drab space.
Use Wall Space
Make use of wall space with cute storage and calendars that will help your teen stay organized and clutter-free.
Pick a DIY
Simple DIYs like mason-jar penholders will help your student take an active role in styling their workspace.
Build a Gallery
A gallery wall is a great way to share your child's original artwork.
Get Creative With Storage
Skip a desk with drawers and opt for creative storage options like hooks, shelves, and boxes instead.
Add a Touch of Sparkle
Get your scholar excited about sitting at their desk with pretty accessories that express their personality.
Opt For Chalk
Refresh your teen's bedroom with a chalk wall that lets them speak their mind.
Get Colorful and Crafty
Creative paper pieces like streamers or flowers are an inexpensive way to help brighten up your student's workspace.
Store in Style
File cabinets don't have to be blah — add color to liven up your student's space.
Set the Mood
Encourage creativity with a mood board full of your child's favorite memories and images.