When you have kids, it's only natural that you also have a lot of stuff. So much stuff, in fact, that it's hard to even know what's worth keeping and what can be trashed, donated, or handed down. But, as difficult as it might be to say goodbye to your child's tattered blanket or their 237th sketch of a tulip, it's better you get it out of the way now than have to deal with it all over again in 20-odd years. Ready to get on with it? Use these tips to help clear out the four trickiest things in your kids' rooms today.
01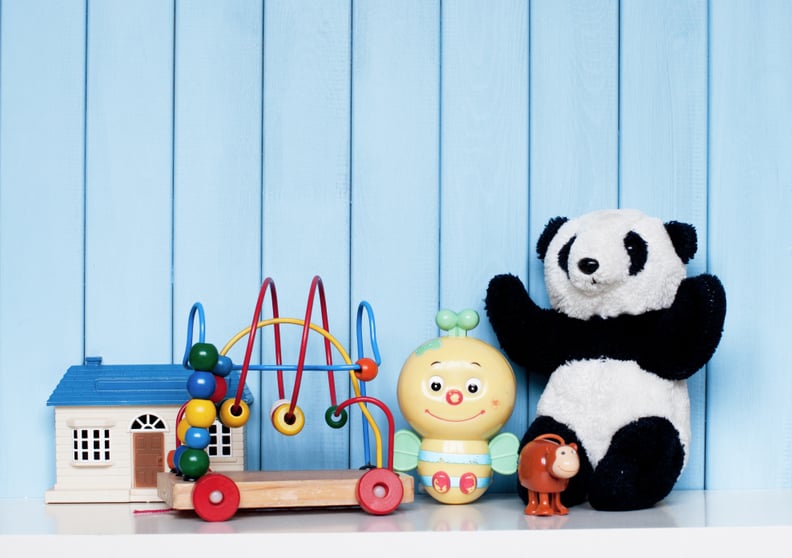 Toys
Imagine yourself as a grandparent with a new generation of tots over at your house to play. What toys in your possession now will be worth pulling out decades from now? If you can't envision it then, there's no sense holding on to it now.
What to Ditch:
Anything broken or missing a piece. If the toy has been played with to the point of disrepair, its job is done.
Items that haven't been touched in six months. Consider the toy officially outgrown if it hasn't moved from its spot in the playroom in months. That's a sure sign it no longer provides the mental or physical stimulation it once did.
Duplicates or near-duplicates. You don't need two identical Fisher-Price trucks, no matter how much you think there's value in having a spare. The same goes for having redundancies. Multiple Elmo dolls just add to the clutter, so pick the one in best condition — or the one with features that have the most longevity — and donate the others.
Character-based toys. You might not believe it just yet, but soon, all of the Frozen memorabilia is going to feel very dated. Do your best to avoid overspending in this category altogether, because once the craze is over, your kids won't give their Minions collectibles a second glance.
Battery-operated gizmos. Once they've served their purpose, bid a fond farewell to any "electronics" that require batteries. Such products have a shorter lifespan in general and don't hold up as well in storage.
What to Keep:
Toys made of wood. Wooden blocks, wooden stacking rings, wooden play food — they all last a lifetime in relatively mint condition, are free of any toxins you see with some plastics, and never fall out of favor with their target demographic.
Legos. Sure, every time you step on a jagged piece, you curse the day you ever brought them into your home, but the truth is, they are building blocks that foster open-ended play. And as children grow, they find different ways to engage with them.
Dress-up supplies. This is where a little clutter pays off. Before you toss your old hats, belts, scarves, and costume jewelry, hand them over to your kids and watch their imaginations take over.
Keepsakes. The stuffed animal your child dragged around for a few years is worth being tucked away for them to appreciate once they reach adulthood.
02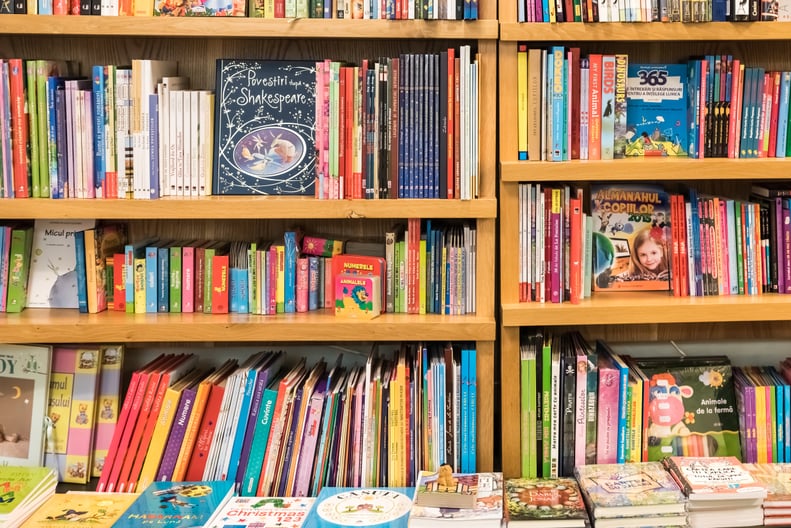 Books
A well-stocked bookshelf is paramount to a child's development, but that doesn't mean you have to own hundreds of books. A visit to your local library, in which you can find most any title and borrow upwards of 30 page-turners at a time, will keep any avid reader occupied.
What to Ditch:
Duplicates. Like with toys, you don't need three copies of Oh, the Places You'll Go!, as wonderful as the Dr. Seuss story is.
Books that are falling apart. Ripped pages, broken spines, crinkled pages from one too many juice spills — those are the telltale signs of a well-read book primed to be passed on.
What to Keep:
First reads. Some of the very first bedtime stories you read to your kids when they were infants should be memorialized.
Books with special inscriptions. Sometimes, when a loved one gives a book as a gift, they write a message on the inside cover. Be sure to flip through the first few pages to look for any particularly touching notes worth saving.
03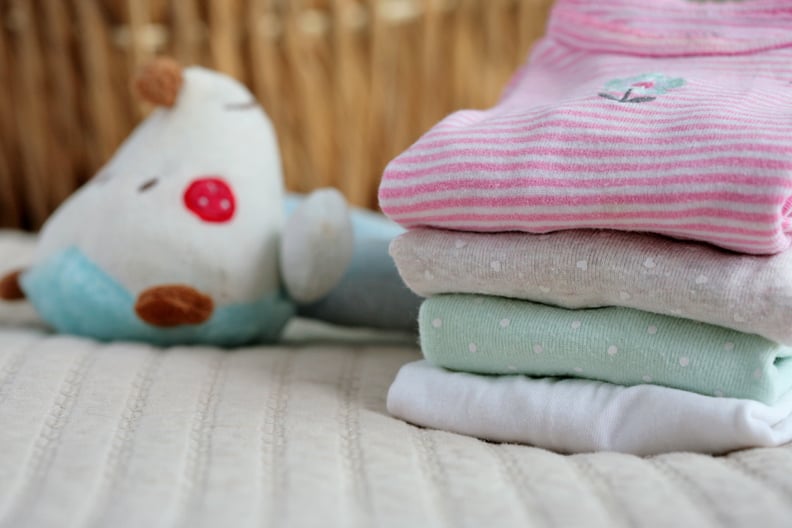 Clothes
Unsure what's worth storing? Only keep clothes for your kids up until one year after the end of each season. This saves you from having to buy a new Winter coat or swimsuit if your kids are still wearing the same size a year from now. Once they've been outgrown, however, donate them.
What to Ditch:
Items missing their match. You're never going to find that missing blue-striped mitten, we promise you. Same goes for the errant sock your dryer clearly ate. Get rid of the mate and move on.
Clothes that are stained or ripped. As cute as it is, your eye naturally goes to the yellowed patch from the who-knows-what food spill. Unless they still fit and make perfectly fine around-the-house play clothes, toss them.
Hand-me-downs you just don't like. Fit isn't the only thing to consider: if you don't like shirts that say "Ladies' Man" or "Princess-in-Training," you don't need to dress your kids in them.
What to Keep:
Special-occasion garments. A baptismal gown is an heirloom, but even first-birthday ensembles or other memorable holiday pieces warrant saving — or being passed down to the next generation.
Their first onesie. Keep a basic, clean onesie from the first month of life — it's a perfect way to reflect on how tiny your child once was.
An outfit that corresponds to a beloved photo. If you have a framed snapshot that is destined to be one your kid sees their whole lives, consider saving the romper, t-shirt, or hat worn in it as a reminder.
04
Artwork and Other School Projects
If it pains you to pitch so much of your child's artwork, develop a digital "art gallery" by snapping photos of every creation and culling them together for an online slideshow that you can project to your TV as a screen saver. Then you can part with the hard copy with less guilt.
What to Ditch:
Refrigerator rejects. If you don't see a homework assignment or art project and immediately make room to tack it up, it doesn't pass the fridge test, and it's not going to be something that holds any meaning a decade from now.
Anything Google-searchable. A poster board presentation on volcanoes or a five-page essay on Abraham Lincoln got an A+, but unless it's really showing your child's own opinions, theories, or beliefs, there's little personal value.
Hard-to-store mediums. Even the most precious glitter-and-chalk creation will do nothing but annoy you when it somehow continues to make a mess months later, and that papier-mâché fish might seem impressive, but in a year when it's taking up valuable counter space, you'll be glad to see it go. If it doesn't fit neatly in a portfolio, scrap it.
What to Keep:
Frame-worthy pieces. If you actually consider framing it to hang on your wall, whether or not you actually do, it's masterpiece material.
Family-oriented art. Their depictions of Mom and Dad, their house, or their pet have sentimental staying power.
Anything they seem particularly proud of. It's likely only once a week at most that they come home with something they emphatically share with you. If they treat one project differently than all the rest left crumpled in their backpack, then it should be a keeper.