10 Tips For Photographing Your Baby in the Hospital
Baby's here — now capture all the details of the day before you forget them! Though a delivering mama doesn't need another thing to worry about, ensuring that her lil one's arrival is photographed is often at the top on her list. I asked mom and photographer Jennifer Little, founder of Fort Collins, CO-based Sugar Photography (no relation), to provide us with her best hospital photography tips. She said:
"My husband, Ryan, was able to capture these special moments for us, but he warns of the challenge, 'Playing the role of photographer, husband, father, and in some cases, new father can present huge challenges while trying to capture lasting images of some of the most important moments of your life. Understand that while your emotions will be up and down like a roller coaster, you can still capture those precious moments. In my case, there were times I couldn't even see through the viewfinder due to the swelling of tears, but in between all of the excitement and chaos, you can click away. It is important that the photos not necessarily be perfect, but that they capture your viewpoint of seeing your baby for the first time.' If you are able to hire a professional, do so, because the two of you will be able to [better] focus on your new arrival."
Keep reading for her 10 must-take photo ops in the hospital.
01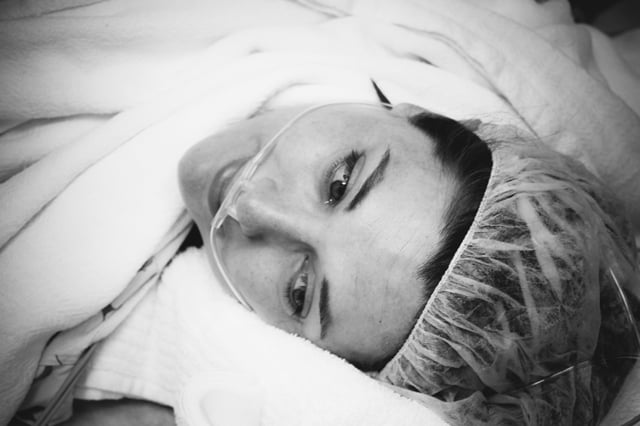 Don't Miss the First Glance
Jennifer reminds us to capture the moment mama lays eyes on the tot that she bore for nine months. She says:
"You've waited 10 months to meet him. The anticipation, the struggle, the excitement has all led to this moment: your first glance. The road to this glance is different for each woman. Some ladies experience natural birth while others have a Cesarean, but no matter the path, the moment is life-changing, happy, amazing, and heart-warming. Capturing the shot will forever remind you of this happy moment."
02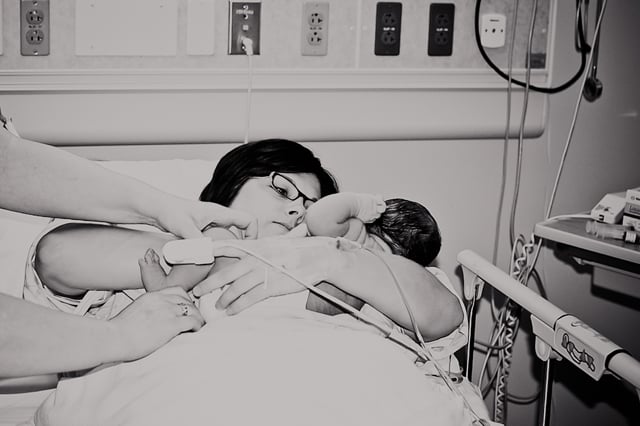 The First Touch Is Equally as Important
Little says:
"Some embrace the new body immediately, and others wait momentarily. No matter the time, the moment is one that is warm, sweet, and tender. The [first] mother and baby touch is filled with skin-to-skin touching, love, kisses, and joy: pure happiness.

"Capture the moment and preserve it forever. Check with your hospital and doctor to see what the photography policy is [there]. My husband, Ryan, was able to capture these special moments for us, but he warns of the challenge. If you are able to hire a professional, do so because the two of you will be able to focus on your new arrival."
03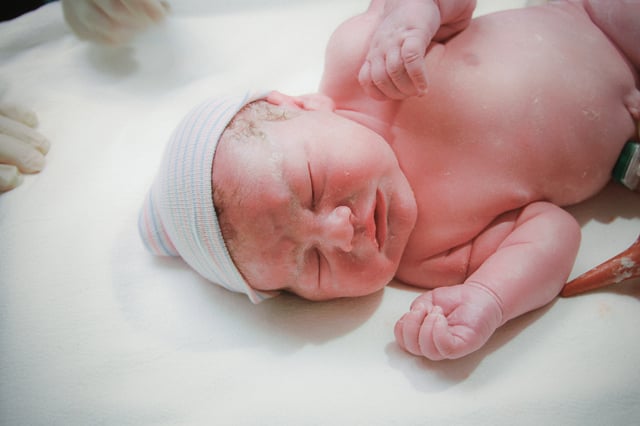 Photograph All That Is Brand New
It's baby's first day of firsts, and Jennifer reminds us to capture them all. She says:
"First breaths, first touches, and first cries only happen once. Snap away as the nurses measure, weigh, and care for your bundle of joy. In these moments, your baby is so vulnerable, depending on everyone in the room to take special care of her. This is the beginning of her life, and her very first life experience. Capture it."
04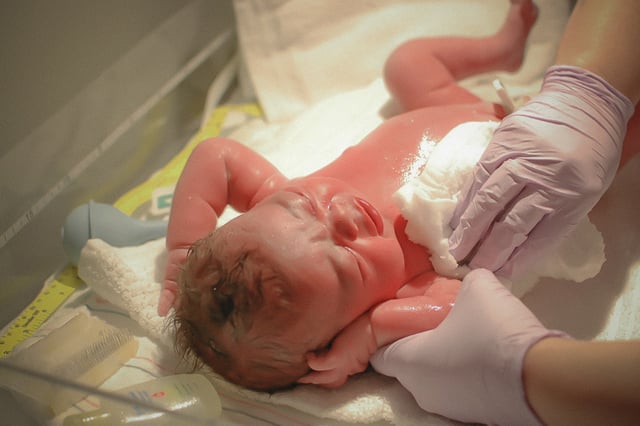 Don't Miss Baby's First Bath
There will be plenty more baths in baby's lifetime, but this first one is special. Jennifer says:
"A bittersweet experience for baby and mom because usually the baby is not a fan of the first bath, but everything happens very quickly to ensure that baby is in mommy's hands in no time."
05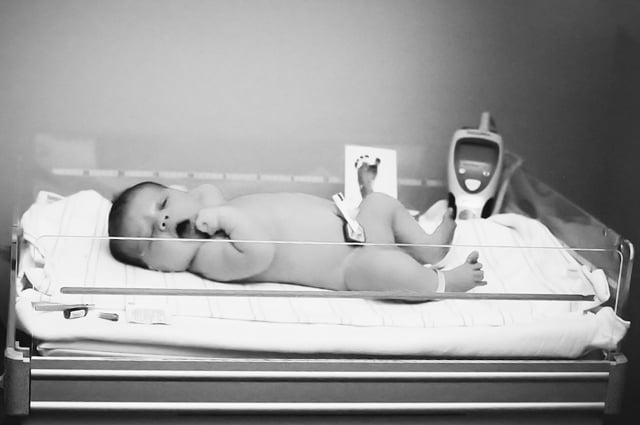 Don't Be Shy
Capture your tot in all her glory! Jennifer recommends:
"She's in her birthday suit, clean and free and ready to be held, nursed, and loved. Depending on your delivery time line this could be moments before she's in her mother's arms. She is dependent yet safe. This is a good time to step back and get a room shot too, so you remember the energy in the room. Everyone has a job, and it's getting done quickly. Grab a shot to tell the story."
06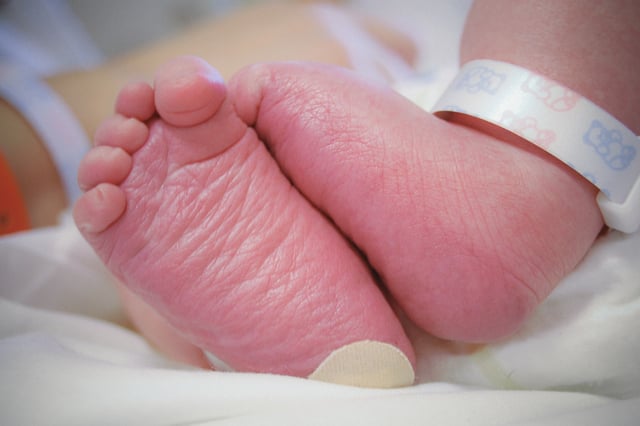 10 Toes, Two Feet
Baby's toes are so cute you can eat them up. Jennifer reminds us to savor the moment. She says:
"They will never be smaller than today. Immediately after birth, the nurses place a band on the baby's ankle identifying him with a code that matches the mother's. The tag will stay on while he's in the hospital. It's tiny. It's his first badge of honor. He may also get a vitamin K shot at birth, complete with his first Band-Aid. We all know how tiny these little round Band-Aids are, so it's a great visual for showing size."
07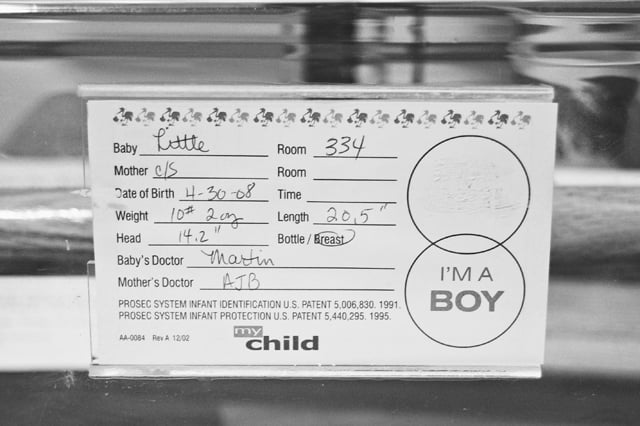 Take Some Detail Shots
Baby's bassinet plaque is part of the story. Jennifer notes:
"His name card tells everything there is to know about him. It's like his résumé. Most likely you will keep it forever in his baby book. His weight, length, date of birth, doctor, and how he likes his beverages will all be written here. It's another piece to the story of his birth. Capture it and remember it."
08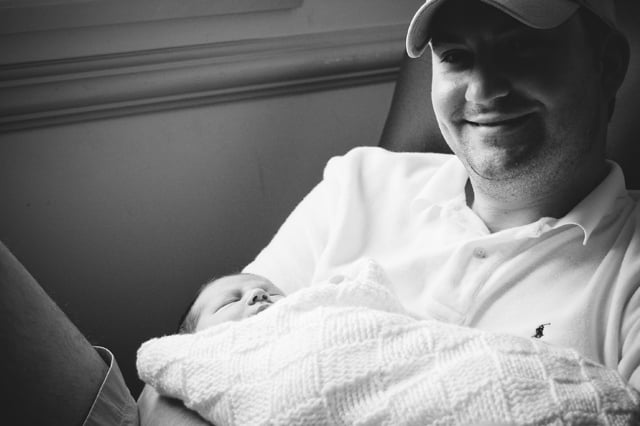 Don't Forget Dad
With so much focus on mom and tot, Jennifer reminds us to snap a few images of the proud papa. She says:
"Dad is proud and scared and emotional. He's been an encourager for 10 months, anticipating what this day will bring. He's been strong until now. Don't be surprised if he is emotional when the dust settles. Grab the camera from your hospital bed and capture these tender moments."
09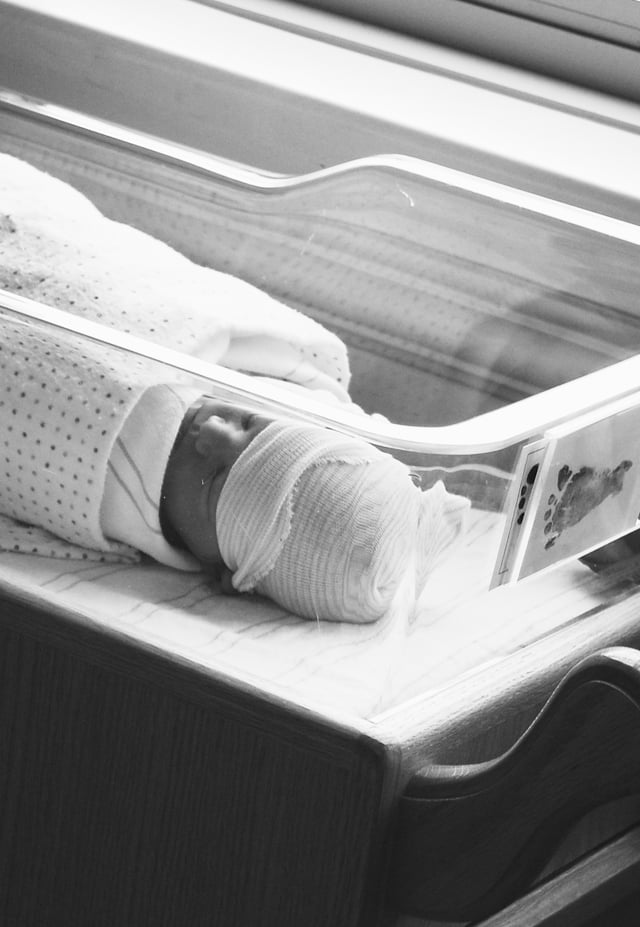 Move Away From the Clutter in the Room
Jennifer tells us to record the peace and quiet. She says:
"There are peaceful, quiet moments in the hospital, usually in the afternoon when the sun is beaming into the room. Baby is full, happy, and sleeping. Photograph this setting and your view of the room for the next day or so. Then lie down and take a nap while you can."
10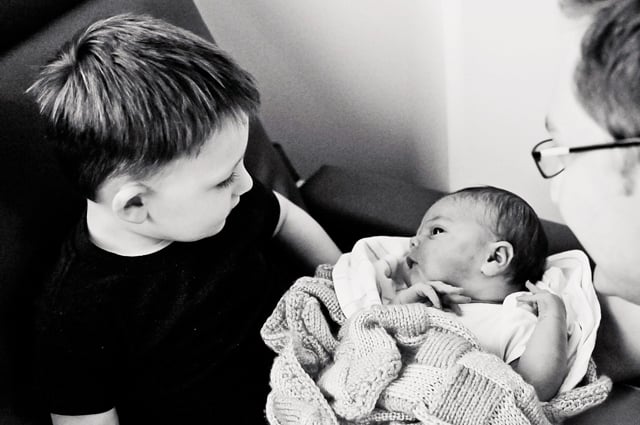 Remember, It's Big Brother's Big Day Too
As a proud mom of two, Jennifer suggests:
"If your new arrival is lucky enough to have a big brother or a big sister, make sure to capture his or her first glance as well. He has heard news of this new sister for months now, and if he didn't quite understand it then, he certainly will now. He will surprise you with his tender glance and touch. A moment will be captured because if you thought time went by fast last year, hold on tight. You will look back at this photo and be amazed by how small big brother looks.