If you've perused the bath-toy market lately, you know it's overflowing with cute, squeaky, and water-friendly toys. "There are floaty toys, cups, crayons, [and] even waterproof books," says Gina Posner, MD, a board-certified pediatrician at MemorialCare Orange Coast Medical Center in Fountain Valley, CA.
Fortunately, the numerous options are actually to toddlers' benefit. Like non-bath playthings, bath toys double as developmental tools.
"Bath toys are great for fine motor and language skills, as well as sensory exploration and imaginative play," says Amra Zuzo, MD, FAAP, a pediatrician with Novant Health in Charlotte, NC. "Additionally, if parents or siblings are participating, they are another wonderful way to bond, relax, and have fun before bedtime."
But before purchasing a bath toy for a toddler, you'll want to keep age in mind. "Whether bath toys are safe and developmentally appropriate are two things to consider when buying them for your child," Dr. Zuzo says. "For safety, we recommend that parents pick toys that do not come apart or have small pieces that could easily find their way into little airways . . . stacking cups or suction cups are great beginner toys that allow toddlers to master pouring and manipulating small objects."
Dr. Posner says mold is a common issue with bath toys. "The ones that can't dry out get moldy, like the squeezy ones that take in water," she says. But some basic hygiene practices can help with mold risks. "Washing soap suds off and drying the toys soon after the bath will help keep mold away," Dr. Zuzo says.
Ready to make a splash? These are the best toddler bath toys, based on pediatrician guidelines and parents' reviews.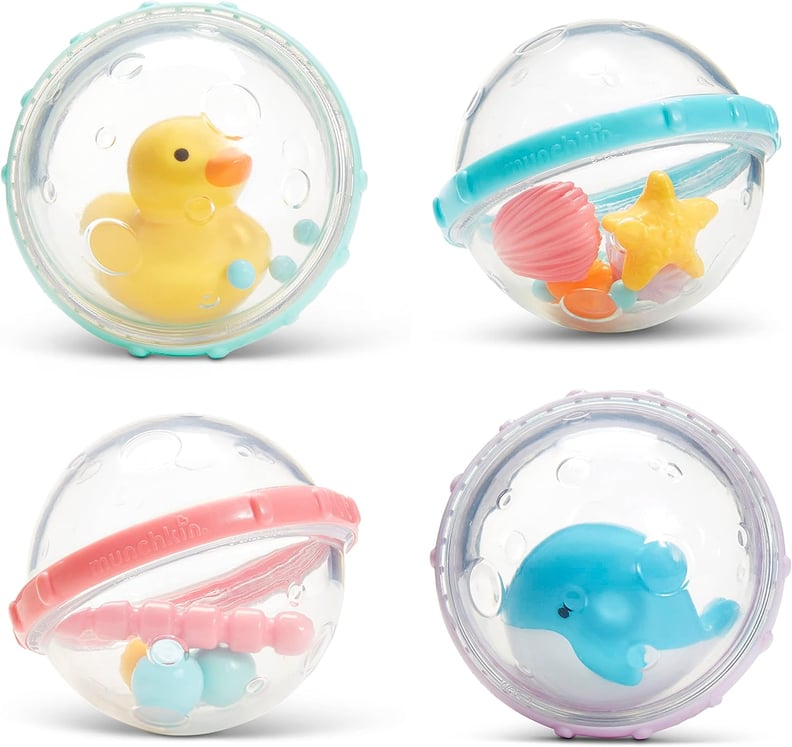 Best Overall Bath Toy For Toddlers
Munchkin Float & Play Bubbles Baby and Toddler Bath Toy ($9)
The Munchkin Float & Play Bubbles Baby and Toddler Bath Toy is under $10 but engages multiple senses. The toys shake, rattle, and roll (er, float), plus have textured rings. Characters inside the bubbles include ducks, whales, penguins, and turtles. Parents and siblings can engage the toddler in back-and-forth play and introduce sharing by floating the balls back and forth or swapping them. The Munchkin Float & Play Bubbles Baby and Toddler Bath Toys boast an impressive 4.8-star Amazon rating based on nearly 28K reviews, with reviewers hailing the value and how easy they are to clean.
What Reviewers Say: "My son & I love these! I specifically bought them for bath time and I love how they're closed off so they can't grow mold like most bath toys. He loves to even play with them outside the bath! I definitely recommend these!!! 10/10"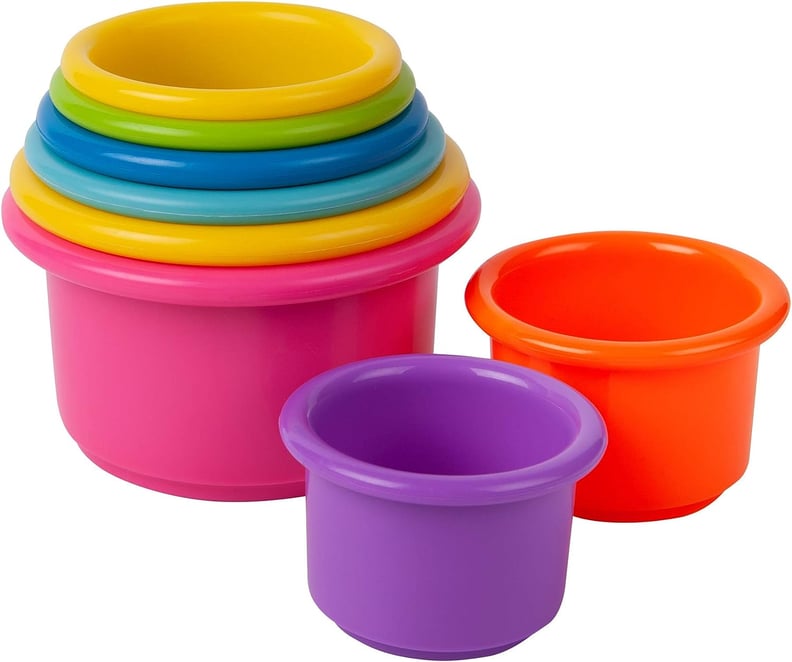 Best Multipurpose Bath Toy For Toddlers
The First Years Stack & Count Stacking Cups ($12)
Pediatricians say pouring is right up a toddler's alley developmentally. These parent-favorite Stack & Count Cups by The First Years allow that opportunity. Though often praised for their colorful design that builds stacking skills, the cups can also be filled and dumped. Holes at the bottom provide another element of fun, but the cups aren't squeezable. Therefore, mold risk is low.
What Reviewers Say: "I love this stacking set and so does my little one. They keep her entertained at bath time and are easy to dry in-between baths so you don't have to worry about mold like you do some bath toys. The cups are well sized so my little one's little hands have no problem holding the cups and banging them together. The only thing I don't understand is why they have every color except red. There are two yellows and two different blues, but no primary red. It just doesn't make sense. I would still recommended this set, but taking a star off since they don't have all the primary colors."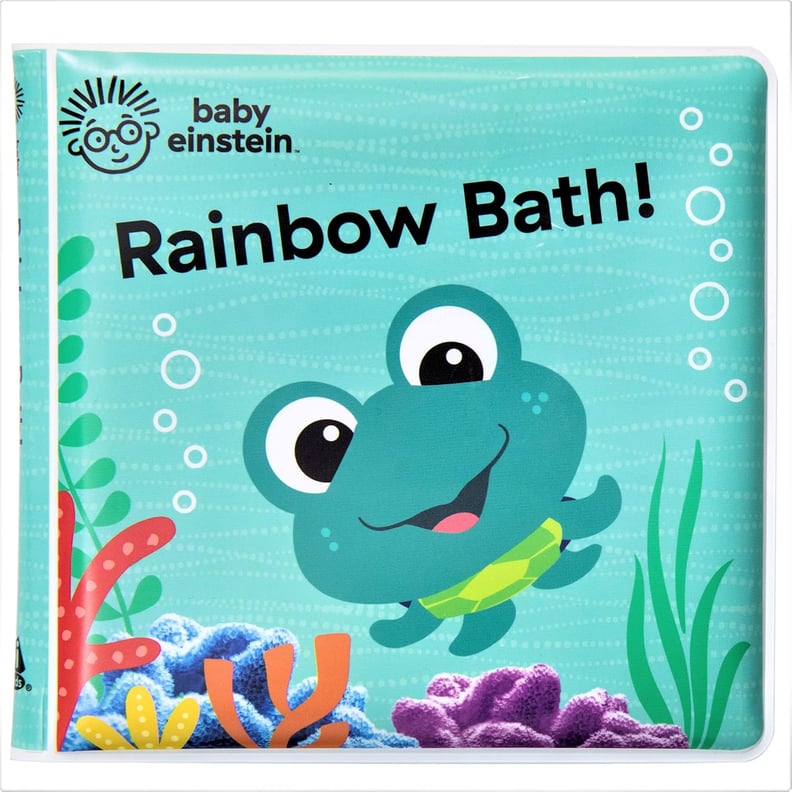 Best Book For Toddler Bath Time
Baby Einstein "Rainbow Bath!" Waterproof Bath Book ($6, originally $8)
Foster a love of reading by combining bath time with a bedtime story. Baby Einstein's "Rainbow Bath!" Waterproof Bath Book floats, so it can double as a more traditional toy while teaching them the colors of the rainbow with its bright character illustrations. Plus, they'll learn the names of their favorite seafaring characters like a turtle, fish, and frog.
What Reviewers Say: "My friend's little girl wants to read this book every bath time and as she gets ready to be in water she pulls the book from the tub toys first ! Never knew a bath book could be so fun !!"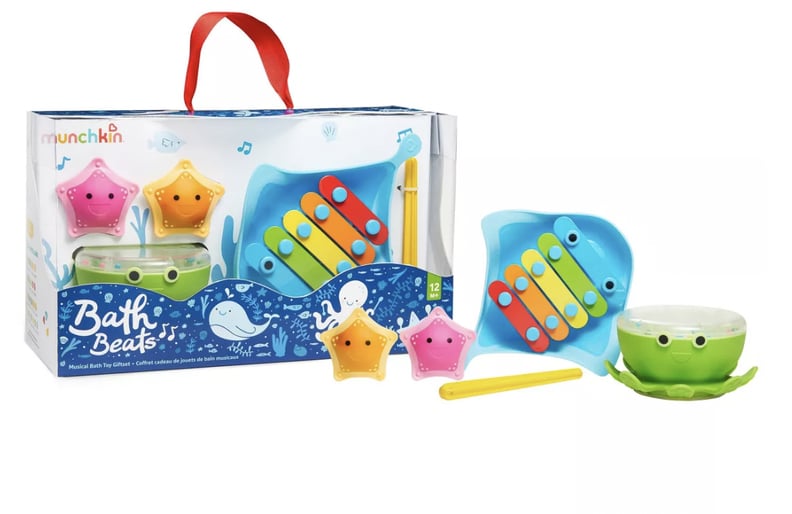 Best Musical Bath Toy For Toddlers
Munchkin Bath Beats Musical Bath Gift Set ($28)
Turn bath time into band practice with this Munchkin Gift Set that helps toddlers move and groove as they splish and splash. The set comes with a drum, a stingray-shaped xylophone, and starfish shakers that have hit all the right notes with parents and little ones alike. The set has a 4.9-star rating on Target.
What Reviewers Say: "My son really loves this whole set of bath toys. He absolutely loves musical instruments so being able to play them during bath time was quite the novelty. His favorite part by far is the string ray xylophone and mallet. I like that the drum toy has a suction cup. We just leave it on the inside of the tub in between baths. My son does seem to think there should be a second mallet because he wants to play drums with two drumsticks. However he still loves this set. It's a big hit for us!"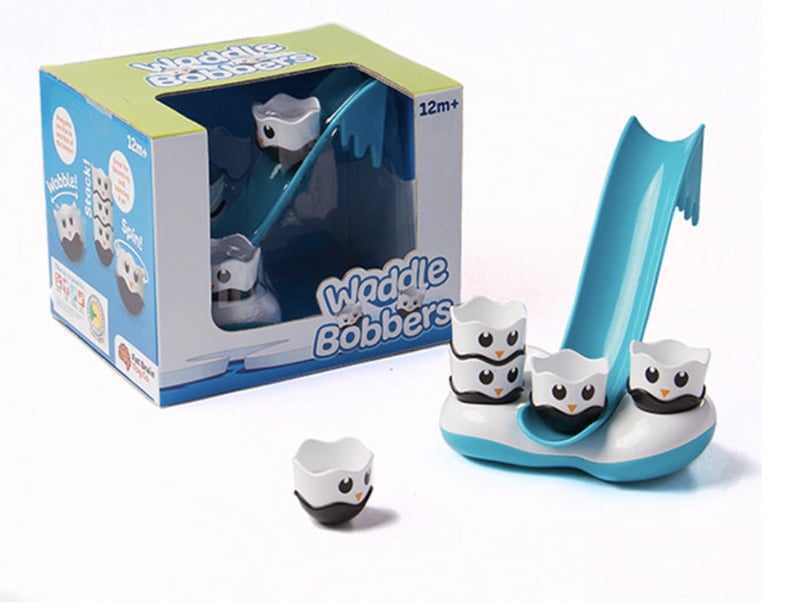 Best Toddler Bath Toy For Imaginative Play
Fat Brain Toys Waddle Bobbers Bath Toy ($25)
The adorable six penguin cups are just the tip of the iceberg for this touted Fat Brain bath toy. Penguins can stack, float, pour, and slide, providing tons of entertainment for toddlers. A floating iceberg is also included. Parents say it's most appropriate for the toddler crowd, but some reviews indicate it can grow with a child into the preschool phase. Bonus: the penguins have wobbly bases, so toddlers can make them move outside the tub, too.
What Reviewers Say: "I purchased these for my 3 year old nephew and he absolutely loved them! Uses them in and out of the bath. Teaches him stacking and counting skills too. Highly recommend!"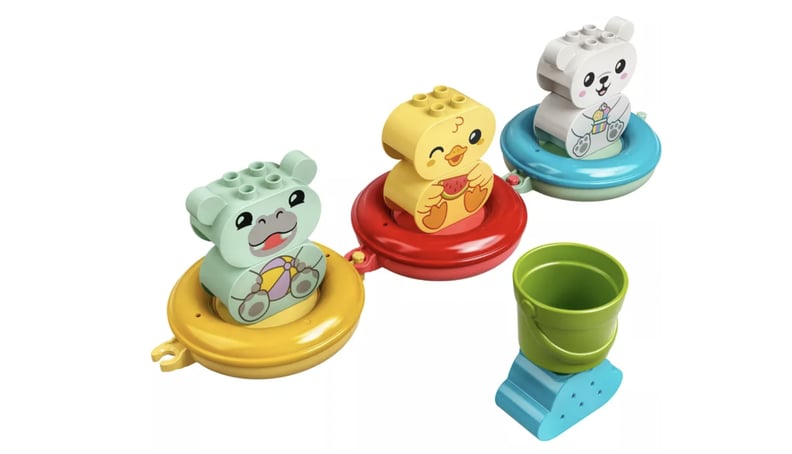 Best Bath Toy For Toddlers Who Love Legos
Lego Duplo Bath Time Fun: Floating Animal Train Baby Toy ($16)
Can't pull your toddler away from their favorite Duplo set for bath time? Ditch the power struggle — Lego Duplo makes a floating animal train to help build a fun bath time. The set is designed for toddlers 18 months and up and comes with a hippo, duck, and polar bear. The challenge: Toddlers build the animals by stacking two bricks. A bucket provides pouring opportunities, and floating rings transform a bath into a Duplo animal pool.
What Reviewers Say: "My daughter and son love legos so it was natural when I saw this that I knew they'd love it. This is there favorite part of bath time and the parts are perfect for cleaning afterwards."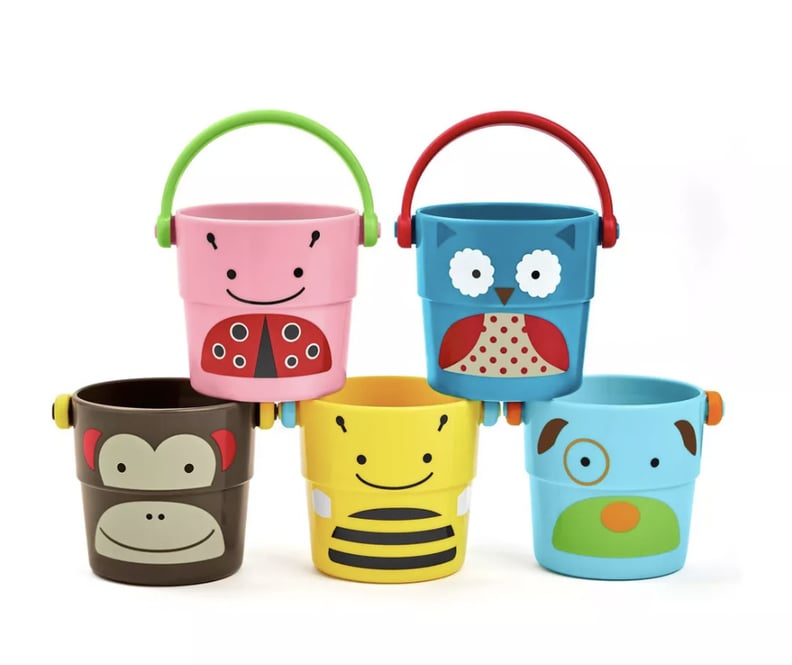 Best Value Bath Toy For Toddlers
Skip Hop Stack Pour Buckets Bath Toy ($6)
This set of five colorful, animal-inspired buckets has three different sprinkle effects, adding an element of surprise to pouring. Sweet animal and insect faces, like a puppy and ladybug, are instantly inviting. The handles are a cinch for younger toddlers to grab, and the stackable nature is excellent for skill building and storage. More than 400 Target reviewers have given the Skip Hop Stack Pour Bucket Bath Toy a nearly pristine 4.9-star rating.
What Reviewers Say: "My 8 month old granddaughter loved these! She can grasp the handle and bang them around. Great for bath time! They stack and the colors and animals are super cute. Could be used to hold crayons, etc for older kids."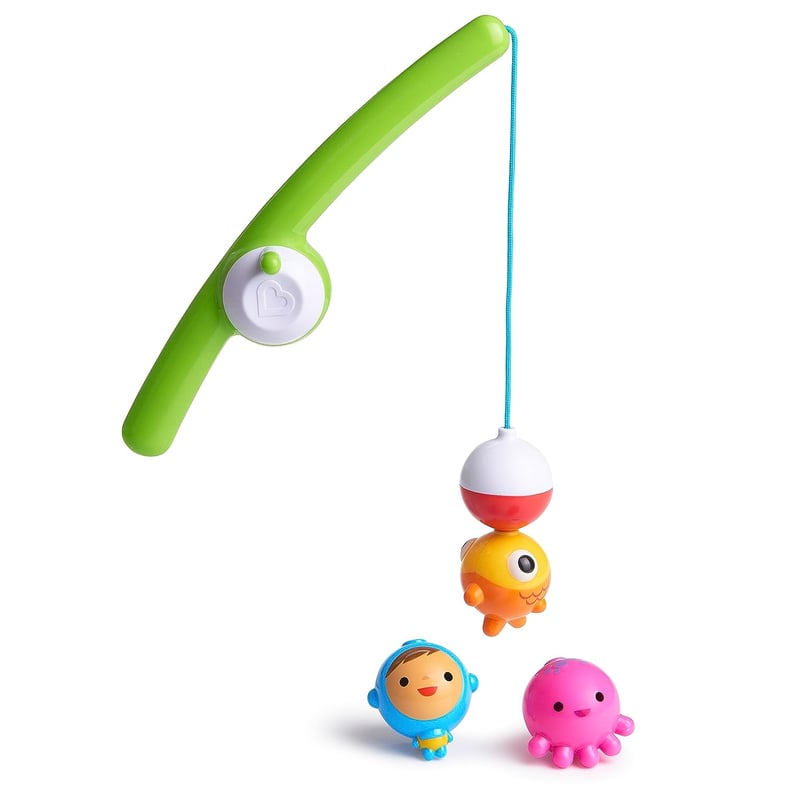 Best Bath Fish Set Toy For Toddlers
Munchkin Fishin Magnetic Baby and Toddler Bath Toy ($9)
Fishing poles and bath time are a natural fit. However, many sets on the market include squirt toys that pediatricians warn can become mold magnets. Munchkin's Fishin' Magnetic Baby and Toddler Bath Toy breaks the mold in that regard. The no-hole, magnetic design allows toddlers to go fish and parents to rest easy. The popular toy has a 4.7-star rating based on more than 29K Amazon reviews.
What Reviewers Say: "I bought this bath toy for my 2-year-old son, and he loves it! The magnetic fishing rod is easy for him to grip, and the three fish are colorful and fun to catch. The toy is also made of durable materials, so it can withstand a lot of splashing and water play. Overall, I think the fishing toy is a great choice for the little ones. It is fun, engaging, and promotes hand-eye coordination. I would definitely recommend it to other parents. I used this in attempt to get my 2 year old who just started disliking baths suddenly a little more excitement. It is definitely helping!"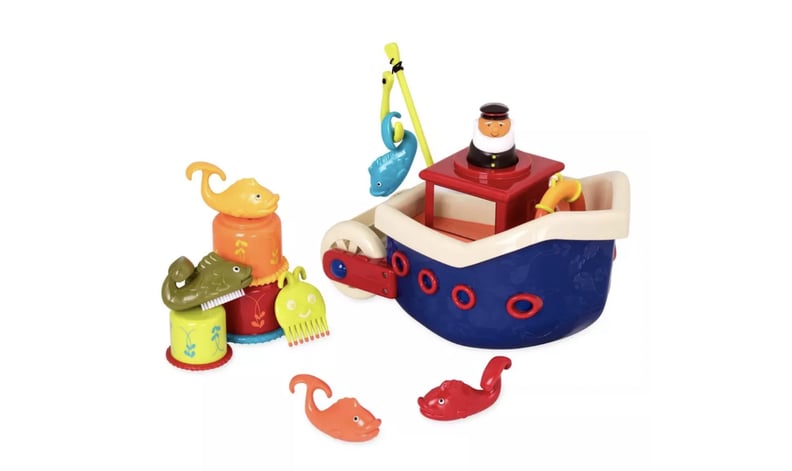 Best Boat Bath Toy For Toddlers
B. Toys Bath Toy Set — Fish and Splish ($23)
You may need a bigger bathtub for this 13-piece B. Toys Fish and Splish set. Truly, it provides you with the only bath toys your toddler will need: four fish, three nesting cups for pouring and stacking, a floating boat, a captain, an octopus that is also a comb, and even a life preserver. The only downside: your toddler may not want to leave the tub.
What Reviewers Say: "My almost 2 year old and 4 year old can play with this toy for an hour and not get bored - making bath time very long since we got it 😂 I love that one of the toys has a nail brush on it and another toy doubles as a comb. There are also some cups included that have holes on the bottom for rinsing hair."