A staple of Summer for most every family, a beach vacation is the perfect time for parents and kids alike to kick back, enjoy the outdoors, and relax! While the list of great destinations could go on forever, we've narrowed it down to just 10 of the country's top beaches for families. Did your favorite spot make the cut? We'd love to hear where your family vacations and why it works for you.
01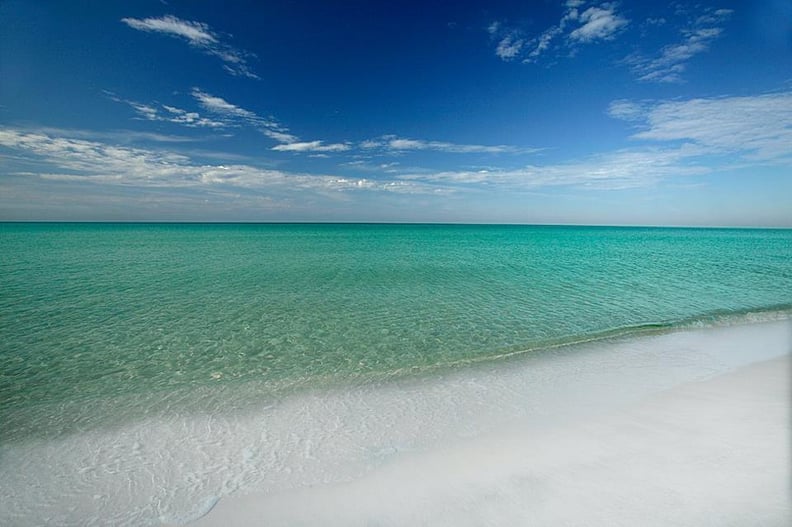 Rosemary Beach, FL
Located on northwest Florida's Gulf Coast, Rosemary Beach is a low-key destination with pristine white sand beaches and turquoise waters. The charming surrounding town is centered around a square, with plenty of family-friendly shops and eateries.
02 Santa Cruz, CA
Big on personality and short on pretension, Santa Cruz is most easily accessible from Norman Y. Mineta Memorial San Jose International Airport (about 30 miles) or San Francisco International Airport (about 60 miles). The quintessential California beach town features a charming wharf and boardwalk area and is home to a wide variety of marine mammals — sure to delight the kiddos.
03 Hanalei Bay, HI
Located on the island of Kauai, Hanalei Bay is a two-mile beach at the base of a mountain range and waterfalls. Here, you'll find beachgoers surfing, swimming, bodyboarding, and soaking in the rays. The town of Hanalei is filled with local flavor and is just a five-minute walk from the beach.
04 Westhampton Beach, NY
Located on Long Island's tony East End, Westhampton Beach is a popular destination for Manhattan families seeking refuge from Summer in the city. The charming Main Street reflects the town's popularity among parents and kids, with low-key restaurants, bakeries, and coffee shops, kids clothing stores, surf shops, and of course — ice cream!
05 San Diego, CA
San Diego is composed of some 20 unique beaches, including the popular La Jolla and Coronado areas. Coronado's picture-perfect town surrounds its beaches, the entire area is patrolled by lifeguards, and the facilities are perfectly maintained.
06 York Beach, ME
York offers something for everyone — Long Sands is a peaceful and pristine two-mile expanse of beach, and Short Sands is a family favorite for its carousel, playground, arcade, and the Golden Rod Candy Shop (famous for its handmade saltwater taffy — yum!).
07 Avalon, NJ
Located on the shore of South Jersey, Avalon got its motto, "Cooler by a mile," from its physical location — it juts out a mile farther than any of the area's other barrier island communities. A wide beach, gentle surf, and rolling dunes make Avalon a picturesque destination — a far cry from Snooki's Jersey Shore.
08 Cape Cod National Seashore, MA
Home to a 40-mile stretch of peaceful coastline, Cape Cod's National Seashore comprises some 100 diverse beaches. To find your family's perfect spot, check out the area's handy online tool, OnCape.com, and take advantage of the opportunity to introduce your kiddos to New England's famous seafood.
09 Cumberland Island, GA
Georgia's largest and southernmost barrier island is also home to one of the country's most isolated and untouched beaches. The island offers a Junior Ranger Program for kids ages 5 to 12 to learn about the region's wildlife and rich history (did you know that this was the site of JFK, Jr., and Carolyn Bessette's 1996 nuptials?). The wild horses that have the run of Cumberland are a big draw for many visitors.
10 Kiawah Island, SC
Located off the coast of Charleston, Kiawah is perhaps best known for its award-winning golf courses. The family-friendly resort also boasts amazing beaches, though, and everything from bocce and paddle ball to kayaks and paddleboards are available for guests' use.