Source: Amazon Prime Video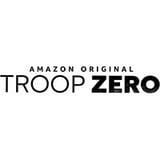 We've partnered with Amazon Prime Video to remind you what it really felt like to be a kid, inspired by the wonderfully unique Birdie Scouts at the heart of Troop Zero. Watch the film on Amazon Prime Video now!
Kids really do say the darndest things, partly because they haven't yet learned to censor themselves. At that age, you just are who you are — there's no pretending to be someone else.
The new Amazon Prime Video movie Troop Zero is a perfect example of kids being unapologetically themselves. In the film, a little girl named Christmas Flint (Mckenna Grace) becomes desperate to join Birdie Scouts after she learns the winners of the Birdie Scout Jamboree will get to record a message that will be sent into outer space. The only problem is, Christmas doesn't really fit in with the popular girls that dominate her school's Birdie Scout troop. Still, she doesn't let that stop her: Christmas assembles a ragtag crew of kids to form their own troop, led by Miss Rayleen (Viola Davis), her dad's coworker.
That's just the beginning of their adventures. To make it to the Jamboree, they each have to earn a badge — not to mention, come up with the perfect performance for the talent show. Though they face plenty of doubters — from the snobby girls in the school's other troop to their leader Miss Massey (Allison Janney) — the kids of Troop Zero don't let it stop them from being their unique, wonderful selves. Read on to hear about a few of the moments from the film that might just remind you what a beautiful thing it is to be unapologetically yourself.