In theory, buying a Christmas tree is pretty straightforward: find a pretty tree that fits in your space, pay for it, take it home. But when you arrive at the farm, stand, or big-box store, you might find yourself overwhelmed by all the options. To simplify the process, we've rounded up the most popular varieties of Christmas trees and broken down their most notable attributes, from scent strength to price. Arm yourself with the facts ahead, and then go pick the perfect tree for your family so you can worry about more pressing seasonal concerns, like which holiday movie to watch.
Fraser Fir
Silvery and soft, Fraser firs are the top seller Christmas after Christmas. They can grow to soaring heights and have strong, upward-facing, flat branches that can hold even your heftiest ornaments with ease. Because this type of tree is so in demand, you can expect to pay a slight premium.
Norway Spruce
There's no mistaking a Norway spruce, with its triangular shape and dark green hue. While they cut a striking profile — they're so pretty they're often decorated with only lights and a topper — they're not long-lasting. Norway spruces are notorious needle shedders.
Balsam Fir
These statuesque, dark green trees will fill your home with a lasting fragrance while providing soft branches for you to place your ornaments on — but avoid any heavy ornaments, as these branches just can't hold them. What your decorations lack in weight, you can make up in abundance as the Balsam fir's moderately spaced branches are perfect for displaying the many ornaments you've collected over the years.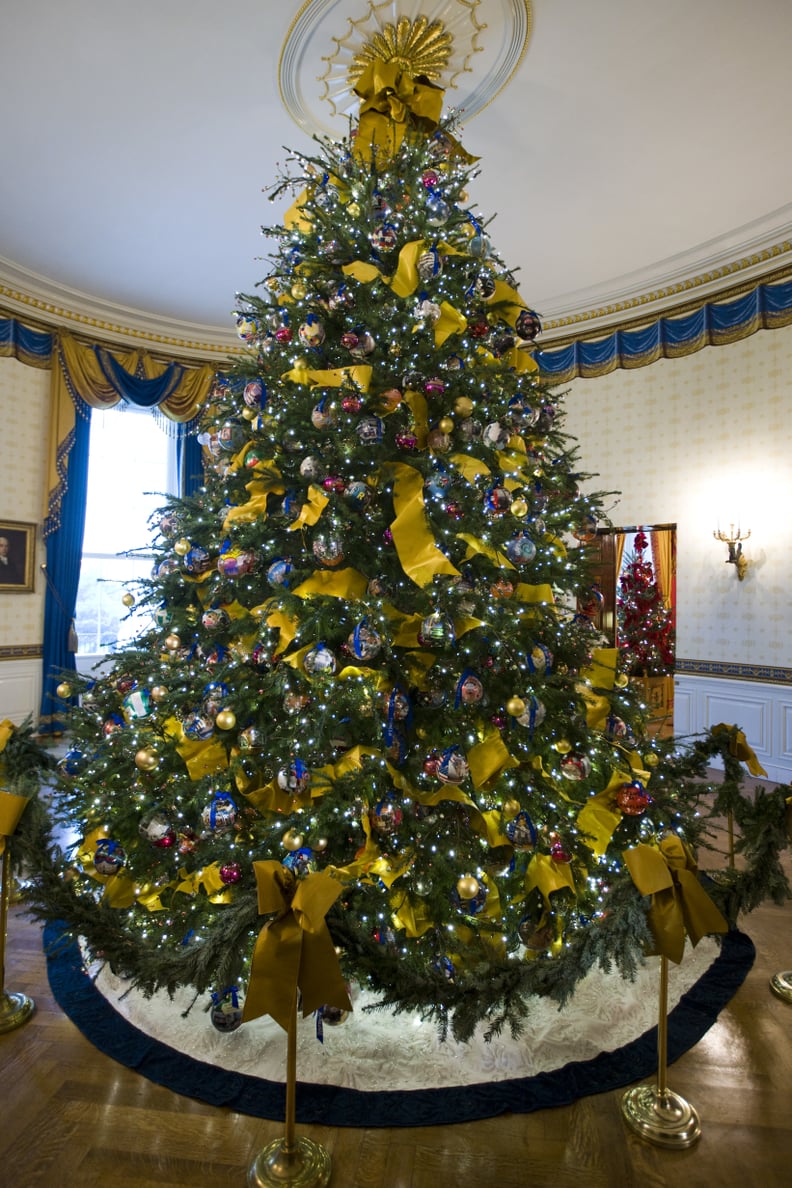 Douglas Fir
With its vivid green hue, thick cone shape, and strong branches, it's no surprise that Douglas firs can be found in the White House. Their strong branches can hold even the heaviest of presidential ornaments, and their rich fragrance will fill the West Wing — or your home — with holiday scent. Best of all, it's the most affordable Christmas tree in the fir family.
Noble Fir
The Noble fir's build is as good as it gets for hanging ornaments on thanks to its strong, layered branches and upturned needles. The fancy fir retains its needles well and has a pleasant scent – but because their growing period is among the longest, especially for trees taller than seven feet, you can expect to pay a premium.
Scotch Pine
The earliest Christmas trees were often Scotch pines, and this tree continues to be a popular choice in the Midwest today. These durable, if prickly, trees have long been loved for their stiff, strong branches. But get down on ground level, and you might be discouraged from buying by their crooked trunk.
Blue Spruce
Blue spruces are pleasing to the eye thanks to their narrow cone shape, symmetrical form, and signature silvery blue needles. Their moderately spaced branches are perfect for filling with ornaments. While the blue spruce is the official state tree of Colorado and Utah, it's a popular Christmas tree choice in every state.