What Postpartum Psychosis Is Actually Like — From a Woman Who Survived It
At the height of her psychotic break, Melissa Bangs, a 40-year-old first-time mom living in Montana, stood across from her husband, Eric, and urged him to throw their newborn to her through the wall. Mela, as her friends call her, had given birth to Adelaide one month prior. Since then, she had succumbed to an intense delusion, in which she believed the physical world was falling away; she needed to prove it to her husband and child, so they could transcend with her into the light.
Eric was scared for her and their daughter, so at his request, Mela agreed to be admitted to the psychiatric ward at Providence Psychiatry in Missoula. She spent a month in the hospital, where she was diagnosed with postpartum psychosis.
Postpartum psychosis is a rare mental disorder, reportedly occurring in one to two out of every 1,000 deliveries, or approximately 0.1 to 0.2 percent of births, according to Postpartum Support International (PSI), one of the country's top recommended resources for women experiencing mental illness during and after pregnancy. However, experts in the field believe that estimate is inaccurate, largely because the stigma surrounding mental health keeps so many women from seeking treatment, Mary Kimmel, MD, medical director of the Perinatal Psychiatry Inpatient Unit at UNC Hospitals — Chapel Hill, told POPSUGAR. Hers is the first unit in the US devoted entirely to inpatient psychiatric treatment of women who are pregnant or have recently given birth.
Dr. Kimmel describes postpartum psychosis to patients as "the most severe form of postpartum depression." It's the one typically responsible for devastating events like infanticide and suicide, though such tragedies occur in only four percent and five percent of cases of postpartum psychosis, respectively. Yet the fifth edition of the Diagnostic and Statistical Manual of Mental Disorders (DSM-V) doesn't list a separate designation for the mental disorder. It's a seemingly small oversight that can delay diagnosis and have tragic consequences.
"I thought the universe was vibrating faster and faster."
You've likely known someone who has suffered from postpartum depression or anxiety — or even experienced it yourself. But while a mom with anxiety may worry about whether her breastfeeding infant is getting enough milk, one with postpartum psychosis may cling to those fears even when confronted with a different reality.
"A woman experiencing these thoughts may initially seem to have postpartum anxiety," Dr. Kimmel said. "It can become postpartum psychosis if that anxiety becomes so severe she no longer believes the child is growing properly even when her child's doctor and others say the child is, or if it becomes so severe that she believes she has done irreparable harm to her child."
These intrusive thoughts might also include intense worry that a woman won't be able to protect her child from the dangers of the world — a symptom Mela experienced as a result of childhood sexual trauma. While bathing her daughter or changing her diaper, "I would think to myself, 'How am I going to keep this child safe in a world where one in four little girls is the victim of sexual assault?'" she told POPSUGAR.

After weeks of little to no sleep, Mela started to behave manically, though she said, "I didn't have the vocabulary to define it that way at the time." She found herself frantically writing notes and talking much faster than usual, leading up to a four-day period in which she perceived reality much differently than the people around her. "When the alternate reality hit, I had no fears of anything. Only love," Mela said.
"I thought the universe was vibrating faster and faster and that the physical world would eventually disappear," she explained. "I thought people who chose love, like me, would become the light, and people who chose fear would become the dark. And I thought I could see what was wrong with people or what they needed to do, like give or receive forgiveness, so I started calling them up and telling them that."
"The craziest thing in all this is, if my daughter had been in my arms and I would have thrown her, it would have been an act of love."
Mela was convinced that Eric needed to know that the world was disappearing, so she tried to show that its limitations didn't exist anymore by getting completely naked, drinking the cat's water, urinating on the baby swing, and walking over shards of glass that she had smashed into a thousand pieces on the floor. And then, she told him to throw her their baby through the wall.
A few years after her release from the psychiatric ward, Mela turned her experience into a piece of performance art. At the end of the show, Mela tells her audience, "The craziest thing in all of this, the messiest thing in all of this, is if my daughter had been in my arms and I would have thrown her, it would have been an act of love."
It's this kind of delusion that can lead to the most devastating outcome of all: a mother killing herself or her baby because she's convinced it's the most loving course of action she could take.

The challenges of treating a disorder that's so poorly understood
While Mela's behaviors were manic and delusional, that's not the case for many women who suffer from postpartum psychosis. "It may be clear psychotic symptoms, but more commonly it is anxious or depressed thoughts that become so predominant to the woman that they feel like reality," Dr. Kimmel told POPSUGAR.
Delirium is another way postpartum psychosis can present itself, she explained, referring to a state of confusion in which a person can't think or speak coherently that may be accompanied by illusions or wild excitement or ecstasy. "It can be a situation where they can't eat, drink, or think; may seem really slowed down; and may have bizarre thoughts or interpretations of things," she said.
This wide range of symptoms — coupled with the DSM-V's oversight — could mean that many women go undiagnosed, particularly if they seek treatment from a mental health professional who isn't well-versed in postpartum disorders. "Postpartum psychosis is an umbrella term, so if someone is looking for a person who is hearing voices, or believing they should kill their children — which is the one time you hear about it in the media — that is not a common presentation," Dr. Kimmel said.
Of course, that's if a mother tries to get help at all. "Often women hold their symptoms, such as thoughts about suicide, close and don't feel comfortable telling others, or are not ready to admit those thoughts to others or themselves," she said.
As troubling as it is that women may struggle to get a diagnosis, postpartum psychosis is very treatable, even in the most severe cases. But the lack of understanding surrounding mental illness and early motherhood presents some challenges. The spectrum of diagnoses that fall under the blanket term "postpartum depression" are increasingly being referred to as perinatal mood and anxiety disorders (PMAD) by people in the field, Dr. Kimmel explained. This means that postpartum psychosis isn't considered a primary psychotic disorder, and that's essential in determining the best treatment.
"The treatments are different for primary psychotic disorders than for mood and anxiety disorders," she said. "For example, we may prescribe lithium, which would not be prescribed for a primary psychotic disorder. Lithium may also not be thought of to treat anxiety, but because PMAD often includes a mix of symptoms, the anxiety is treated by the lithium."
Beyond that, hospitalization is almost always required to successfully treat postpartum psychosis, Dr. Kimmel added. This allows patients to get around-the-clock care and adequate sleep — two things that are difficult to come by at home with a newborn. That said, "each woman's situation is unique, so hospitalization should always be a discussion with the patient and family," she said.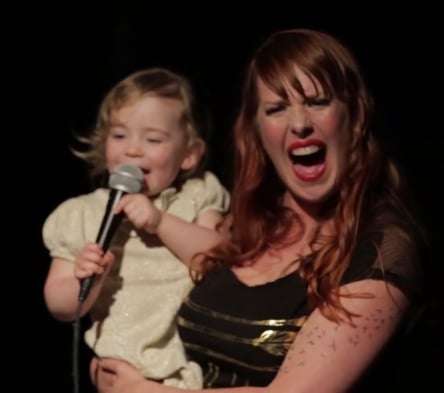 "The simple things are the most profound."
While Mela spent a month in the psychiatric ward, it took roughly a year for her to feel some sense of normalcy again. And even then, she described it as a "new normal" rather than a return to what she had known before giving birth to her daughter.
During her time in the hospital, Mela was on a combination of nine different medications, which at times left her drooling, catatonic, or "having visions of vampires sucking the blood out of me," she told POPSUGAR. She went home on a prescription of lithium and Trilafon, a combination that made it difficult to get out of bed most days and left her unable to feel anything.
"I knew I loved my husband, and I knew I loved my daughter," Mela said, "but I just couldn't feel it."
She began experiencing daily anxiety attacks, a symptom she had developed while in the hospital but increased dramatically after she came home. She also couldn't sleep, which was frightening, because Mela feels very strongly to this day that sleep deprivation played a role in her psychotic episode. "Eric had to travel to Canada for work, which didn't help, and I still felt intense fear, worry, guilt, and shame," Mela said, describing her insomnia.
Throughout this time, Mela continued pumping to keep her milk in, hoping that once she weaned herself off the lithium, she would be able to breastfeed Adelaide again. (Dr. Kimmel noted that some medications prescribed for postpartum psychosis might not interfere with breastfeeding, though that's a discussion to have with your doctor.) But that never happened for Mela. "I felt a lot of shame and sadness that I'd stopped breastfeeding," she said. "I tried for three weeks to get her back on breastfeeding, but she just wailed and wailed, I think because she couldn't get as much milk as quickly as she did with bottle feeding."
There was lots of crying for Mela, too, along with a deep appreciation for every high and low. "Love, gratitude, and sadness all came back," she said. "It was a massive relief that feelings came back, even though they weren't all easy feelings."
"Love, gratitude, and sadness all came back. It was a massive relief, even though they weren't all easy feelings."
Though Mela worried that her daughter wouldn't be able to bond with her or recognize her as her mother, particularly without breastfeeding, eventually that fear faded. Today, she and her 6-year-old are inseparable, and Mela feels grounded and even grateful for surviving a bout of postpartum psychosis.
"I lost my mom in December and am still very much in the grief process. Somehow, the psychosis journey and the cancer journey with my mama leave me more aware than ever to be easy on myself, to breathe, to slow it down, and savor the simple things. The simple things are the most profound," she said.
"Wildly, I am more present, more grateful, and have more of a sense of trust and being held in this world than I ever did before the psychosis. So many people showed up for us," Mela continued. "I learned the hard way that I don't have to do it myself, and in fact, there is a massive design flaw in the idea that we should do it alone."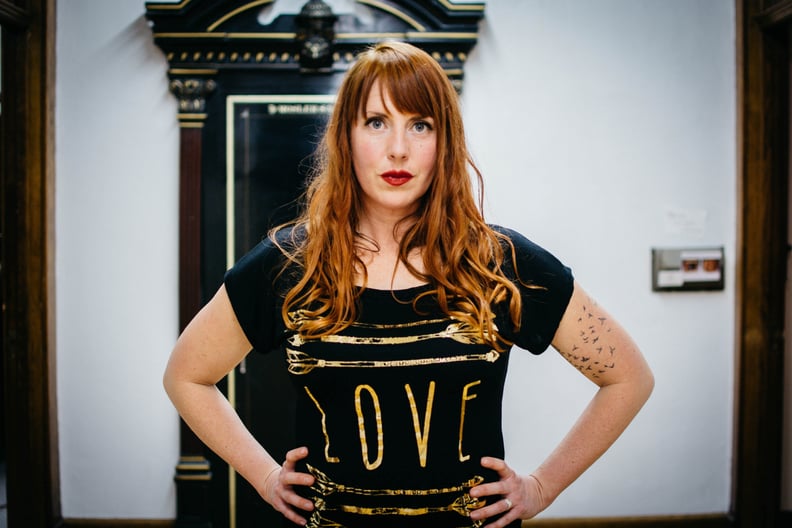 How to know if you or someone you love is at risk
Certain risk factors increase the likelihood that a woman might experience postpartum psychosis, like being a survivor of childhood trauma or having been diagnosed with bipolar disorder. The greatest risk factor is having experienced postpartum psychosis in the past, Dr. Kimmel said, which is why doctors encourage survivors to seek medical supervision when expanding their families. Some women may never have a second episode, while others need to manage their symptoms for the rest of their lives.
Dr. Kimmel has seen postpartum psychosis surface as early as the third trimester and as late as nine months after delivery, as well as during weaning from breastfeeding. "It's quite a range," Dr. Kimmel said, taking issue again with the standard outlined in the DSM-V. She's currently working to improve screening and treatment of postpartum psychosis. The most basic early warning signs include anxiety and depressive symptoms, which individually might seem small enough to explain away.
Loved ones should take note of mothers who seem very anxious or do things that are out of character, Dr. Kimmel explained, including wishing to escape from their day-to-day. "It's normal to feel overwhelmed, and a lot of negative emotions are part of this experience, but we need to keep an eye on those feelings," she said, urging both moms and their partners to seek support during this time.
In an effort to destigmatize postpartum psychosis, Mela serves on the national advisory board for PSI and works to help other women share their stories in group talk therapy sessions. That has led her to produce a stand-up-style show called MOMedy, where multiple women share 10- to 15-minute stories from their own pregnancy, birth, and postpartum journeys.
Women and their loved ones seeking support during and after pregnancy can contact the PSI HelpLine at 1-800-944-4773 (4PPD), or review the list of resources available online. Text support is available by sending a message to the Helpline at 503-894-9453. Dr. Kimmel also recommends the Marcé Society, which provides links to resources available internationally.