What Parents Should Know About COVID Delta Variant and Kids
What Parents of Unvaccinated Kids Can Do to Avoid the COVID-19 Delta Variant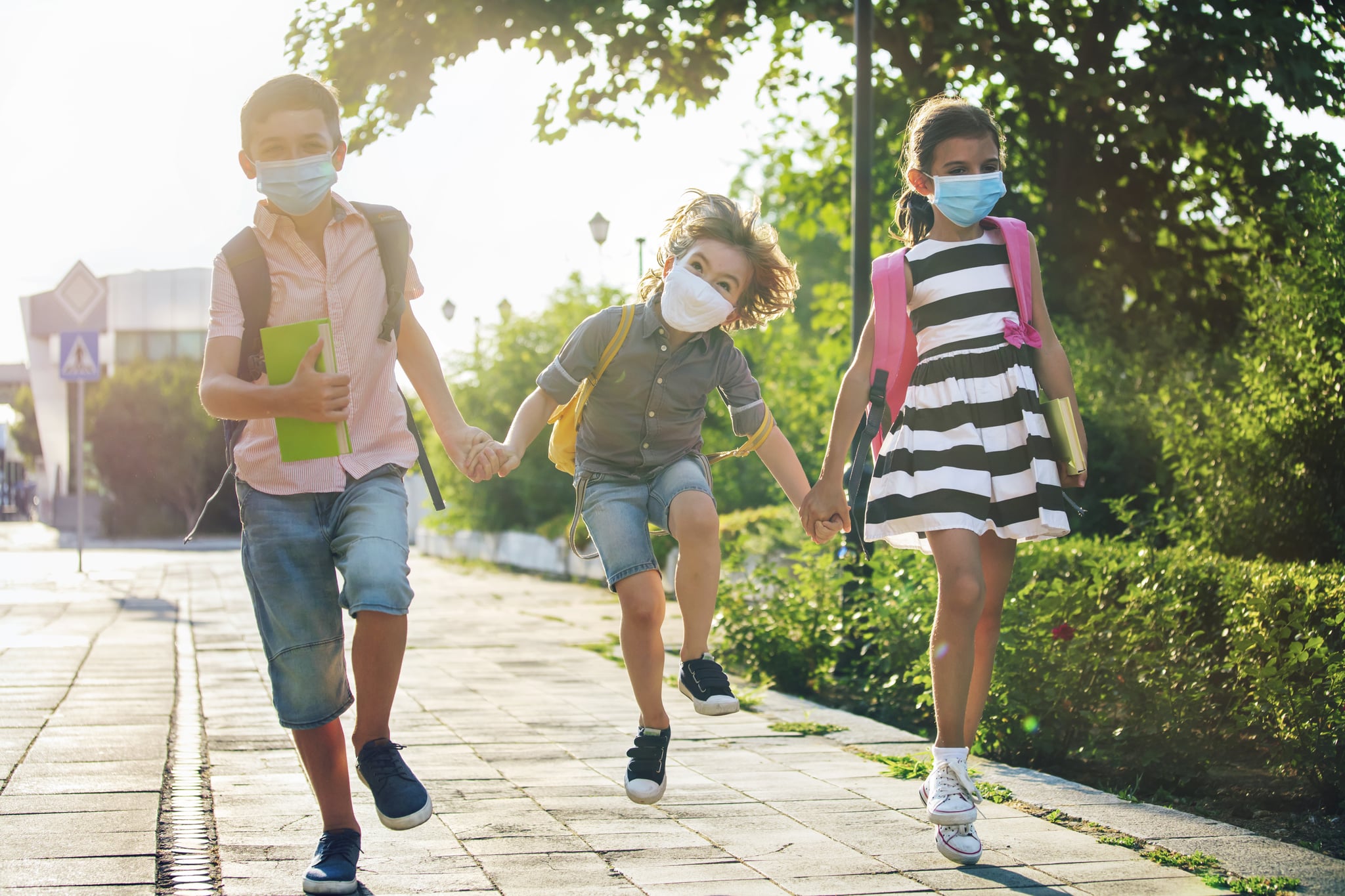 For much of the nation, most pandemic restrictions have been lifted, signaling that the worst of the coronavirus is over — but the rise of the latest COVID-19 variant, the highly transmissible Delta strain, may mean that people can't return to normal just yet. This is looking to be especially true for those who are not yet vaccinated, which includes all children under the age of 12.
So, what does this mean for parents of unvaccinated babies and little kids?
First, it's important to understand the nature of the Delta variant. Experts predict that Delta, which caused the major surge in India this past March before making its way to the United Kingdom, is roughly 50 percent more effective at being transmitted to people who are not fully vaccinated. It is now in nearly 100 countries due to relatively low rates of vaccination globally, but it has also been taking off in the United States since May. Now, it has been detected in all 50 states. At least 26 percent of COVID-19 cases in the US are Delta, and it is set to become the dominant strain as of this month, through the summer, and when kids return to in-person school this fall.
Although this news can feel like emotional whiplash for families who were just beginning to reenter the world of playdates, birthday parties, and day camps, many experts believe there are a few key preventative measures parents can take — many of them no different to what they've been doing already.
Get Yourself Vaccinated
The good news is that vaccines can stop Delta from spreading, so doctors cite it as yet another reason for those who can get vaccinated — anyone 12 years of age and older — to do so as soon as possible. The more people in a community who are vaccinated, the more difficult it is for the virus to transmit from person to person.
An Israeli study published last month in Nature Medicine upheld this long-standing principle of herd immunity by showing that higher levels of COVID-19 vaccination in a population are tied to lower rates of infection in unvaccinated youth.
Unfortunately, vaccine rates in the US have flattened out — only 46 percent of the American population is fully vaccinated — and Delta is the fastest-spreading known variant in the world right now.
Mask Your Children
Having children wear face masks, particularly when near unvaccinated people outside their immediate household, is a key safety measure parents can take to offset unnecessary risks of contracting COVID-19, the Delta strain included. For many families, this may feel like business as usual — although most establishments have relaxed masking and social-distancing rules for those who are vaccinated, unvaccinated children should continue the same precautions that they took against earlier strains of the virus.
Prepare to Mask Yourself
Amid the growing threat of the Delta variant around the globe, the World Health Organization is now urging all people, even those who are fully vaccinated, to continue wearing masks when inside in public settings. This recommendation was announced in late June, and it may be more necessary in countries that are seeing Delta surges — like Australia, which only has a six percent vaccine rate — than in the US.
For its part, the Centers For Disease Control and Prevention has not reversed its latest masking guidance. The risk of transmitting COVID when fully vaccinated is considered negligible, but because there is not a large depth of data on Delta specifically, some public-health officials find transmission likelihood to be too hard to predict and thus warn that if COVID cases begin to rise dramatically, universal masking may be a necessary, if unwelcome, mandate.
Still, Rochelle Walensky, MD, MPH, the director of the CDC, did her best to assure fully vaccinated Americans that they do not need to worry amid conflicting advice on masking: "Those masking policies are not to protect the vaccinated, they're to protect the unvaccinated," she said. "If you are vaccinated, you are safe from the variants that are circulating here in the United States."
Be Aware of Regional COVID Hotspots
As important as it is to be aware of national trends concerning COVID-19, parents should be paying close attention — on a daily basis — to local vaccination rates and to the degree of COVID circulation. According to Anthony Fauci, MD, the director of the National Institute of Allergy and Infectious Diseases, places with fewer vaccinated adults are more likely to see cases rise as Delta moves throughout the nation. If statistics such as case numbers, test positivity rates, and deaths shoot up quickly where you live, it might mean your family should change behavior, either by resuming strict social distancing and mask wearing or by self-isolating.
During summer, it's also important to assess the communities you are traveling to, either for vacations or camps, and the communities from which visitors are coming. Be cautious in regions seeing new COVID-19 flare-ups, like those in Missouri and Florida.
Take Note of Atypical Symptoms
Thankfully, data from the UK is showing a surge in cases but not in hospitalizations, which may signal that the Delta strain is no more dangerous to vulnerable populations than previous ones, but emerging data suggests that those infected with the variant are experiencing symptoms different to those commonly associated with early COVID cases.
According to self-reported symptoms, the top five current COVID symptoms are headache, sore throat, runny nose, fever, and persistent cough. Fever and cough have always been the most typical COVID symptoms, and headache and sore throat have often presented for some people, but a runny nose was rarely reported in earlier data. Meanwhile, loss of smell, which was originally quite common, ranks ninth.
The reason behind these changes is unclear, but some suggest that because of the higher rates of vaccination coverage in older age groups, younger people are now accounting for a greater proportion of COVID cases, and they tend to experience milder symptoms. Although it is promising that symptoms do not seem any more severe in pediatric cases, parents should note that what they consider to be just a mild cold — a sore throat and a runny nose — could very well be a case of the Delta variant of COVID-19.
Have a Plan to Get Your Child Vaccinated When Possible
Although children under 12 years old still have no clear timeline for when they may be eligible to receive a COVID-19 vaccine, Pfizer appears to be the first of the major vaccine companies to be readying for a pediatric release. Last month, a Pfizer spokesperson said the company expects data from 5- to 11-year-olds in September and would likely ask regulators for emergency-use authorization later that month. Data for children 2 to 5 years old could arrive soon after that, he said. And the company expects to have data from the 6-month-old to 2-year-old age group sometime in October or November. Although this timing still puts elementary-aged children returning to schools without vaccine protection, parents should prepare to have their young children inoculated as soon as it is safe to do so and to speak to their pediatrician with any questions they have.
Image Source: Getty / portishead1