This article was originally featured on What to Expect, a pregnancy and parenting brand helping every parent know what to expect, every step of the way.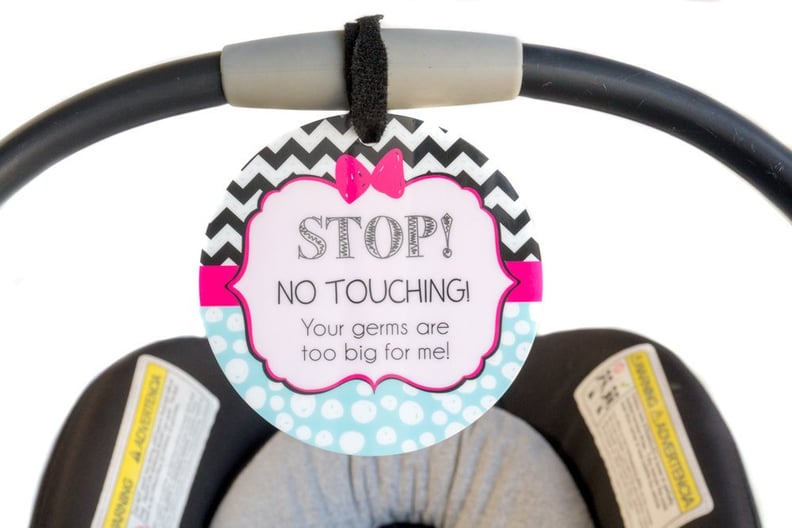 It's not the only one of its kind; there are many just like it available on Etsy. There are a bunch of variations, such as, "Don't touch me (germs can hurt me)" and "Stop! I know I'm cute as can be, but please do not touch little me!"
Some commenters on the Breastfeeding Mama Talk post weren't entirely supportive of the trend. "This world is turning into a bunch of weak fruit loops," one mom wrote. "Children need germs, their bodies need to learn to fight off sickness. Besides breastfeeding gives babies so many antibodies to help them fight everything off."
Other mothers left supportive remarks, pointing out that these signs are particularly helpful if your child is a preemie or is battling an illness that may compromise his or her immunity even more than the average newborn's underdeveloped one. "Got one for my preemie baby," one wrote. "So far being home from PICU it works! And I keep a cover on him."
The fact of the matter is that a newborn's immature immune system puts her at extra risk for infections, especially in the first six weeks, so it's no surprise many parents want to keep their tiny LOs protected. As for visitors, they would always do well to not only wash their hands but ask before touching a baby, not to mention be well (not actively fighting a cold) and up to date with their vaccines (including for flu and pertussis).
Unfortunately, it seems that awareness around these general newborn rules of thumb isn't nearly as high as it could be. So it's no surprise that plenty of moms have gotten on the "no touching" sign bandwagon.
Of course, when it comes to any move new parents make, there will be naysayers. Ultimately, parents using these signs are doing nothing more than taking an extra step to keep their child safe and healthy, so props to them.
Related:
Why Experts Now Say Newborns Need This Vaccine Immediately After Birth
How "Cocooning" Can Protect Your Newborn Baby from the Flu