44 Yard Games Kids Will Want to Play Every Day
As POPSUGAR editors, we independently select and write about stuff we love and think you'll like too. If you buy a product we have recommended, we may receive affiliate commission, which in turn supports our work.
They're words you may have sworn never to utter, knowing how often your parents said them to you in the summers: "Don't you want to go play outside?" And yet you can't help but repeat them when your little ones come to you complaining of being bored or asking to watch "Moana" for the 15th time, despite the shining sun. When your mini mes are especially reluctant to get out the door, having the right outdoor games for kids is the perfect incentive.
And listen, it's not just that getting them outside affords you some peace and quiet or keeps them busy when you have company over. Children who spend more time exploring nature had improved learning outcomes like a heightened sense of curiosity, creativity, and even critical thinking, reports the American Academy of Pediatrics. And having some fun yard games for kids just prompts them to begin that healthy exploration. Yard games for kids are also fantastic to have on hand during summer parties, since they'll help any little ones in attendance play together — and adults may want to join in, too.
Of course, the summer's long and kids' attention spans can be short, so we rounded up 44 fun outdoor games for kids that'll keep the fun going all season. These range from nostalgic yard games to modernized classics. But they do have one thing in common — they're so much fun, you'll find yourself saying something a little different to your kids this year: "Don't you want to come inside?"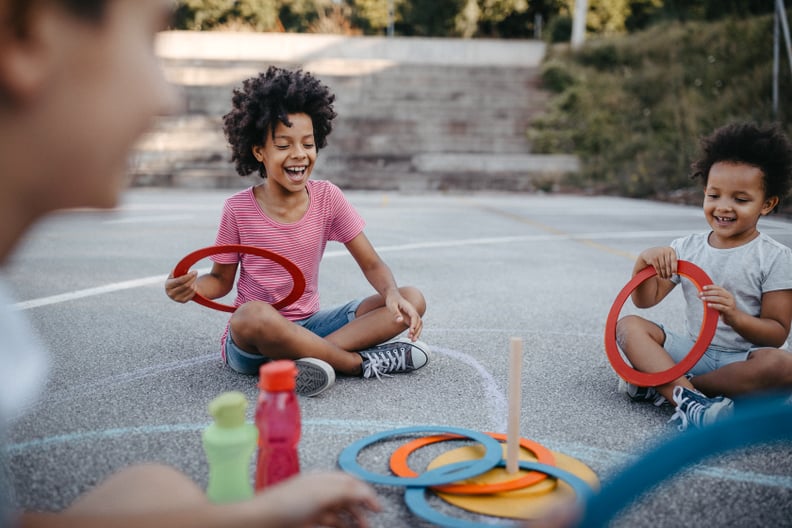 Nostalgic Yard Games For Kids
Ring Toss. A classic game for family fun, it also is perfect for developing hand-eye coordination in addition to motor skills. The Elite Sportz Ring Toss Game ($20, originally $30) has more than 11,000 five-star reviews, so you can't go wrong.
Backyard Soccer. Set up "goal posts" (a few bright T-shirts or towels will do), and start kicking the ball up and down the "field" (aka your backyard).
Fly a Kite. The first time you fly a kite is a joy that's unmatched. But if you're a beginner, you may want to start with Honbo's Large Delta Kite ($17), which is as colorful as it is easy to fly.
Bubbles. While bubble shooters are fun gadgets, there's nothing like breaking out the bubble wands of our youth. Check out this Giant Bubble Wands Set ($16); your kids will love creating new shapes (although smaller ones may need a little assist).
Hopscotch. All you need are some chalk and a stone to toss, and you're ready to hop on one leg, then two, then . . . well, you get it. With more than 21,000 five-star reviews, Chalk City Sidewalk's Jumbo Chalk ($10) is the washable nontoxic set you need.
Tetherball. Nothing quite brings back memories of recess like tetherball. This GoSports Tetherball and Rope Set ($50) is a portable alternative for the backyard.
Potato-Sack Race. Go old school with a relay race.
Tug of War. Bring it back to field day with this colorful Tug of War Rope ($23) that can be played by kids and adults alike.
Frisbee Golf. Show off your frisbee skills with a game of frisbee golf with the kids. If you're looking for a place to start, this portable Metal Disc Frisbee Golf Goal Set ($80) comes with nine frisbee discs and a lightweight base.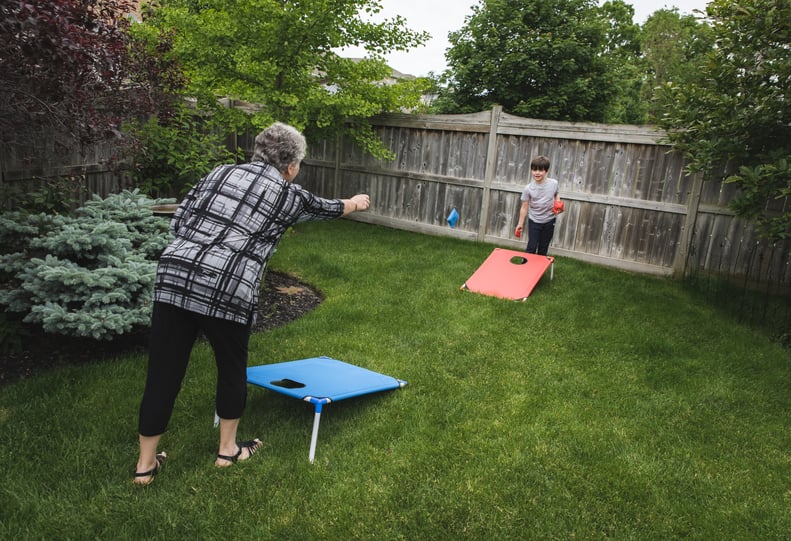 Store-Bought Yard Games For Kids
Cornhole. You can't think of lawn games without including cornhole. Look no further than this rustic-designed, tailgate-size GoSports Classic Cornhole Set ($80), which boasts more than 24,000 five-star reviews on Amazon.
Bocce Ball. Easy to learn, you can play bocce ball with two to eight players. Get started with the Ropoda Bocce Ball Set ($40), which is an Amazon favorite for its high quality.
Giant Connect Four. This oversize board game is just played better when it's bigger. And you can't go wrong with the SWOOC Games Giant Four in a Row ($120), which boasts an all-weather, noise-reducing design.
Giant Jenga. If you love giant Connect Four, then you'll love its equivalently sized sister board game.
Badminton. The perfect picnic sport of badminton should not be missed. All you need are two players and some rackets. This Franklin Sports Kids Badminton Racket Set ($12) comes in bright colors perfect for summer and is oversize for better control!
Launch a Rocket. Begin the countdown! Simply stomp on the footpad to send this Dinosaur Toy Rocket Launcher ($23) to new heights.
Twister. Take the classic board game outside of the living room. If you want to make it even more outdoorsy, Hasbro has Twister Splash ($14, originally $40), which is perfect for summer.
Body Bumpers. It's time for some belly-to-belly action. With Banzai's Bump N' Bounce Body Bumpers ($20), kids ages 4 to 12 get to dress up in these fun, inflatable suits like walking bumper cars.
Giant Sorry! Oh, did you think we were done with giant versions of board games? Take this retro party outside with Giant Sorry! ($20, originally $25).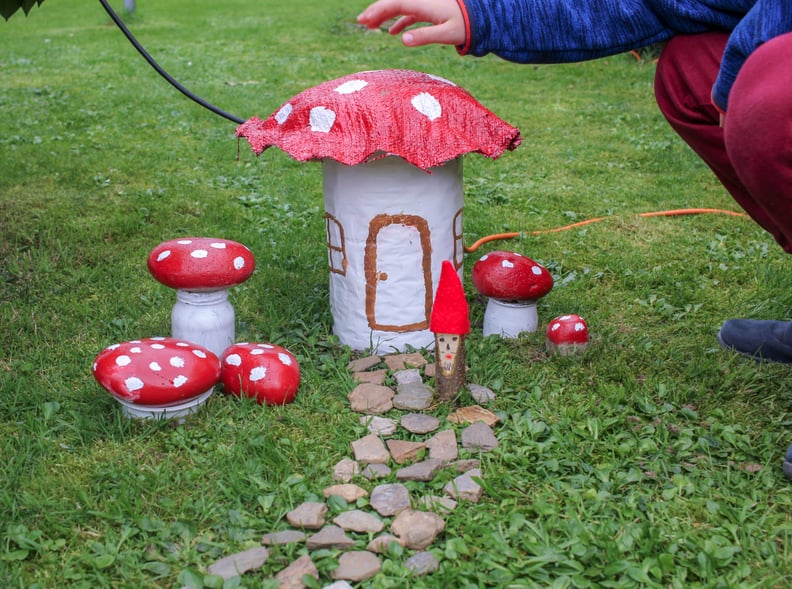 DIY Yard Games For Kids
Make a Fairy House. Your kids can use a big box and markers to decorate a whimsical fairy house, or make believe if you live near any trees. Not required, but if your little ones really love this game, check out the adorable Fairy Garden Miniature Table and Chairs ($13) that can take the imagination to the next level.
Yard Tic-Tac-Toe. All you need are a couple sticks and some rocks to re-create the iconic game.
Capture the Flag. If you don't have an actual flag, a T-shirt works just fine — and a good game of capture the flag can last for hours.
Decorate a Birdhouse. This is a great way to bring the joy of arts and crafts outdoors. You can fully DIY a birdhouse with cardboard, or "cheat" with this Buildable DIY Birdhouse Kit ($20, originally $33), which comes with water-based paint and eco-friendly wooden boards.
Customize a Kite. Before taking your kite for a spin, why not make it special so you can spot it easily in the sky? This Kite Making Kit ($13) comes with three blank diamond kites and markers to get you started.
Gardening. There's nothing like making something from scratch. Your kids can try planting seeds from existing plants, or you can get some help with this National Geographic Gardening Kit ($20), which also comes with pots they can decorate.
Backyard Mini Golf. If you have a putter or even a sturdy stick, you can build your own mini-golf course at home. Use garden sticks to mark holes, or get official with the GoSports Pure Putt Challenge ($35).
Build an Obstacle Course. All you need are potato sacks, bean bags, three-legged race bands, eggs, spoons, and some medals to create an epic obstacle course. If our kids really love this idea and you want to make it more professional, the Goldge's Field Day Games Kit ($25) is a great next step.
Paint Stepping Stones. Your kids will love finding great painting stones, then decorating them with paint and googly eyes.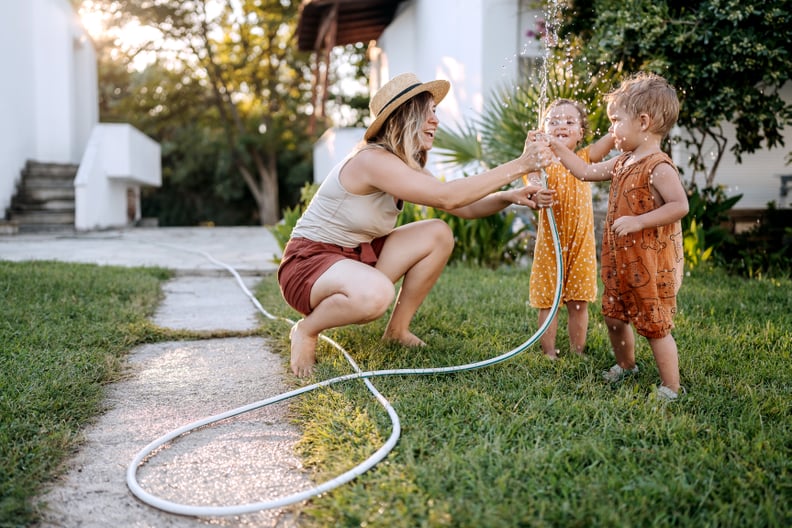 No-Equipment Outdoor Games For Kids
Water Play. Nothing beats splashing around on a hot summer day, and if you don't have a sprinkler or mini pool, a watering hose will work just fine.
Nature Walk. A casual stroll is always a great way to enjoy the outdoors.
Backyard Scavenger Hunt. Draw up a quick list for your kids, or play a game of I Spy that encourages them to spot different nature-based items, such as a yellow rock, a C-shaped stick, and more.
Freeze Tag. Upgrade original tag rules with a fun twist. Once a player is tagged, they must freeze in place until someone else tags them back in.
Red Rover. An old-school favorite, all you need are two lines of teams who interlock hands. Each team invites an opposing member to attempt to break the grips. Keep safety in mind for this game.
Hide and Seek. Playing hide and seek outside brings out a whole new level of fun to the classic game. Just set boundaries around where your kids are allowed to go, and keep an eye on the hiders to make sure no one goes too far.
Red Light, Green Light. Designate someone to yell directions, and let the giggles commence.
Simon Says. Another directions game, it will quickly show whose listening skills need improving. And playing it outside offers up a whole new world of directional possibilities.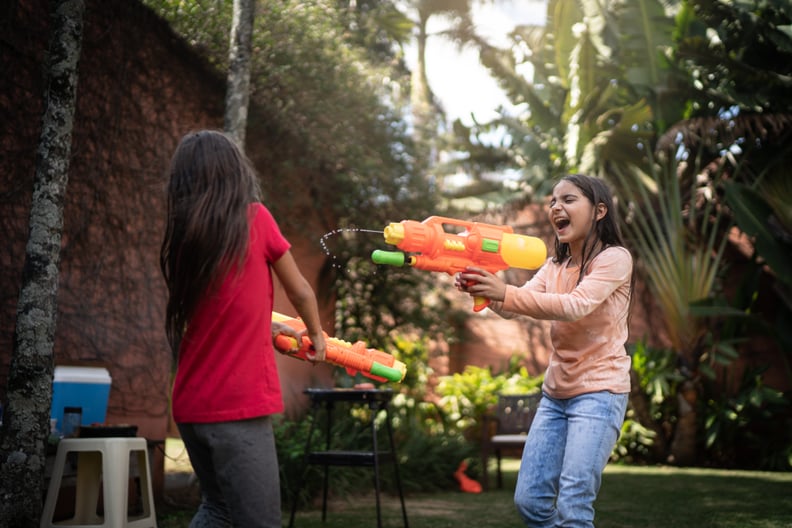 Yard Games For Older Kids
Super Soaker Fight. Summer is the perfect time for a water fight, whether you have a store-bought toy or are playing with water balloons.
Lawn Bowling. Who needs bowling shoes when you can feel fresh grass under your toes? This Lawn Bowling Set ($25) has almost 3,000 Amazon reviewers who love the wooden pins and balls for their durability.
Croquet. It's old school but surprisingly fun for older kids with stronger hand-eye coordination. If your kids are obsessed with "Alice in Wonderland," then they'll be thrilled with this Wooden Outdoor Deluxe Sports Set ($40) with its vintage finish.
Train Like Ninjas. Take physical fitness to the next level with ninja workouts. This Ninja Obstacle Course ($150, originally $170) is top rated on Amazon and comes with a climbing net, climbing ladder, 360 spinning wheel, and monkey-bar rings.
Limbo. You don't need to be on a tropical cruise to enjoy limbo! The Giggle N Go Limbo Game ($32, originally $60) is perfect for kids ages 6 and up.
Double Dutch. All you need are two long jump ropes and some fun rhymes to play this game. But if your kid would rather jump rope solo, this Adjustable Soft Skipping Rope ($13) works well as a starter.
Slip 'N Slide. Make your own Slip 'N Slide using a tarp and a water hose, and watch your kids enjoy for hours.
Archery. Arrows with suction cups instead of points make for a totally addictive yard game. TEMI's Kids Archery Set ($21) fits the bill, and it lights up.
Ankle Skip Ball. Ankle skip ball is a crossover of jump rope and hula hooping. Simply place one foot within the hoop, and swing your leg so the other has to hop over the ball. Chridark's Ankle Skip Ball ($20) also produces a multicolor show that entertains for hours.