10 Trendy Pieces You Can Actually Borrow From Mom's '70s Closet
If you're planning some major shopping for the start of Fall, there's one place to look before you start filling your shopping cart: Mom's closet. Since we're seeing '70s-era trends everywhere these days, those bell-bottoms you once laughed at your mother for wearing are actually back in style again (along with plenty of other boho staples).
But, because your Mom's closet — and even basement — may not be the easiest to navigate, we broke down exactly what to look for. These are the pieces of yesteryear that the fashion world is coveting all over again, and they can be yours without spending a single penny. Just read on for a refresher, and then get hunting. That way, you can say you got it from your momma — and it would be the absolute truth. A Bell-Sleeved Dress
Your mom was a total babe, and she could rock a cool bell-sleeved minidress like none other. So, sneak into her closet and slide into this party-worthy look yourself.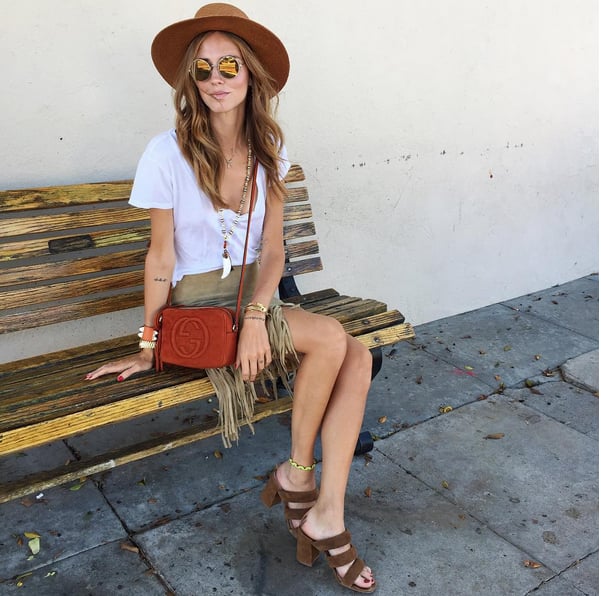 Anything Fringe
From skirts, to bags, to even sweaters, fringe is everywhere this season, so poke around your mom's closet for that fringed vest she used to wear back in the day. A Breezy Maxi Dress
For Summer, pair a floaty maxi with lace-up sandals, but come Fall, switch to booties to rock the look into the new season. Flared Jeans
Flares, especially the wide-leg kind, are a look that is back again. Pair yours with an off-the-shoulder top or white button-down to make it appropriate for 2015. A Shearling Coat
Here's a groovy idea — embrace the coming cold weather with a cozy shearling jacket. Just toss your mom's old go-to cover-up over whatever you're wearing, and you're good to go. Wide-Leg Pants
Ditch your skinnies for a wide-leg style instead. Not only is this trend seriously comfy, you can just as easily wear it to work or make it feel sexy by tossing on a crop top. A Saddlebag Purse
While Mom may not want to part with anything from her purse collection, this is the piece you'll want to get your hands on. The shape feels unexpected and the structure is a nice respite from the slouchy bags of the aughts. A Suede Skirt
There's something seriously cool about a sleek suede skirt. It's a little less edgy than its leather counterpart, but the soft style is equally chic for work or play. A Western-Inspired Belt
If you rifle through the back corners of your mom's closet, chances are there's a braided Western-inspired belt in there somewhere. Put it on and pair it with your favorite high-waisted denim for an effortlessly cool bohemian look.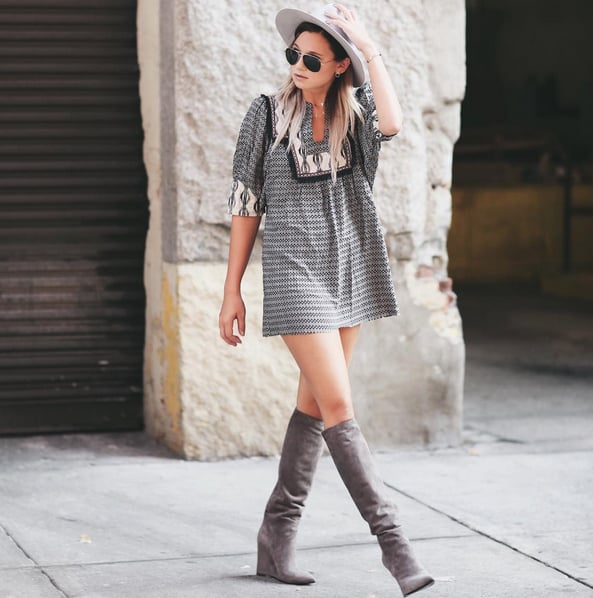 Chunky Tall Boots
If you have the same shoe size as your mom, these are the kicks you'll want to commandeer, whether they're a chunky platform or a subtler wedge. Pair them with a minidress while the weather is warmer, and then add tights once it starts to cool.