Barbara Casasola Fall 2014 Collection
The Surprising Women's Collection to Come Out of Pitti Uomo
Lucky magazine is one of our favorite sources for great shopping tips. We're thrilled to share this fabulous story from our friends at Lucky!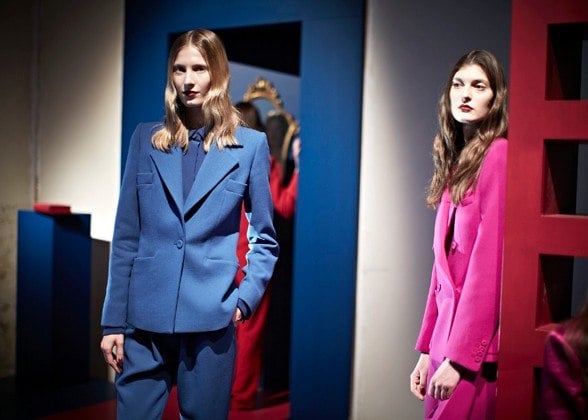 If you follow the #menswear scene even peripherally, you're probably already aware of Pitti Uomo, the trade show that takes place bi-annually in Florence that attracts thousands of vendors, designers — and ridiculously well-dressed men. What you may not know is that Pitti is increasingly becoming an amazing place to scope out talented womenswear designers as well, thanks to Pitti W. One such rising talent this season is London-based-Brazil-born designer Barbara Casasola, who presented her Fall 2014 collection last week at the Palazzo Portinari Salviati.
We had a chance to roam the palazzo (one of Florence's hidden gems, we're told) and check out Casasola's new collection — and were thoroughly impressed by both.
For Casasola, every collection begins with color. This season she said she was inspired by "lipstick colors"—that meant lots of vibrant reds, hot pinks and fuchsias. Yet despite the feminine palette, the collection was far from frothy. In honor of her spot as guest designer at Pitti W, Casasola whipped up a menswear-inspired collection, including a double-breasted grey suit that would make even street style god Nick Wooster green with envy. Other standouts included a hot pink jumpsuit—roomy and perfectly tailored—and a gorgeous floor-length robe-like coat. Completing the boy-meets-girl effect was model and muse Jamie Bochert, who was projected on the walls of the palazzo in an artsy black-and-white video.
In another nod to Pitti, Casasola designed a clutch — her first foray into handbags — in homage to the traditional triangular Florentine change purse. The result was a color-blocked, triangular shaped clutch that could ingeniously be worn two ways. It perfectly embodied Casasola's talent for blending seemingly disparate references — lipstick and menswear; traditional and modern — that will no doubt win her a place on fashion's stage as one to watch.
Click over to Lucky to see the whole story.
For all the fashion and style from Lucky, check out even more of the magazine's best stories.