Ciara Pregnancy Style | Interview
Ciara's Pregnancy Style Secret? "Stealing Clothes Out of My Fiancé's Closet!"
Ciara is pregnant, and she was happy to chat about her expanding family during a busy afternoon in NYC yesterday. Shortly after Ciara went public with her happy news, we had a few minutes with the Degree Do: More ambassador to chat all about the many changes in her life. In addition to expecting a baby, Ciara and her fiancé, Future, are prepping for a wedding. We got the scoop on how the planning is going for the duo, on both the wedding and baby fronts. Here's is an excerpt form our chat with the star: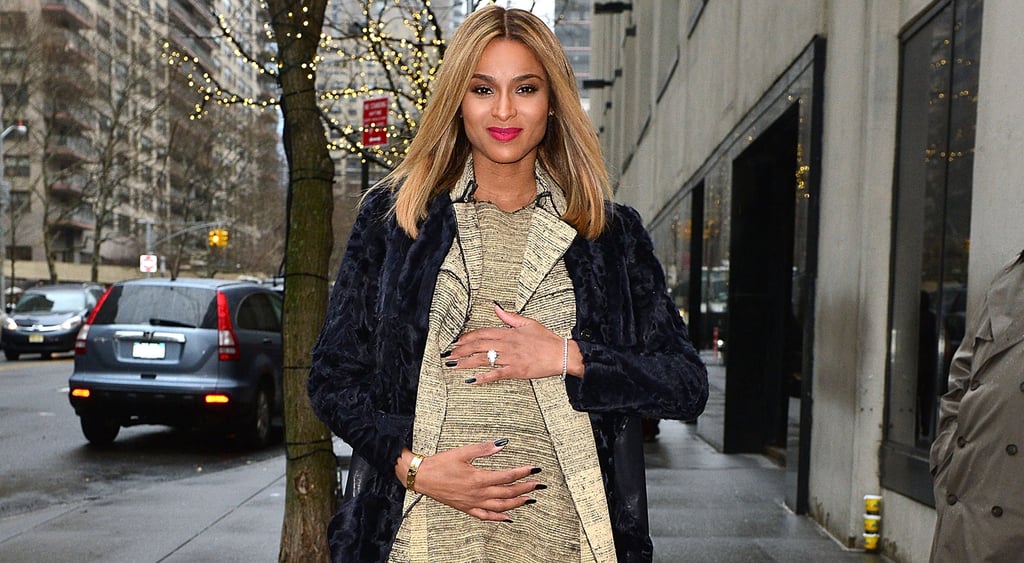 POPSUGAR: So much happening for you right now! How is the wedding planning going?
Ciara: It's going! I haven't gotten to the full meat of it all, but I can say that my fiancé and I have been talking over a lot of ideas, and we're starting to really become more clear about what we'll want and how big we'll want it to be and all that good stuff. I'm definitely looking forward to that night. I think it's going to be really sweet. I want my dress to be really beautiful. I want elegance more than anything — and I do want a little drama. We talk about all that stuff. The food is also one of the most important factors for us!
PS: Arguably the most important!
Ciara: We're like, "OK, yes, it's going to be nice. . . . How are we going to be looking? That's cool . . . but what are we eating?" We're all about the good food. We've been talking about all of it. I'm looking forward to everything.
PS: How about the look of the wedding? I was imagining you getting into Pinterest and making pin boards.
Ciara: "I've been looking at stuff, but the way I process things sometimes is I like to think about it, and then really think about it again, and think about it some more. And then I start going to do the physical part of it, which is going to look at things.
PS: Now in addition to picking a wedding gown, you're dressing for your pregnancy.
Ciara: It's been really cool, and I think in my case, it probably was a little interesting, because I hadn't shared it with the world yet. So I wasn't necessarily rocking my mommy clothes all the way. It's been really fun. I kind of like the theme of baggy is the new sexy." I think there's something very powerful about being able to be fully clothed and wearing baggy clotheS and still being beautiful.
PS: And now the news is out.
Ciara: "Now I'm so excited that I've been able to share something so special and that I can be even more free. I'm looking forward to going to shop for new pants, because none of my pants fit me anymore. I've actually been stealing clothes out of my fiancé's closet, because he has everything — all the coolest stuff. Baggy leather sweatpants — even his jeans fit me now; that's how much I've grown around my waist area! I'm looking forward to really experimenting with fashion and having fun with it, because this is the sexiest a woman can be."