Fashion Editors Who Love Zara
Here's Exactly Why Fashion Editors Love Zara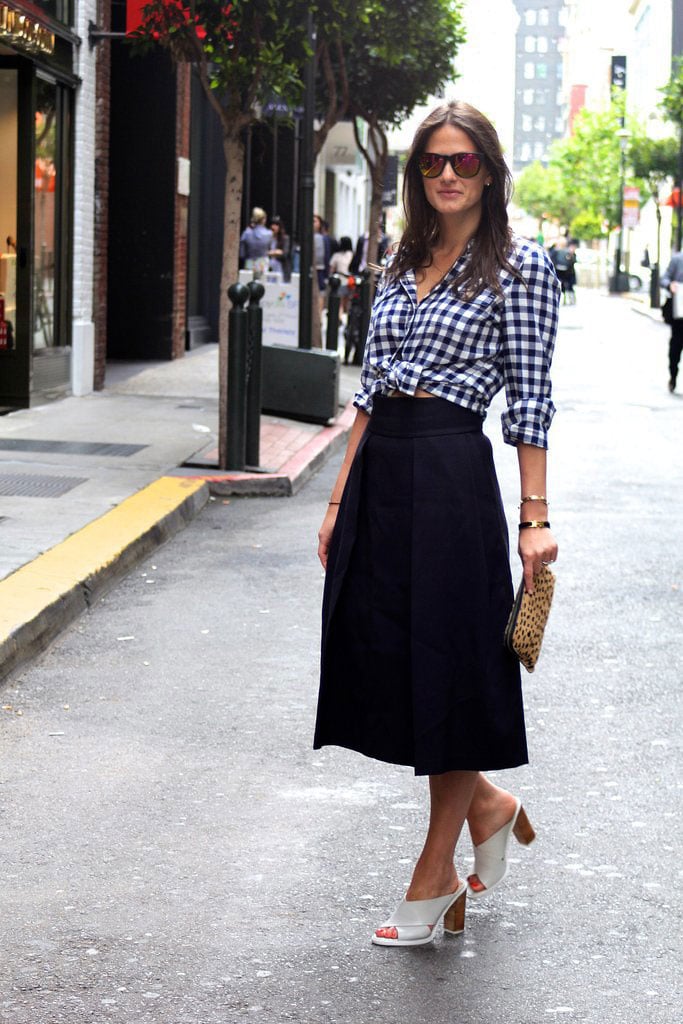 Above: In one of my favorite Zara skirts.
Source: POPSUGAR Photography/Grace Hitchcock
There's a staggering amount of Zara in my closet. A fact I hadn't quite realized until I counted up the items in the presence of a friend during an afternoon wardrobe cleanout. Let me reiterate: it is staggering. Not just the sheer volume of Zara pieces, but relative to the other brands on the shelves, Zara is king. I knew I had collected a fair amount of the label but hadn't anticipated it being such a huge portion of my closet. Especially since I had sworn to stop shopping as liberally from the store now that I'm nearing the end of my 20s and vowed to start investing the way a grown woman should in her wardrobe.
Despite my efforts, I've found it nearly impossible to distance myself from a label I've loved since high school. Strange that even as I find some extra room in the shopping budget and am urged almost constantly by fashion editor friends to shop elsewhere, I always come back to the same brand — and for all the same reasons.
One of the best parts of my job is getting to preview the upcoming collections from my favorite designers and brands. But never has Zara invited editors to such an event. Every time I step foot in Zara's store or peruse the merchandise online, it's all new. It's all stuff I've never seen before . . . kind of. The truth is much of Zara's inventory is reminiscent of the designers on my wish list: Isabel Marant, Tibi, and Céline. But unlike the designer brands I love that only add new merchandise seasonally, Zara's adding new looks all the time. Let me repeat: All. The. Time. It stocks its shelves weekly, constantly updating its stores with major trends and looks that seem as if they were plucked right from the runway, only months earlier and for a fraction of the price. As a fashion enthusiast, I crumble easily to that kind of pressure, adding new merchandise to my cart about as often as it hits the virtual shelves. That means a weekly Zara delivery at my house and just one of the reasons I've been a Zara brand loyalist: instant gratification.
Snapped in one of my favorite pairs of Zara heels.
Source: Hannah Weil McKinley
Some friends ask me, why not H&M? Why not Topshop? They all seem to fall into that same category of mass-market stores with sneaky high-fashion street cred. For me, it started in ninth grade when Zara opened at our local mall. At a time when everyone was obsessing over Abercrombie & Fitch and Hollister, Zara was new and different. It was sophisticated and feminine — the opposite of the logo-ed sweats and polos I saw on everyone else I knew. I remember walking into the store for the first time with my mom and sister, all three of us shocked by the clean silhouettes and expensive-looking shoes. What's even more shocking for a girl in high school was getting my mom's approval on the items I wanted from the store.
The clothes I came away with made my low-rise jeans and tube tops feel a little more like the pages in my favorite fashion spreads. I sought out — and still do — the pieces that don't feel too glitzy or over-the-top. I favor fresh cuts, maybe an exposed back or a sexy look I'd be hesitant to spend money on elsewhere. Zara's always made it easy for me to experiment, and unlike your Forever 21 finds, you're paying a bit more for better quality.
The fact that my college roommates all came to me to borrow my "cool" clothes freshman year was confirmation of what I already knew about the brand, and I was secretly proud to have the most coveted closet in my dorm. "I can't believe you got those shoes at Zara!" they would scream, and I felt a certain amount of pride being the girl who told them about it. That's the same pride I feel today when my impeccably dressed mother-in-law (often in head-to-toe Chanel) compliments my favorite Zara coat or a great Zara sheath dress at dinner, expecting that her fashion-editor daughter-in-law has discovered some incredible new designer. Hey, if it's good enough for Olivia Palermo, it's good enough for all of us.
Oh, you didn't know Olivia shops at Zara? Well, she does, and you can catch her wearing it all on the red carpet. Because, let me ask you — if you saw Olivia in a Valentino dress and Zara heels, which would you be more likely to buy? Besides, I've also found that following Olivia's looks is like a shortcut to the best pieces at Zara. I can cut right through the nondescript t-shirts or crazier prints and straight to those very same fringed heels I saw the style setter running around in at Fashion Week.
Dressed in nearly head-to-toe Zara, Olivia hit the red carpet for a film screening in NYC.
Source: Getty
Better yet, I can do it all online. Full disclosure: most days start with a quick perusal of Zara's "new arrivals" so that I'm current on what's in store and don't have to waste time scrolling through pages of stuff I have actually seen before. As a seasoned Zara shopper, one major benefit is knowing my size, so there's no risk ordering online, and on the rare occasion that I'm not wowed by what comes in the mail, Zara makes it easy to return. It'll give you free shipping on any purchase over $50, and you can return to the store or with the free return label. H&M, on the other hand, requires any online purchase to be mailed back. Not quite so simple.
Yes, there are a lot of factors that have made me the Zara loyalist I am, but at the heart of it, there's this: I'm a fashion girl and I'm a shopper. I'm more inclined to test-drive a trend before my friends, and I'm always on the hunt for something special: a purchase so good it wows and inspires just a little jealousy. Zara does that almost every time I wear it — no matter who I'm with. I also never worry about it falling apart, because while I'm not paying through the roof, I'm paying enough to know that it won't. I know that because I have an LBD I bought from Zara six years ago still in rotation today. I have a pair of mirrored oxfords I purchased two seasons ago that I don't intend on retiring anytime soon, plus countless other Zara items that elicit compliments from perfect strangers every time I wear them out, and as any fashion girl knows, that's like the ultimate affirmation of great style.