Herve Leger Fall 2014 Runway Show | New York Fashion Week
Strong, Invincible Women at Hervé Léger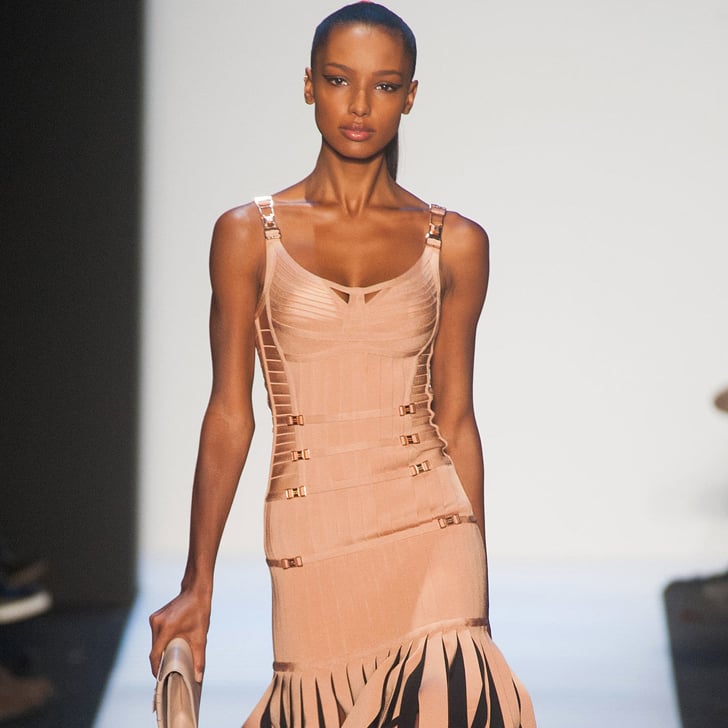 0
Strong, Invincible Women at Hervé Léger
Is there anyone stronger or more confident than the Hervé Léger woman? The brand's Fall 2014 collection, with its corset belts that looked like pieces of armor and its tough, luxurious leather jackets topped off with fox fur, seemed to suggest the answer is no.
Of course, it's hard not to feel sexy in dresses from any of Lubov Azria's collections for the house, but this one upped the ante with a technological element. The designer took images from nature and turned them into 3D jacquards that she used on jackets and tops; one dress cut from the material had plumes of feathers standing in for sleeves. The mainly blue, gray, and black offerings were punctuated here and there with a dress in lime or orange, with beading that looked like pixelation. Some of the flirtier dresses at first appeared to be pleated but were revealed to have skirts made from strips of the house's bandage fabric as the models came down the runway.
There weren't gowns, though. If there had been, one wouldn't have been able to see the thigh-high peep-toe boots with metal heels the models wore down the runway.