Sarah Jessica Parker Shoes Interview
Why Sarah Jessica Parker Won't Give Fashion Advice
Sarah Jessica Parker may be known for playing one of the most aggressively stylish women in TV history — Carrie Bradshaw on Sex and the City — but please, don't ask her for fashion advice. When I caught up with the actress last night in Las Vegas, she told me she has a firm rule to never dole it out. Sarah Jessica was busy feting her SJP shoe collection's Zappos Couture launch with a pop-up store at Shops at the Crystals in Las Vegas. Clad in a snake-print silk suit and a pair of heels from her own line, Sarah Jessica entertained a crowd of women, all of whom were clamoring for the chance to chat her up, with the grace of the world's most well-dressed politician.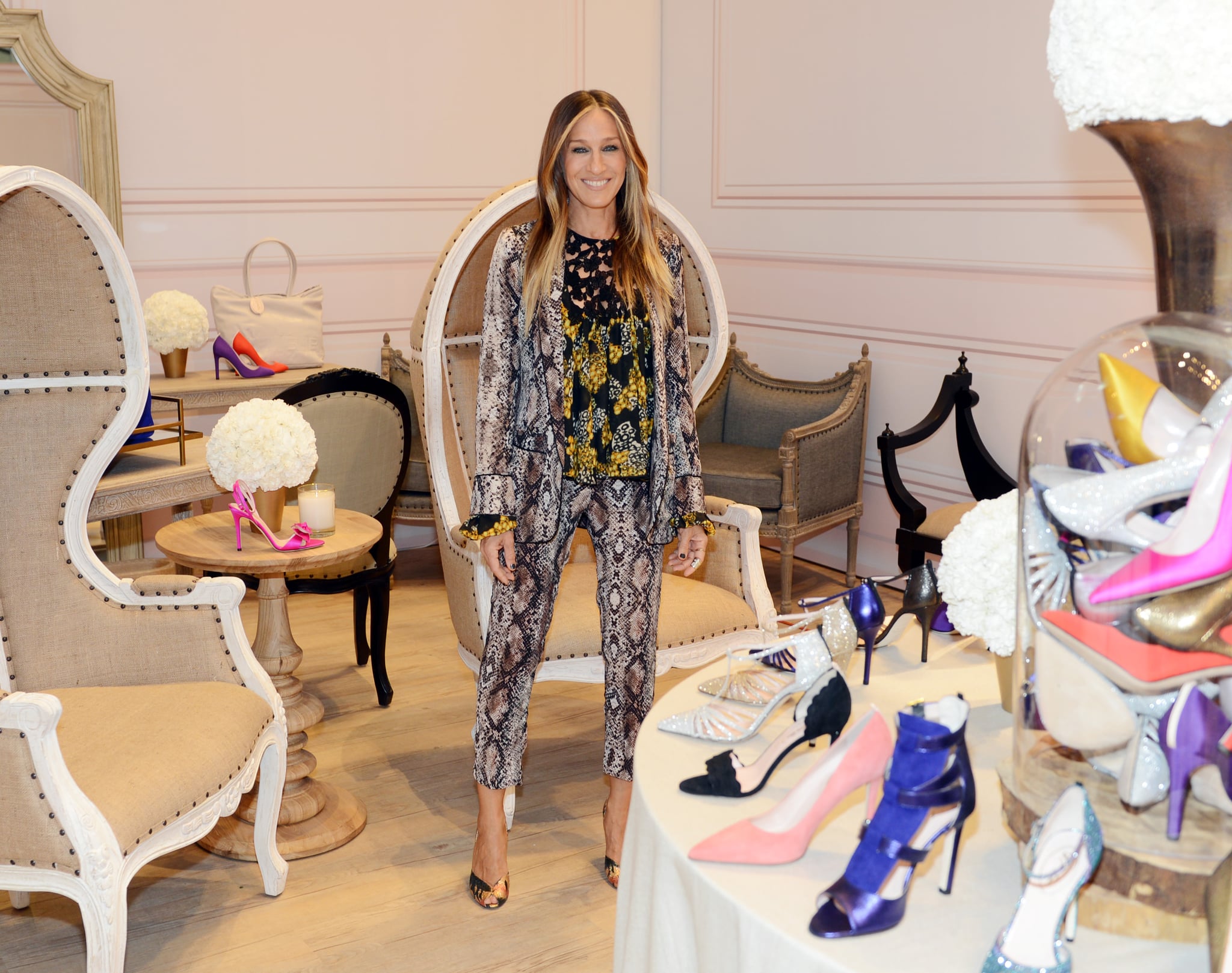 Source: Full Picture
"It's not my job to tell any woman what she should or should not do," she explained of her aversion to giving anyone sartorial guidance. "I just never enter into those conversations. Because what I think is a necessity could be completely, radically contrary to what you describe as a must have. So I never give advice," she said. "That's why this whole thing of like, what's important for Spring, what's the right shoe to feel powerful, is a bunch of malarkey. . . . There are a million different women, and they're all different sizes and shapes and ethnic backgrounds and colors, and they have different needs and different desires and different fantasies." Parker's SJP offerings from this and past seasons do contain multitudes, ranging from sweet, art-deco-inspired gold pumps — a version of the "Carrie" — to black lace-up booties with a slight dominatrix edge. Last night, most of the looks on display hailed from SJP's The Strip collection, inspired by what she described as the "glow and bounce" of "the night sky in Vegas."
Source: Zappos Couture
It just takes a quick scan of SJP's stilettos on display to make it clear this isn't your typical celebrities-slapping-their-name-on-a-product sort of collection. Beyond the upscale design (prices range from $215 to $545) and attention to detail (each pair of shoes has a signature stripe along the heel, for example), Parker has an obvious affinity for the pieces she's creating. "I was lucky enough to, as you know, play somebody who wore a lot of shoes," Parker explained. "And in the midst of wearing all those shoes, we were making a lot of memories, too. So I'm pretty sentimental about a fair number of shoes, to be honest." Sentimental enough to name one of SJP's signature styles the "Carrie."
Source: Zappos Couture
So does Parker ever design or buy a pair of pumps with her husband Matthew Broderick, or the male gaze in general, in mind? "No," she says, without a speck of hesitation. "I think about not what I find sexy or what I think makes me look good; I wear what makes me feel good. And I don't mean that's a practical decision. It's not like a heel feels great all day long. I can't think about somebody else. If I'm that results oriented, then it's not going to be me and it's not going to be sexy, because I'm going to be wearing somebody else's idea of sexy."