What to Know Before Buying a Wedding Dress
What No One Tells You About Shopping For Your Wedding Dress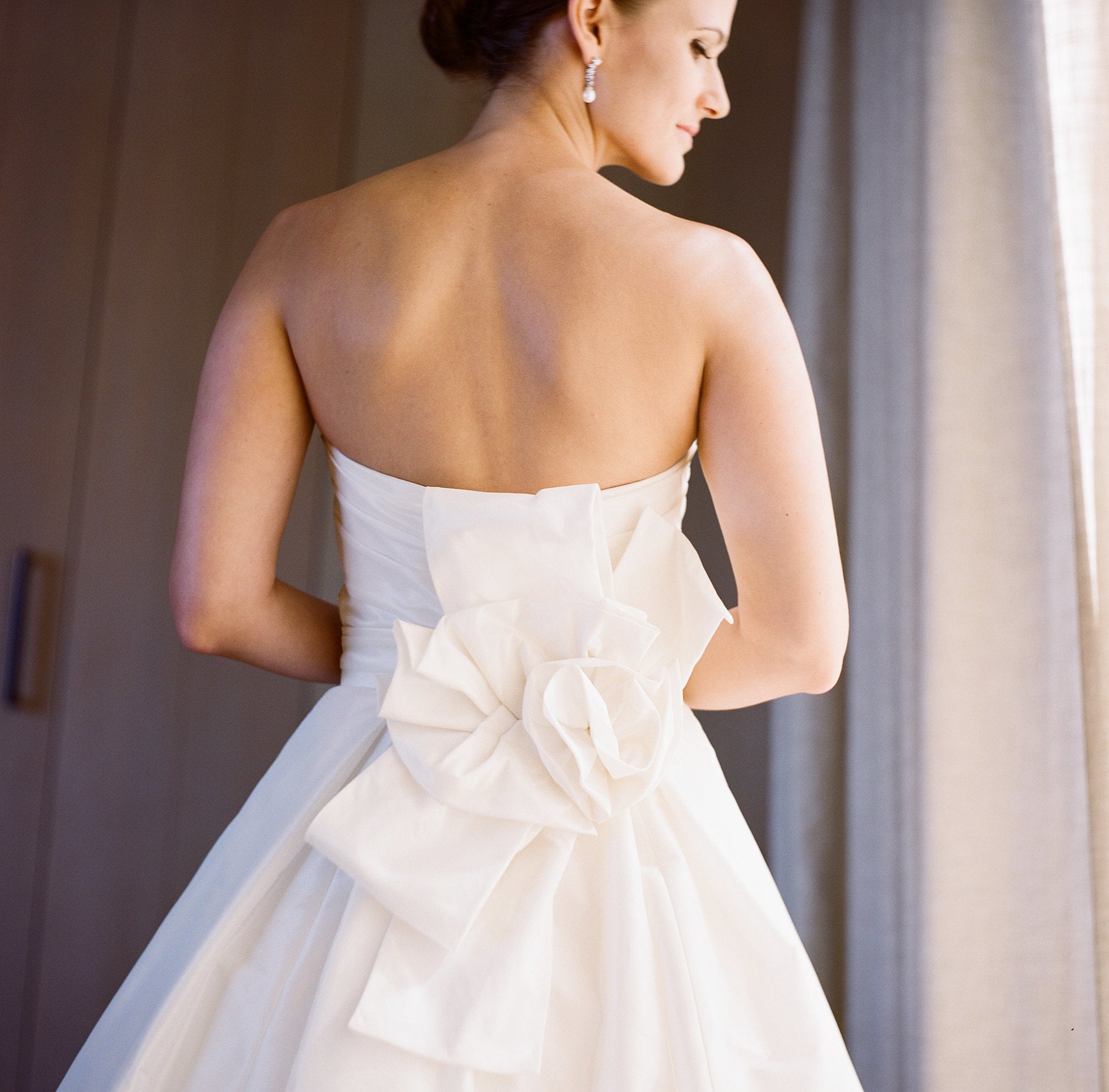 Armed with lookbooks, magazine tear-outs, my Pinterest app, and the image of my dream dress playing on repeat in my mind, I was ready for my very first wedding dress appointment. I had done the research for weeks, zeroing in on the single Amsale bridal gown I was sure I'd wear down the aisle. Only, after chatting with the bridal salon, I learned it was no longer available, a relic from the Fall '13 collection that had been circulating all over Pinterest. The designer had crafted new renditions in her subsequent collections, but they were all missing the details I'd regrettably fallen in love with. How did I get it so wrong?
Well, it's nearly two years later, and I've come out the other side, happily married in a dress I still love. It wasn't a perfect process — I don't know if it ever is — but to help with your own search, I'm sharing what I've learned, namely how to stay emotionally sane and in control of what you want.
1. Do Your Research, but Come Open-Minded
Being prepared is one thing, but (pardon the pun) being married to a dress you haven't met — or tried on — yet is another. When you call ahead or book online with a bridal boutique, they'll often ask you for a list or links of the dresses you're interested in, and this will help guide the appointment and help your sales associate be most helpful, especially since you'll likely have a limited time frame. On that note, be prepared with designers and silhouettes you like that also fit within your budget. Still, don't rule out a wild card once you're there. Especially early on in your search for the dress, be willing to experiment with an unexpected style. It might not be what you thought it would look like, but you might just fall in love all the same — just make sure it's in your budget before you do.
2. Don't Fight Your Body Type
Like so many women, I've pored over the wedding pictures of Carolyn Bessette-Kennedy, her lithe frame carrying off her slip of a wedding dress flawlessly, wishing I might have the same bridal grace, the same elegant silhouette. The truth is, I'm just built differently. I pulled on a slinky satin gown at my second bridal appointment to channel her iconic look. I loved the way it hung on display, a minimalist cut with a sexy draped back, but on me, it looked entirely different. It clung to the wrong places, exposing parts of my body I didn't even know existed but I knew instantly I didn't like — at least not in this dress. No pep talk from Mom (who sat patiently with me in the dressing room) or wedding diet was going to change that. Knowing that was another step toward finding the right dress.
3. Stay True to Your Style
No one else is wearing this dress — not your maid of honor, not your mom, your mother-in-law, your dad, or your grandma. So when you seek out the dress, make sure it's one you love. Likewise, don't let the location or the event dictate what you'll wear too much. For instance, just because it's a New Year's wedding doesn't mean the dress should come with tulle and a feathered skirt, unless you want it to. Clear your mind of what you "should" wear, and fill it with images of what makes you happy. And more importantly, be honest with your loved ones — and with the sales associate — about what that is, so you're all on the same page right up front.
4. Crying Is Allowed, but Not Required
When I finally thought I'd found the dress, my dad joined my mom and my sister and came to see me in it. There I was, standing in front of my family having that bridal moment in a white ballgown; my dad smiled and I remember him saying, "I could dance with you in that dress." I'd seen Say Yes to the Dress so many times, I knew it was my cue to cry, but I didn't. I didn't get emotional at all, in fact. I threw up my hands and said, "This is it then. Let's do it!" Days later I would replay that in my head as a sign that I'd picked the wrong dress. I'd call my mom with doubt; "I didn't even cry," I'd reminded her. To her credit, she put it all in perspective: "It's a dress, Hannah. I think that's OK." And it is — it's OK if you cry, if you lose your sh*t, or if you don't. It's all OK. As long as you're comfortable and happy and you feel like yourself, who really cares if you shed a tear just because TV or movies made you feel like you should? Remember, there are no "shoulds" here.
5. You Could Search Forever, but Don't
There are countless dresses, new trends every season, new designers, and a million options out there. You could actually search forever and still not be satisfied, afraid you've missed the next great style or overlooked a dress that might be the one. I was admittedly caught up second-guessing myself long after I'd found my dress that I forgot to enjoy just being done with it. Every time I stopped to remind myself that the search was over, that I didn't have to scour the Internet or call every boutique in NYC for appointments, I could breathe easy again. It doesn't matter what every dress on the market looks like, just the one you're calling your own.